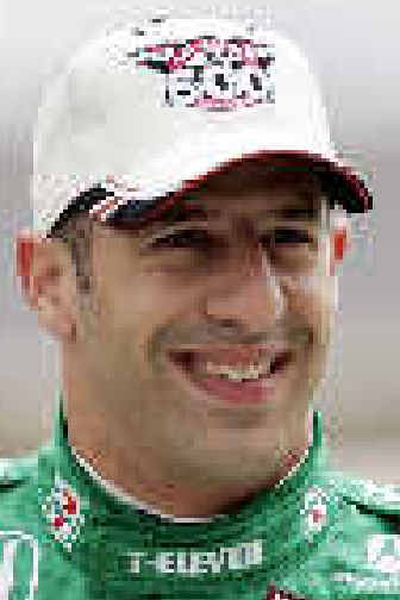 INDIANAPOLIS – Buddy Rice toured the White House last year as part of his Indianapolis 500 victory tour. Tony Kanaan did something much more low-key after winning his Indy Racing League championship.
He went home.
Kanaan, the caretaker of his Brazilian family for more than half his life, hasn't forsaken his responsibilities despite a blossoming racing career in the United States.
"That's the way I was raised," said the 2005 Indianapolis 500 pole sitter. "It's who I am."
Kanaan is 30 years old, but some of his fondest childhood memories are of his father, Tony Sr., waking him up on Sunday mornings to watch Formula One races. It was something of a ritual, and racing became their bond.
One day, when Kanaan was 7, his father, a Lebanese who owned a courier company in Sao Paulo, sat on the edge of the bed and asked Tony if he wanted to go to the Interlagos track to watch go-kart racers.
"Yeah, why not?" Kanaan said.
Together they sat on the old concrete bleachers at the circuit and watched future stars Christian Fittipaldi and Rubens Barrichello lap the course. The next day, they went to the chassis factory to buy Kanaan a go-kart.
Two years later, as Kanaan was beginning to win races, his father was diagnosed with liver cancer. Tony Sr. spent the final four years of his life in a hospital suite that Kanaan grew to regard as his father's office.
They talked often in those final years about Kanaan continuing in his craft and caring for his mother, Miriam, and younger sister, Karen. The message soaked in.
"He changed a little and (became) a man," said Karen. "He was only 13, but he started taking on the role of the head of the family."
Tony Sr. was 41 years old when he died late on April 7, 1988. Kanaan said he cried "a little," then went, as scheduled, to the track the next morning for a race weekend. He won from the pole.
Kanaan brought the trophy home to his father's bedroom, placing it on the nightstand where it remains today. He didn't attend the funeral and hasn't been to the cemetery.
"I know what my father said to me," he said. "I don't need to see him or see where he's at. I prefer to have the image that I have of him in my pictures."
Kanaan's favorite photograph of his father, who resembled Groucho Marx, hangs in the office of his Florida home.
Kanaan moved to Europe in 1993, learned Italian and slept on a mattress on the floor of the team's shop because that's what he thought it took to succeed in the Formula Opel series. When he came to the U.S. to race in Indy Lights, he rented a studio apartment near the team's shop that was so small he couldn't cross in front of the bed without crawling on it.
Struggling to learn English, he enrolled in a three-month class in California that cost him $4,500 of the $6,000 he had in the bank.
"There were 22 people in the class and 21 of them were Japanese," he said.
Kanaan felt so strongly about the need to be well-versed in English that when he brought his younger sister, Karen, to the U.S. in 2001, he paid for her yearlong course. Now, she's running a marketing firm that Kanaan helped set up.
Together, Kanaan and his sister have worked with Brazilian Mission, which she created two years ago, raising $65,000 for parent-less children in northeastern Brazil.
Kanaan continues to look after his mother as he did even at the time of his father's death. He flies her to Florida several times a year.
Kanaan takes his racing seriously because he's a competitor. But few people understand the pressure he puts on himself to lead this family.
"This family depends on me like we depended on my father," he said.
---