Supportive New York fans greet Charles and Camilla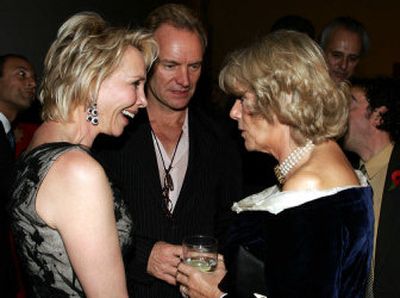 NEW YORK – It wasn't exactly the frenzy that welcomed Prince Charles 20 years ago on a U.S. tour that saw his radiant wife, the late Princess Diana, dancing with John Travolta at a White House dinner.
Indeed, British media had predicted scant interest from Americans in the first joint trip to the United States by Charles and his wife, Camilla, Duchess of Cornwall, since they tied the knot in April.
But several hundred onlookers who gathered at ground zero to see the royal couple were supportive.
"He really does care about people, but a lot of people think, 'Oh, he's a prince, what does he know about us, what does he care?' " said Nancy Hodl, a 59-year-old retired secretary from New Jersey.
Under unseasonably balmy November sunshine, small but enthusiastic crowds greeted the couple as they began their weeklong U.S. trip Tuesday by paying tribute to victims of the Sept. 11 attacks.
The visit was designed to underline trans-Atlantic ties, and Charles paid tribute to victims of terrorism and said the attacks in New York in 2001 and in London on July 7 helped strengthen the bond.
"Both our nations have been united by grief and strengthened by the support we have given each other," the prince said at a reception for supporters of a memorial garden for the 67 Britons who died when the hijacked jets slammed into the twin towers.
Charles later attended a roundtable at the United Nations and appealed to business leaders to help millions of young people find jobs. He and Camilla also attended a celebrity-studded reception at the Museum of Modern Art.
The couple began their U.S. tour by traveling by limousine from their chartered jet to ground zero, the vast site where the World Trade Center once stood.
At nearby Hanover Square, the couple unveiled the cornerstone to the memorial garden. They walked around to greet some of the several hundred well-wishers and onlookers who gathered behind barricades at the square.
The duchess seemed at ease, smiling broadly as she accepted a bouquet of flowers from a small girl. Camilla, who has been trying to project a more glamorous image, wore a dark rose Italian wool crepe jacket and dress with velvet chiffon trim by designer Roy Allen.
Later, at the museum reception, the duchess had the chance to showcase another of the 40 outfits she brought – a navy blue velvet cocktail dress with a cream chiffon collar by British designer Anthony Price.
Guests enjoying the reception's champagne and organic canapes with the couple included Donald Trump, Sting, Yoko Ono, TV newswomen Diane Sawyer and Barbara Walters, former tennis star John McEnroe, actors Matthew Modine and Joan Collins, and New York Police Commissioner Raymond Ray Kelly.
---