News > Idaho
Charter Academy plans expansion
Sat., Nov. 19, 2005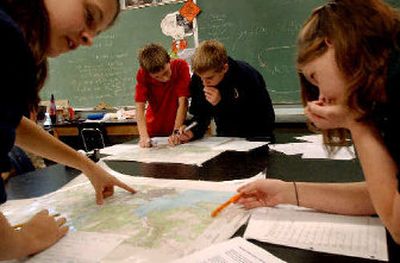 The Coeur d'Alene Charter Academy is having growing pains. With enrollment at 390 students in grades 6 through 12 this year, and long-range plans for even more expansion, the school is reaching out to the greater community this year to support its next goal, which is to construct a new science and technology building next to the existing facility.
Although part of Coeur d'Alene School District 271, with two-thirds of its students residing in the district, the academy is not eligible to receive special levy or building bond taxes.
Nor does the school qualify for many grants because it is classified as suburban, and most grants are allocated to either rural or urban schools. And because the Charter Academy doesn't have a school lunch program, it is not eligible for federal money allocated for free- and reduced-price lunches.
Consequently the school depends on contributions, grants and a big annual fund-raiser to build up its cash reserves. For several years the academy has held a fund-raiser with a dinner and auction.
"We need some real dollars," said Principal Nels Pitotti. "Our funding comes through the state like all other schools. We do get our average daily attendance; we don't have a geographical tax base, where other schools do.
"We don't get into transportation; the NICE bus provides transportation, or car pools," Pitotti continued. "Transportation is another black hole you just keep pouring money into."
The academy operates on about 70 percent of what the other schools spend, Pitotti said. He said many parents donate generously, with one family alone donating $1,200 this month.
The academy has minimal debt and owns the school buildings and land. Much credit goes to the parent volunteers who tirelessly rally for the school they believe in.
"The Charter Academy's charter is to be a college preparatory institution with academic rigor; character counts," said parent volunteer Jen Goodsen. "You have a small environment, and it's a quality environment. For families who want to put their kids in a stimulating and challenging environment and have accountability, this is truly a great match."
Goodsen said that the students at the academy are required to think, prioritize and learn time management. When they leave, she said, there is a level of success that prepares them for college and the real world.
Pitotti said the general public may have some misconceptions about the academy. One is that there is a tuition fee, which is false. Pitotti said there are no entrance exams and that any student is welcome. Lack of a sports program is not true, either. Charter's cross country team just returned from the state championships, and there are also basketball, track, volleyball and tennis squads. If students want to play football, soccer or baseball, they can participate on the public school teams in their district.
Academy's big fund-raiser will be Feb. 11 at the Coeur d'Alene Resort. Organizers hope to raise $60,000 at the semiformal event, which will include a no-host cocktail hour with music provided by a big band-era band, followed by a gourmet dinner. After the auction, there will be dancing with music provided by a dance band.
"The theme of the event is chartering our course, building our future," said parent volunteer Suzan Ward.
Goodsen and Ward are looking for more sponsors and/or contributors with items to auction.
"At the $5,000 level (platinum level of sponsorship) they will receive a plaque in the new science and technology building, as well as receiving a plaque at the event from Nels (Pitotti)," Ward said.
All-Service Electric has already become a silver sponsor by donating $1,500. Night Hawk Radiology and Select Hardware Floors have earned the bronze sponsorship level by donating $500.
To donate an auction item or become a sponsor, call Ward at 755-4956 or Goodsen at 640-8596. Tickets for the event are $35.
Schools need chairs, crafters
Bette Price, who teaches ninth and 10th-grade reading at Coeur d'Alene High School, is creating a comfortable reading area in her classroom for students as an incentive to get them more interested in reading. If you have used, clean couches, chairs or beanbag chairs that could be donated, call Price at CHS, 667-4507.
Crafters are needed for the spring craft fair March 18 at Lake City High School. If you are interested in participating, call Linda Palo at 772-4468.
Local journalism is essential.
Give directly to The Spokesman-Review's Northwest Passages community forums series -- which helps to offset the costs of several reporter and editor positions at the newspaper -- by using the easy options below. Gifts processed in this system are not tax deductible, but are predominately used to help meet the local financial requirements needed to receive national matching-grant funds.
Subscribe now to get breaking news alerts in your email inbox
Get breaking news delivered to your inbox as it happens.
---