Sports
Briefly
Fri., Oct. 7, 2005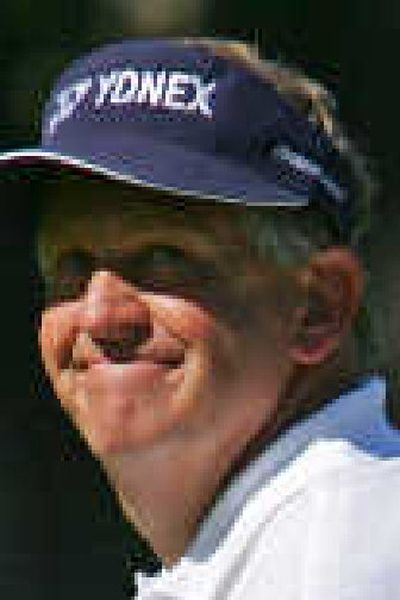 Colin Montgomerie showed no effects from an emotional victory four days ago in the Dunhill Links Championship in Scotland, matching his career-low score in the United States with a 6-under-par 64 that gave him a three-shot lead Thursday in the American Express Championship in San Francisco.
Tiger Woods, Vijay Singh and nine others were at 67 on a spectacular day at Harding Park, the municipal course along Lake Merced that got a $16 million makeover and held its own against the world's best players.
It was right up Montgomerie's alley.
He looked like the Monty of old with tee shots that split the tree-lined fairways, making the game look simple. The 42-year-old Scot ran off three straight birdies to close out the back nine, then added his lone birdie on the front with a wedge into 18 inches. What mattered more to him was no bogeys on his card.
"If I can hit fairways, I can hit greens," he said. "And then I can score."
It was the first test at Harding Park, which had not hosted golf's best players since the late 1960s. The course is considered relatively short at 7,086 yards, although the firm greens with subtle contours kept anyone from going outrageously low.
•Cristie Kerr had consecutive eagles in a career-best 9-under 62 to take a four-stroke lead in the first round of the Longs Drugs Challenge in Auburn, Calif. Kerr also had seven birdies and two bogeys on The Ridge Golf Club course. Wendy Ward of Edwall, Wash., opened with a 69. Tracy Hanson of Rathdrum, Idaho, fired a 70.
Cycling
ICU to probe allegations
The International Cycling Union has appointed a Dutch lawyer to conduct an independent investigation into allegations Lance Armstrong tested positive for EPO during the 1999 Tour de France.
The cycling body said Emile Vrijman and his law firm would "undertake a comprehensive investigation regarding all issues concerning the testing conducted by the French laboratory of urine samples" from the '99 Tour.
In August, the French sports daily L'Equipe claimed six of Armstrong's urine samples from 1999 came back positive for the endurance-boosting hormone EPO when they were retested last year.
The seven-time Tour de France champion denied using banned drugs.
Figure skating
Injured Kwan to miss two events
Michelle Kwan strained a ligament in her right hip and withdrew from Skate America, the first Grand Prix event of the season, and this weekend's Campbell's International Figure Skating Classic.
The nine-time U.S. champion hopes to be healthy for the Cup of China, Nov. 2-6 in Beijing.
Kwan will take two weeks off from training, then gradually resume skating. Rehab could take a month.
Basketball
Knicks, Curry play waiting game
Eddy Curry's status with the New York Knicks remained unsettled, with the team waiting for medical tests on his irregular heartbeat.
Knicks president Isiah Thomas said the team does not have all the information needed to evaluate whether Curry is healthy enough. Curry, the Bulls' top scorer last season at 16.1 points a game, missed the final 13 games of the year and the playoffs after his condition was discovered.
The 6-foot-11 center was traded this week from Chicago with Antonio Davis for Tim Thomas, Michael Sweetney and Jermaine Jackson. The deadline for the deal is this evening.
•The Los Angeles Lakers have waived Vlade Divac, a disappointment in his second go-round with the team. The Lakers had the option of picking up a one-year, $5.4 million contract option or buying him out for $2 million. Divac will be owed the $2 million if he clears waivers.
•The Seattle SuperSonics picked up options on guard Luke Ridnour and forward Nick Collison for the 2006-07 season. Financial terms of the options were not released.
Miscellany
Gambill loses in Tokyo tourney
Jan Michael-Gambill of Spokane lost a second-round match to Mario Ancic, 3-6, 6-3, 6-4, in the AIG Japan Open tennis tournament in Tokyo.
•NASCAR suspended crew chief Glenn Darrow indefinitely for violating its substance abuse policy. Darrow, crew chief for Tony Raines' Nextel Cup car, was tested for banned substances last Saturday at Talladega Superspeedway.
•A Colombian judge ordered the early release of the man who killed soccer star Andres Escobar for scoring an own goal in the 1994 World Cup loss to the United States. Humberto Munoz was freed after serving 11 years of a 43-year sentence. The judge cited Munoz's good behavior and study habits in prison. The name of the Medellin judge was not released.
Local journalism is essential.
Give directly to The Spokesman-Review's Northwest Passages community forums series -- which helps to offset the costs of several reporter and editor positions at the newspaper -- by using the easy options below. Gifts processed in this system are not tax deductible, but are predominately used to help meet the local financial requirements needed to receive national matching-grant funds.
Subscribe to the sports newsletter
Get the day's top sports headlines and breaking news delivered to your inbox by subscribing here.
---