Sports
Hobbled Mead comes through
Fri., Oct. 14, 2005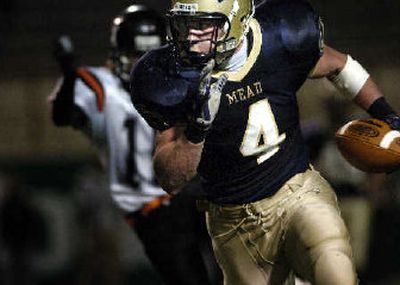 Never underestimate the power of emotion in high school football.
Just ask the 2,959 who were at Albi Stadium on Thursday night.
In the opener, North Central rode a wave of excitement triggered by Shane Thomas' late first-half interception to a comeback, 22-17 win over Cheney, the first of coach Grady Emmerson's career.
In the nightcap, Mead started without the Greater Spokane League's leading rusher, Skylar Jessen (out with a bad hamstring), lost their emotional leader, fullback Paul Senescall, late in the first half and still routed Lewis and Clark 26-0.
"He's the heart and soul of our defense," said Mead's Andy Mattingly of Senescall, who suffered a left knee injury of unknown severity. "We wanted to pitch a shutout for Paul. We talked at halftime about picking it up, of giving our all for him. We did."
The Mead (7-0 overall, 6-0 in the GSL and ranked fourth in the state) defense limited LC (4-2, 4-2) to 143 total yards, including just 26 passing. They also forced five turnovers (four interceptions and a fumble), all but one after halftime.
And even without Jessen (705 yards this year and fourth on the GSL's career list) and Senescall (274 yards rushing this season), the Panthers still have plenty of offensive weapons.
There's quarterback Andrew DeFelice, the GSL top-rated signal caller. He did his part Thursday, completing 11 of 15 passes for 203 yards and the game's first touchdown.
Then there's Mattingly, who, like Jessen is Washington State-bound. All the 6-foot-4 receiver/defensive back did was catch four passes for 85 yards (including that 13-yard score from DeFelice), grab a key interception and make numerous tackles, helping make up for the loss of Senescall, the Panthers' leading tackler from his linebacker spot.
But there were also the reserve running backs, Luke Hattrup (48 yards on 20 carries, including two scores) and Chris Jones (74 yards on 10, including a 16-yard rumble for another score).
"Those are two juniors who we know will be our guys next year," Mead coach Sean Carty said. "They want to be the guys now, but they know there are two Division-I guys ahead of them. They were given this chance tonight and they took advantage of it."
NC 22, Cheney 17
"That was the key for us, that pick for a score right before half," Emmerson said. "Had that not happened, I don't know what would have happened. That and recovering the onside kick, that got them excited. They went into halftime ready to go and they came out ready to go."
Thomas' interception, with came with less than a minute left in the half, cut Cheney's lead to 17-7 and was followed by a successful onside kick, though the Indians (1-6, 1-5) didn't get any points out of that.
They did pick up something more important.
"The interception gave us a spark, so did the onside kick, even though we didn't score," said Thomas, who finished with 144 yards rushing on 34 carries.
And how did the pick occur?
"I read the quarterback, and he made an overthrow," Thomas said. "The receiver tipped it – he actually had inside position – and I just told myself not to drop it. I just ran."
Which is exactly what he did on the Indians final drive. That's because, despite the second-half energy built by the interception, despite a Cheney (3-4, 2-4) fumble that led to a Thomas 2-yard run and despite an NC blocked punt, the Indians still trailed 17-16 with 3:52 left.
And they were 82 yards from a game-winning score.
They covered those 82 yards in 3 minutes. It took 11 plays. And Thomas had all of the yards. A 15-yard run. A 22-yard run off left tackle. A 3-yarder. A 7-yard reception from Greg Conley following two incompletions. An 11-yard run. Stopped for no gain. Up the middle for 12. Off right tackle for 3. And, with 43 seconds left, the 9-yard game-winner up the middle.
"Our O-line gave me holes," the senior said of that final drive. "All I had to do was run through them."
To the Indians' first victory.
"We've played good football," said Thomas of the first six games, "but too often we gave up big plays. That was the difference. Tonight it was us making plays."
Local journalism is essential.
Give directly to The Spokesman-Review's Northwest Passages community forums series -- which helps to offset the costs of several reporter and editor positions at the newspaper -- by using the easy options below. Gifts processed in this system are not tax deductible, but are predominately used to help meet the local financial requirements needed to receive national matching-grant funds.
Subscribe to the sports newsletter
Get the day's top sports headlines and breaking news delivered to your inbox by subscribing here.
---