Sports
Small-school hopefuls grab for leftovers
Thu., Sept. 1, 2005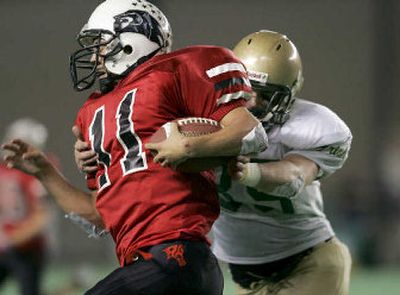 With the usual suspects lined up as preseason favorites atop the small-school leagues, there wouldn't appear to be a whole lot of suspense this year.
They still have to play the games, though, and even if the predicted top squads perform as expected, there are still multiple postseason bids in every league.
Those couldn't be more up in the air.
Conventional wisdom suggests Pullman, Freeman, Lind-Ritzville, Columbia (Hunters), DeSales and LaCrosse-Washtucna either repeat or come close at the end of the season.
After that appears to be where the fun will start.
In the Great Northern League, the majority decision is that Pullman repeats with a six-way scramble for the second berth into the state tournament.
Everyone agrees, of course, but Pullman head coach Bob Wollan.
"I don't see a head and shoulders team, to be honest," Wollan said.
Teams such as Lakeside (Nine Mile Falls) (six returning all-leaguers), Chewelah and Riverside appear to have the early advantage, but, in a league in which 15 all-league players return, the experienced talent is sprinkled throughout. It could easily be a repeat of last year, when five teams finished between 4-2 and 2-4 in the league.
"That very well could be possible," Chewelah head coach Jim Fisk said. "We're going to be fighting for our lives every week."
Freeman, under new head coach Jim Wood, brings back All-Northeast A running back Michael Wittwer and wide receiver Andrew Wilkerson and big junior quarterback Andrew Dresback, but the Scotties will be hard-pressed to maintain their league winning streak that started in 2002.
"The NEA is a lot more even this year from top to bottom," Wood said.
With each team playing every other team twice, there won't be an easy mark on the schedule.
"Most of our games will come down to the fourth quarter," Colfax head coach Mike Morgan said. "I really think our league will be that tight."
In the Northeast B-11, Lind-Ritzville lost a lot of talent from the state championship team, but brings back the 2004 Associated Press player of the year in running back Nick Ashley.
"Our success will depend on the development of a couple sophomores and first-year juniors and seniors," new L-R head coach Greg Whitmore said.
Reardan and Liberty have big-play capability in their backfields, and have expectations to return to the postseason. Odessa has 6-foot-3, 205-pound running back David Johnson to hand off to and Selkirk thinks it can make its first state appearance since 1986.
"This year I believe we are a complete package," Selkirk head coach Mark Coon said. "We have a strong desire and belief that we will see the playoffs."
Columbia (Hunters) and Sprague-Harrington have dominated the Northeast B-8 the past couple of years, but Almira/Coulee-Hartline drops down to B-8 and Cusick, with a much bigger turnout this season, will compete.
"Columbia is the team to beat, but the rest of the league is closing on their heels," Cusick head coach Luke Keogh said. "It should be competitive and we should be right in the mix."
LaCrosse-Washtucna will maintain its dominance of the Southeast B-8 and probably the entire state while extending a 35-game winning streak. This, head coach Jeff Nelson said, is the biggest and most physical B-8 team he's seen.
Colton-Pullman Christian, St. John-Endicott and Tri-Cities Prep will fight for the second spot.
"We are pretty athletic with a lot of playing experience from last year," C-PC head coach Tim Sperber said. "If we stay healthy, I think we can compete for the second playoff spot."
DeSales shows no sign of slowing down in the Southeast B-11, returning seven all-leaguers from a state finalist. Pomeroy, Asotin and Tekoa-Oakesdale/Rosalia are in the hunt for the second spot into the state tournament.
Local journalism is essential.
Give directly to The Spokesman-Review's Northwest Passages community forums series -- which helps to offset the costs of several reporter and editor positions at the newspaper -- by using the easy options below. Gifts processed in this system are not tax deductible, but are predominately used to help meet the local financial requirements needed to receive national matching-grant funds.
Subscribe to the sports newsletter
Get the day's top sports headlines and breaking news delivered to your inbox by subscribing here.
---