News > Features
A rare glimpse of Greta Garbo
Fri., Sept. 2, 2005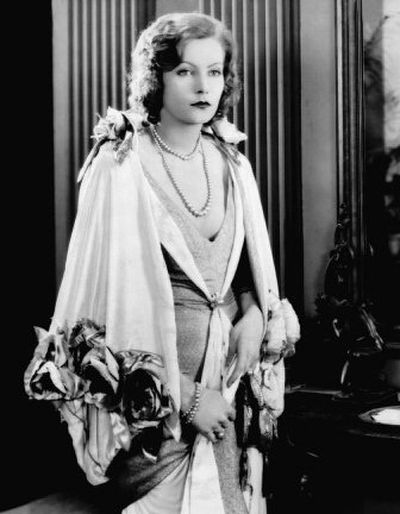 A gray-haired woman in a dark pantsuit strides across a New York street. Her image, filmed from afar, is barely in focus. But it's unmistakably Greta Garbo.
"One of the most celebrated people in the world desperate not to be recognized," comments Julie Christie as she begins her narration of "Garbo," a new documentary about the beautiful and mysterious star who died in 1990.
The film from veteran documentarian Kevin Brownlow premieres Tuesday on cable's Turner Classic Movies channel as part of a monthlong retrospective on the films of the famously reclusive actress.
The rare street footage of Garbo – born Greta Gustafsson to a working-class family in Stockholm a century ago, on Sept. 18 – was captured by a crew who had noticed her passing by as they were shooting a scene for a gay-porno film.
Brownlow himself was never able to film the star. Despite his reputation as an esteemed film historian, he'd been unable to break through her wall of privacy and persuade her to be interviewed – even for his acclaimed miniseries "Hollywood," about the silent film era.
But he says he did get a glimpse of her once. While he and an assistant were on their way to visit silent star Lillian Gish in Manhattan, they detoured to see Garbo's apartment overlooking the East River.
"There was Garbo coming home with her shopping from the supermarket. So we were turned into pillars of salt," recalls Brownlow, conceding that he thought of rushing up to her but realized he would just babble and "she would have fled."
After Garbo stopped making films following the failure of "Two-Faced Woman" in 1941, such brief sightings were all the public saw of the actress who had once been the incandescent heart of silent movies such as "Flesh and the Devil" and "Love" (co-starring her lover, John Gilbert), and a handful of talkies, including "Queen Christina," "Camille" and "Ninotchka."
Brownlow's 87-minute documentary also incorporates previously unseen screen tests Garbo made in 1949 for a movie never made.
"In a sense those tests conveyed more of her personality than anything else we've seen … you suddenly see what it must have been like just to sit next to her," he says.
"She's totally normal and relaxed," explains co-producer Patrick Stanbury, "but they just couldn't get the money together. Backers didn't think Garbo was such a strong bet any longer … she'd been off the screen for eight years, the world had changed, but she looked absolutely magnificent. What a waste!"
Brownlow, 68, and Stanbury, 51, have been fascinated with film, particularly silents, since childhood. Their documentaries previously shown on TCM include "Lon Chaney: A Thousand Faces" and "The Tramp and the Dictator," which parallels the lives of Charlie Chaplin and Adolph Hitler.
Their next project examines Merian C. Cooper, creator of the original "King Kong," and is scheduled to air on the cable channel on Nov. 22. (The latest remake – from the Academy Award-winning director of "The Lord of the Rings" trilogy, Peter Jackson – is due in theaters Dec. 14.)
Charlie Tabesh, TCM's vice president of programming, says TCM documentaries are chosen not just to satisfy the cable channel's committed fan base, but also to draw in younger viewers.
"I think people have heard the name (Garbo) but I'm not sure that a lot of people out there know and appreciate what she meant as an actress," says Tabesh. "I love that her intelligence is very attractive. It's not just her face which is gorgeous, it's that she's attractive in a much fuller way than that."
"Garbo" contains old and new interviews with those who knew her best, including a conversation Brownlow shot in the 1960s with director Clarence Brown, who reminisced about witnessing Garbo and Gilbert fall in love during a scene at a railway station in "Flesh and the Devil."
That 1926 silent airs on TCM immediately following the documentary.
Brownlow and Stanbury also were able to collaborate with Garbo's relatives, who paint a portrait of someone quite content with private life.
"The famous (line) `I want to be alone' is really 'I want to be let alone,' " Stanbury stresses.
"She clearly had big problems with large numbers of people and intrusion. She basically wanted to be a private person and couldn't understand why people crossed the boundaries into her private territory."
Local journalism is essential.
Give directly to The Spokesman-Review's Northwest Passages community forums series -- which helps to offset the costs of several reporter and editor positions at the newspaper -- by using the easy options below. Gifts processed in this system are not tax deductible, but are predominately used to help meet the local financial requirements needed to receive national matching-grant funds.
Subscribe now to get breaking news alerts in your email inbox
Get breaking news delivered to your inbox as it happens.
---