News > Features
UPN loves 'Chris'
Fri., Sept. 9, 2005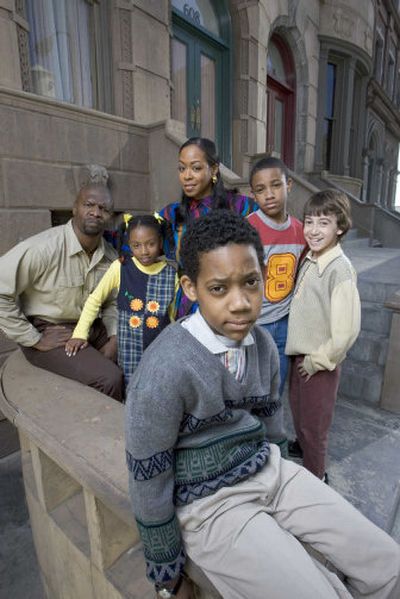 The reaction so startled Dawn Ostroff that she thought someone was onstage behind her, playing a joke.
The UPN television network president had only said the name of Chris Rock's new series, "Everybody Hates Chris," and the audience of media executives there to preview her fall schedule was laughing.
Then she showed highlights and walked off knowing UPN – of all networks – had the most hotly anticipated comedy of the new television season.
"The laughs were so loud and continual," she says. "I just couldn't believe how large the response was. It was a great feeling."
"Everybody Hates Chris," which premieres Sept. 22, is based on Rock's childhood in Brooklyn with a penny-pinching dad and tough but loving mom.
It's a family comedy, albeit one that refers to drive-by shootings and contains the n-word in its first episode.
"I grew up in a very loving, two-parent household in the middle of one of the worst ghettos in New York City," says Rock. "I just thought everybody lived around abandoned buildings and crack-heads.
"I lived in the ghetto until I was like 19. I came to (Los Angeles) and stayed at hotels and stuff. When I got back and I saw what my neighborhood looked like, I started getting scared."
"Everybody Hates Chris" was chosen best upcoming show in Broadcasting & Cable magazine's poll of TV critics, an opinion echoed by many in the advertising community.
"I think there's a lot of buzz about it because it looks like UPN has a show for the first time that could conceivably be a grand slam out of the park," says Sharianne Brill, analyst for the ad-buying firm Carat USA.
Whenever there's a hit in the small universe of Hollywood, there's always someone who's able to say they should have been there first.
If that turns out to be true here, it's Fox that will be answering uncomfortable questions.
Ostroff saw a script for "Everybody Hates Chris" when she was looking at writing samples from co-creator Ali LeRoi, and fell in love with it. There wasn't much she could do about it, though, knowing the project was under development at Fox.
She hunted down Rock's cell phone number and e-mail address to badger him about it.
Rock, who narrates the show, was flattered by the attention. "You want to work with people who are excited," he says.
But Ostroff had to keep her feelings quiet, figuring Fox would become more interested if it heard a rival network executive was interested. When Fox's option ran out, she pounced.
LeRoi said Fox's rejection was for financial, not creative, reasons. "Everybody Hates Chris" is a single-camera comedy, which are more expensive to produce than series filmed live on a soundstage, and Fox already had several of those projects going. "You can't be mad at them," he says.
There were also rumors that Fox was worried Rock would have minimal involvement, something the comedian dismisses with a quip: "I don't think I've ever done anything and walked out. … My name's Rock, not Chappelle." (The reference, of course, is to Dave Chappelle pulling the plug on the third season of his Comedy Central show.)
While the show reflects Rock's childhood, there are several differences. The TV Chris has a younger brother and sister; Rock was one of seven children.
"I changed it just enough so I couldn't get sued by my family," he jokes. "Because they'll sue you."
It skips sitcom traditions, including the typical portrayal of the dad as helpless bumbler. The father in the show, Julius, is strong and solid, holding two jobs.
"With the exception of Cosby, every black father I see on TV, they're not really masculine," Rock said.
The early word has been so positive that Ostroff has been asked whether she's worried that CBS will steal "Everybody Hates Chris." The two networks are part of Viacom and share several executives.
"It was flattering that everyone thought so much of the show that they felt it should be on CBS, the biggest network," she said.
But, no, she's not fretting that CBS will snag it.
"UPN is getting behind it," LeRoi said. "They're putting in everything they have in terms of support. That's good. You'd rather have that than no support. The downside is, you don't want to believe the hype."
That hype makes it worth raising a few cautionary notes. UPN has never been able to rival CBS, NBC, ABC and Fox in terms of attention. Ratings that would get a series canceled on those other networks define a hit on UPN. Bucking that reality to get wide exposure would be a challenge for any series.
UPN, which has aired wrestling on Thursdays for many years, is counting on Rock to establish a beachhead for comedy on what is already television's most-watched weeknight. (The shows that will air opposite "Chris": "Survivor: Guatemala," "Joey," "Alias," "The O.C." and "Smallville.")
"I think this will be the catalyst behind TiVo and DVR acquisitions," analyst Brill says. "This is an hour when I wish I could be watching two things at once."
Rather than trying to live up to those lofty expectations, LeRoi is focusing on what is within his power – making the best comedy he can.
"We just want to do a good piece of work," he says. "We're not going to do a good piece of work just because everyone says it's so great. We didn't have any hype when we wrote the pilot."
Local journalism is essential.
Give directly to The Spokesman-Review's Northwest Passages community forums series -- which helps to offset the costs of several reporter and editor positions at the newspaper -- by using the easy options below. Gifts processed in this system are not tax deductible, but are predominately used to help meet the local financial requirements needed to receive national matching-grant funds.
Subscribe now to get breaking news alerts in your email inbox
Get breaking news delivered to your inbox as it happens.
---