News > Idaho
Friends, role models
Sat., Sept. 10, 2005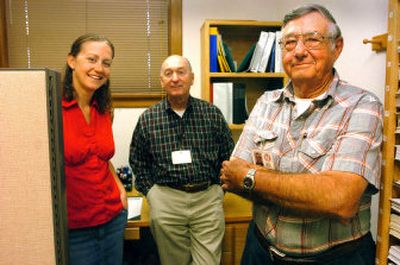 Sarah Knott tried to ignore the security fencing surrounding Kootenai County's Juvenile Detention Center as she headed to her first meeting with Julie. Julie, 16, was a juvenile offender, a drug abuser. As a juvenile, her identity is protected by the judicial system. "It was a great place to begin our relationship," Knott says, thinking back to that first meeting about two years ago. "She was very vulnerable at the time, away from her family, broken, no access to the coping tools she'd normally use."
Knott, then 25, was Julie's lifeline. Knott was a volunteer mentor with Juvenile Probation. It was her job to befriend Julie and serve as a role model and a trusted adult. Knott had no intention of grilling Julie about the crimes that had landed her in detention.
"She didn't need anyone to rub it in," Knott says. "We needed to move forward."
Moving forward is the mentor program's philosophy, says Jim Simmerman, program director. The county decided to try mentors with juvenile offenders two years ago because recidivism was high and many kids lacked even a shaky support system at home.
Mentors are not surrogate parents, Simmerman says, but friends and role models. Volunteers undergo local and national background checks and interviews with Simmerman. They pledge at least an hour each week for a year with a child Simmerman matches to them.
Probation officers recommend children to the program. All juvenile offenders are eligible. Before matching a child to a mentor, Simmerman interviews the child and his or her parents so he's certain everyone understands how the program works.
Once a child has a mentor, Juvenile Probation evaluates the match every three months.
"We look at their attitudes toward adults, school, their peers, probation officers," Simmerman says. "Their parents evaluate the match. We look for improvement."
The program is just finishing its second year. Nineteen kids have mentors. Simmerman says he dismissed two kids from the program because they weren't yet open to such help.
Debbie Nadeau, Kootenai County's supervisor of community justice programs, says three kids committed crimes while they were in the mentoring program. That means 83 percent of the participating kids didn't commit crimes. Nadeau says 56 percent of the kids with mentors improved their performance in school. The program's goal was 50 percent.
"A probation officer told me one youth is now interested in college thanks to a mentor," she says. "Community support has been awesome. This is a wonderful program."
Jane Nelson doesn't need data to know the program is working for Emily, the girl she mentors. Emily was on probation for "doing things that are not illegal for adults," Nelson says.
Nelson, a retiree, talked her veterinarian into allowing Emily to shadow him at work. Emily wants to become a vet tech, she told Nelson.
"She was in seventh heaven. It gave her a taste of what that job is going to entail, and she knows now what she'll need schoolwise," Nelson says. "You never know if you're making a difference, but you know you're trying."
The program attracts more female than male volunteers, Simmerman says. He matches women with girls and men with boys. He has a waiting list of boys needing matches.
"It's hard to find male mentors," he says. "One mentor quit because of his job hours. He felt he was letting his kid down."
Ted Nelson, who's no relation to Jane Nelson, has plenty of time to mentor. He's a retired teacher and school counselor. He's mentored Greg, 14, for six months and helped him build a birdhouse and a bike ramp. Nelson says he tries to encourage Greg, who lives with his mother, to stay out of trouble and thinks of the boy as his buddy.
"I don't think he's completely out of the woods, but he listens to me," Nelson says. "He's always happy to do something with me. Sometimes he says it's the best day he's ever had."
At 23, Kevin Longmeier is hardly older than Jack, the ninth-grade boy he mentors. But his youth enables him to keep the active pace Jack likes. The pair BMX bike together and play pool.
Jack has bounced in and out of the judicial system for years. Longmeier is the Coeur d'Alene director of Young Life, a nondenominational Christian mission directed at teenagers.
"I was going down the same path in high school as the kids in the juvenile system," Longmeier says. "A mentor with Young Life showed me there's more to life than the way I was living. I share that with my boy."
Simmerman protects children in the program like a watchful father and allowed none to be interviewed for this story. Knott's experience with Julie says it all, he says.
"I saw such a transformation in her," Knott says. "We still talk, write letters. She's gone on to school. I totally believe she's way past her old routine."
Julie's father hooked her on meth when she was 14, Julie told Knott. She needed an adult to trust and confide in, Knott says. Knott is earning her college degree in social work. She told Julie about her college life and the opportunities education was presenting to her.
Julie talked to Knott about drug addiction, boys, school.
"She became my friend. I didn't see her as someone dependent on me," Knott says. "Toward the end of our relationship, she was such a different person. She'd call me to tell me what choice she'd made and why. She became more rational, self-reflective, confident."
Julie graduated from high school and left the area to continue school. Knott is just beginning a new mentor relationship.
"The most important thing we can do is listen," she says. "It's a wonderful program and it's needed all over the country. There are so many people who can give one hour a week and it's so worth it."
Local journalism is essential.
Give directly to The Spokesman-Review's Northwest Passages community forums series -- which helps to offset the costs of several reporter and editor positions at the newspaper -- by using the easy options below. Gifts processed in this system are not tax deductible, but are predominately used to help meet the local financial requirements needed to receive national matching-grant funds.
Subscribe now to get breaking news alerts in your email inbox
Get breaking news delivered to your inbox as it happens.
---