Sports
On fifth try, Clijsters finally Slams the door
Sun., Sept. 11, 2005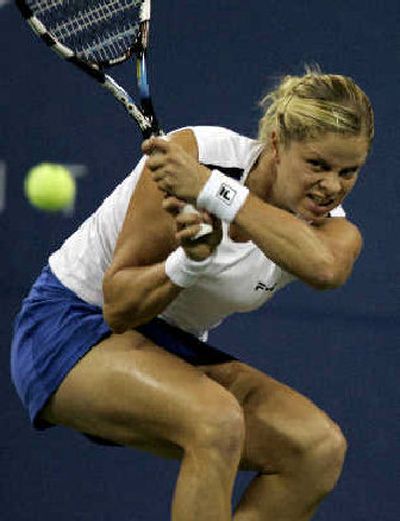 NEW YORK – Winning a Grand Slam title wasn't so hard for Kim Clijsters, after all.
Clijsters, who came up short her first four tries, finally won her first major title Saturday night, cruising to a 6-3, 6-1 victory over Mary Pierce at the U.S. Open tennis championships. When she hit a service winner on the second championship point, Clijsters dropped her racket and covered her mouth with her hands.
She hugged Pierce at the net and then rushed to the side of the court, climbing over a photographer's pit and through the stands at Arthur Ashe Stadium to reach her family. She scaled a wall and inched along a rail as if it were a tightrope – maybe the toughest thing she did all night – before she reached her family.
Crying, she hugged her mom and sister while Pierce watched, disconsolate, from the sidelines.
"It's still very hard to believe," said Clijsters, who won $2.2 million, double the top prize and the richest payday in women's sports, because she won the U.S. Open Series leading up to the tournament. "It's an amazing feeling to have, especially after being out for so long last year. It means so much more."
For Pierce, it's the second straight shellacking she's taken in a Grand Slam final. Justine Henin-Hardenne needed only 61 minutes to wallop her 6-1, 6-1 at the French Open, prompting a tearful Pierce to apologize to the fans.
She stretched this final an extra two minutes – but she needed a bathroom break after the first set to do it.
It was the 10th straight year the championship was won in straight sets, and it was the most lopsided finale since Martina Hingis beat Venus Williams 6-0, 6-4 in 1997.
There's never been any doubt about Clijsters' talent. She's a former No. 1 who arrived at the Open with 27 career titles – six this year alone. But she'd never won the Big One – or any of the four majors. She reached the final at the French and U.S. opens in 2003, as well as the Australian in 2004, and each time she fell short against Henin-Hardenne. She also lost to Jennifer Capriati in the 2001 French Open.
But that was before the career-threatening wrist injury. The 22-year-old had surgery last June to remove a cyst on her left wrist and missed the next four majors.
When Clijsters returned to the tour this spring, she had a different, more determined attitude.
Pierce had her right thigh heavily wrapped again Saturday, but duct tape wouldn't have helped her against Clijsters. The Belgian was too strong, too crisp, too fleet.
Pierce called for a trainer twice, but she moved just fine when she had to. Her bigger problem was her inability to get any of her shots working consistently against Clijsters. At times, she stood like a statue on the court, watching Clijsters rocket balls past her and prompting one fan to shout, "Mary! Wake up!"
Clijsters won 12 of the first 13 points of the second set to go up 3-0. Pierce held serve to make the score a little respectable, but her body language confirmed what everyone in the stands already knew.
"Kim, congratulations," Pierce said. "You were really too good today, and you deserved to win."
Local journalism is essential.
Give directly to The Spokesman-Review's Northwest Passages community forums series -- which helps to offset the costs of several reporter and editor positions at the newspaper -- by using the easy options below. Gifts processed in this system are not tax deductible, but are predominately used to help meet the local financial requirements needed to receive national matching-grant funds.
Subscribe to the sports newsletter
Get the day's top sports headlines and breaking news delivered to your inbox by subscribing here.
---