Sports
Shackelford strengthens pass attack
Wed., Sept. 14, 2005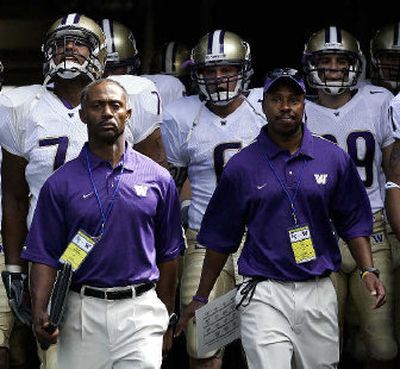 SEATTLE – It didn't take coaches to tell Sonny Shackelford he had to work better. He knew that even though he led Washington in receptions in 2004 (albeit with 21), he had to do better, for himself and the team.
He committed himself to working out with former Huskies great Steve Emtman in the weight room, transforming his body into one that could make him Washington's go-to receiver.
"I was more lackadaisical in years before," Shackelford said. "This year I had to put my foot down to myself and say I've got to get the job done. I can't have seasons like I had before. I figured something has to change for me."
Things did change. Foremost, Shackelford changed his body. He went from a 180-pounder who sometimes got pushed around to a toned 198-pounder on a 6-foot-2 frame. Shackelford said he's now between 190 and 193 pounds, and he feels the difference.
"My stamina is up more," Shackelford said. "And I can hold my strength longer."
Coaches saw a difference between the Shackelford they saw in the spring and the one who showed up for fall camp. Both head coach Tyrone Willingham and offensive coordinator Tim Lappano raved about the junior's ability to make tough catches, and both felt he could be in for a big year.
So far, he has been.
Washington receivers coach Eric Yarber said he recruited Shackelford out of Beverly Hills High School and described him as "frail" back then. He was surprised to see Shackelford when he joined Willingham's staff in the spring. But Yarber said it's more than just the weight that's been added.
"It's not the weight, it's the strength," Yarber said. "Getting off the jam is imperative, especially in the Pac-10."
Shackelford leads the Huskies with 11 catches for 161 yards and a touchdown, more than double the yardage of the next receiver. On the first play of last week's loss to California, Shackelford caught a pass from Isaiah Stanback on Washington's first possession and, splitting two defenders, turned it into a 56-yard touchdown.
"I've been very pleased with what Sonny has done," Willingham said. "Sonny from the outset of the summer has started to work to make himself into a good player."
"He's stronger this year," Stanback said. "He's always in the right spot. He's making some good catches. I have a lot of confidence in him."
Shackelford has been crucial to a resurgent Washington passing game that was the worst in the nation last year. The Huskies are averaging 271.5 yards a game in the air, and Stanback has completed 62 percent of his passes.
The ability to be a big-play guy was evident in Shackelford while he was at Beverly Hills High. As a junior, he switched from receiver to quarterback and was named the top QB in the league. He went back to receiver as a senior, catching 65 passes for 1,465 yards and 20 touchdowns.
He didn't waste time breaking into the rotation at receiver for the Huskies, playing in every game as a true freshman, including one start. That season, he had seven catches for 92 yards. Last year he had 298 yards to go with his 21 catches, and one touchdown.
Yarber looks forward to matchup
Yarber is one of several Washington coaches who played at Idaho, and he said he's looking forward to facing his alma mater for the first time as a coach.
"Like most people who face their alma mater, they want to crush them, even though that was some of the best times of my life," Yarber said.
Yarber earned Big Sky Conference Most Valuable Player as a senior at Idaho in 1985, catching 75 passes for 1,103 yards and nine touchdowns. He ranks ninth on the Vandals' all-time receptions list (129), tied for ninth in receiving yards (1,920), tied for fifth in touchdown catches (17) and second in receptions per game (6.79). He was a 12th-round pick by the Washington Redskins in 1986, playing three seasons there and winning a Super Bowl in 1988. His first coaching job was as Idaho's defensive backs coach in 1996 under UW linebackers coach Chris Tormey.
Kickoff return options
Although he ranks among the leaders in the Pac-10 in kickoff returns, Roy Lewis is not listed at that spot in this week's depth chart. Willingham said that was because Lewis has a bruised knee and his status isn't known. If Lewis isn't able to go as a return man, Cody Ellis, Anthony Russo or Marlon Wood would join Shelton Sampson at that spot.
Local journalism is essential.
Give directly to The Spokesman-Review's Northwest Passages community forums series -- which helps to offset the costs of several reporter and editor positions at the newspaper -- by using the easy options below. Gifts processed in this system are not tax deductible, but are predominately used to help meet the local financial requirements needed to receive national matching-grant funds.
Subscribe to the sports newsletter
Get the day's top sports headlines and breaking news delivered to your inbox by subscribing here.
---