Sports
Quick pulse fells Toms
Fri., Sept. 16, 2005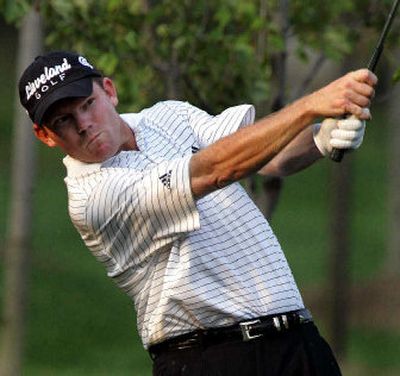 Shaun Micheel could be forgiven as a potentially great round turned into a good one at the 84 Lumber Classic at Farmington, Pa.
Once playing partner David Toms was rushed to a hospital with a racing pulse, Micheel had a lot more on his mind than golf.
Micheel was in the midst of cutting eight shots off par during a remarkable nine-hole stretch Thursday when Toms – a former PGA champion – became white-faced, dropped to his knee in discomfort complaining of a rapid heart beat and was rushed off the course in an ambulance.
A hospital administrator initially said Toms was in critical condition but, later in the evening, an administrator on duty Dolores Stairs said Toms was in good condition. Adam Young, the director of the David Toms Foundation, said Toms spoke to his family members several times during the evening after undergoing tests.
"I have an issue with my heart, but it won't be a life-threatening situation," Toms said in a statement released by the PGA Tour on Thursday night. "I am staying overnight in the hospital to get some further evaluation and tests done. The doctors will then give me some options on how to treat this issue."
Micheel lost concentration during what he called "a scary moment." He bogeyed his final three holes to settle for a 7-under-par 65.
"It shook me up. He went down to his knee, got up and walked a few steps and then went back to his knee," Micheel said. "When an ambulance backs up to the first tee, it tells you it's a little more serious."
Toms, 38, was initially taken to the nearby Uniontown Hospital, then was transported by helicopter to UPMC Presbyterian Hospital in Pittsburgh for further tests.
Toms was even par through nine holes, taking a bogey on No. 18 after previously being 1 under.
"I asked him if he wanted a drink of water, and he just said his chest was hurting and his heart was racing," Micheel said. "I'm not a doctor … but that's generally not a good sign. He just turned real white, just didn't have color in his face."
Micheel went on to birdie Nos. 1, 2 and 3 after Toms was stricken – the group started the day on No. 10 – and had an eagle on the par-5 No. 5 and birdie on No. 6 to get to 10 under. At that point, three birdies in the final four holes would have given him a 59.
Instead, Micheel, who has done little on the PGA Tour since winning the 2003 PGA Championship, bogeyed the final three holes on the 7,516-yard Mystic Rock course to settle for a 7-under 65 and a four-way tie with Mark O'Meara, South Korea's Charlie Wi and Nationwide Tour phenom Jason Gore.
World Match Play
At Virginia Water, England, former winner Colin Montgomerie was eliminated in the first round of the World Match Play Championship by Australia's Mark Hensby.
Hensby, seeded ninth, won 2 and 1 against the eighth-seeded Montgomerie, a Scotsman who captured the title in 1999.
Hensby took advantage of Montgomerie's poor play at the start of the second set of 18 holes, evening the score after 23 holes of their 36-hole round.
Hensby went ahead on the short 28th with a 5-foot birdie putt and clinched the match with birdies at the 34th and 35th holes.
Top-seeded Retief Goosen beat Kenneth Ferrie 8 and 7 and will play Hensby today.
Third-seeded Luke Donald scored a 7 and 6 win over Bernhard Langer, the Ryder Cup captain who made Donald a wild-card pick last year.
U.S. Open champion Michael Campbell, seeded fourth, went to the 36th hole to beat Geoff Ogilvy 1-up after leading by six with 13 holes left.
U.S. Mid-Amateurs
Kevin Marsh of Las Vegas defeated former Georgia Tech standout Carlton Forrester 10 and 9 in the 36-hole match play final to win the men's U.S. Mid-Amateur championship at The Honors Course at Chattanooga, Tenn.
In the women's championship, Canada's Mary Anne Lapointe became the first foreign-born winner of the U.S. Women's Mid-Amateur, defeating stroke-play medalist Kerry Postillion 1-up at Shadow Hawk Golf Club in Richmond, Texas.
Local journalism is essential.
Give directly to The Spokesman-Review's Northwest Passages community forums series -- which helps to offset the costs of several reporter and editor positions at the newspaper -- by using the easy options below. Gifts processed in this system are not tax deductible, but are predominately used to help meet the local financial requirements needed to receive national matching-grant funds.
Subscribe to the sports newsletter
Get the day's top sports headlines and breaking news delivered to your inbox by subscribing here.
---