News > Features
Fashion Fixup
Sat., Sept. 17, 2005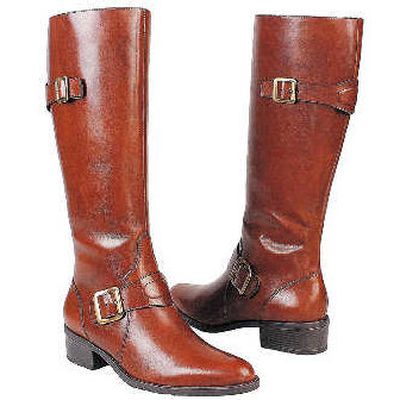 While you probably already own your fair share of boots, coats and sweaters, chances are that some of last year's scuffed leathers and moth-eaten woolens could use a little TLC before autumn gets under way. Yes, there are times when it's easier to throw in the towel and buy replacements: Woven hats, gloves and scarves usually aren't worth the energy it takes to get them repaired, particularly considering how affordable new sets tend to be. Other items, such as a treasured coat or cashmere cardigan, merit going the extra mile when it comes to repair. "There's the emotional factor," says Jon Simon, owner of Parkway Custom Drycleaning in Chevy Chase, Md. "If this was your great-grandmother's, it's different." Here's how to give some of the pieces in your closet a new lease on life. And should you decide to send them to consignment-store heaven, we've got the scoop on this season's top trends.
Boots
TLC: Worn-out soles are one of the easiest shoe problems to fix. Water and salt stains can be more pesky, but most shoe repair shops offer treatments to remove or diminish them. When you bring in your boots, ask for a stain repellant to be put on, as well.
"It's easier to clean and remove stains later on," says Nelson Ramos, owner of Corrective Shoe Repair in Washington. "If something gets on it, it doesn't penetrate as deep."
If you wore your boots every day last year and are dismayed at how misshapen the toe boxes have become, consider starting over and treat this new pair with more care:
Shoes need time to dry out between wearings (preferably with shoe trees inserted) to help them keep their shape.
And while it's tempting to sport a new pair of boots the day you buy them, have rubber sole protectors put on first if you want them to last.
Fall's fashions: The flat boot was big news on the season's catwalks, from Christian Dior's glossy mod version to ever-present equestrian styles, such as those by Anna Sui and Naturalizer ($140 at Naturalizer.com).
For most women, knee-high boots such as these are the way to go: They create a sleek line that lengthens the leg, as opposed to midcalf or ankle boots, which can have a stumpy effect.
Coats
TLC: The two most common coat conundrums, ripped linings and stains, are readily fixable at most dry cleaners. If you're taking a do-it-yourself approach to dirt removal, know that "water or club soda will actually set a stain, rather than remove it," says Simon. Fabric cleaners such as Woolite make safer bets; just dab the stain more than you rub it.
Once they're stained by water, leather and suede coats can prove particularly tricky to resuscitate. A few spritzes of weatherproofing spray alone won't prevent damage.
"Nothing permanently repels water," says Simon.
If you do get caught in a downpour in your suede trench, take it in to get cleaned as soon as possible: The longer water stains set, the tougher they are to remove.
Fall's Fashions: This season's bevy of structured, military-inspired coats (as seen by Balenciaga and Yves Saint Laurent, among others) will stay in style for some time. Although sweeping, ankle-length coats were shown on some runways, a knee-length version is more versatile for real life, and dark hues and luxe fabrics only up the dressiness factor.
Channel the mood of Chloe's topper with Newport News' buttoned version, which nods to another major trend: velvet.
Sweaters
TLC: Stained cashmere and wool can be dry-cleaned, but the Cashmere and Camel Hair Manufacturers Institute recommends hand-washing knit sweaters. The reason: Many dry cleaners use perchlorethylene, a harsh cleaning agent that can cause fine knit fibers to lose their softness.
Reweaving often works wonders on moth holes and snags. That said, it's worth considering how much you paid for your sweater in the first place. This level of repair is labor-intensive and expensive (it generally starts around $50 and escalates from there).
Dry cleaners may offer the service, but they have limits to what they can do.
"Any hole larger than a dime is too big to be rewoven," says Simon.
Fall's Fashions: That mid-'90s staple, the sweater coat, had its runway return. What makes Banana Republic's merino wool incarnation different? Its refined, non-bulky shape makes it dressy enough to work for a big night out.
Local journalism is essential.
Give directly to The Spokesman-Review's Northwest Passages community forums series -- which helps to offset the costs of several reporter and editor positions at the newspaper -- by using the easy options below. Gifts processed in this system are not tax deductible, but are predominately used to help meet the local financial requirements needed to receive national matching-grant funds.
Subscribe now to get breaking news alerts in your email inbox
Get breaking news delivered to your inbox as it happens.
---