News > Idaho
Flashback
Sat., Sept. 17, 2005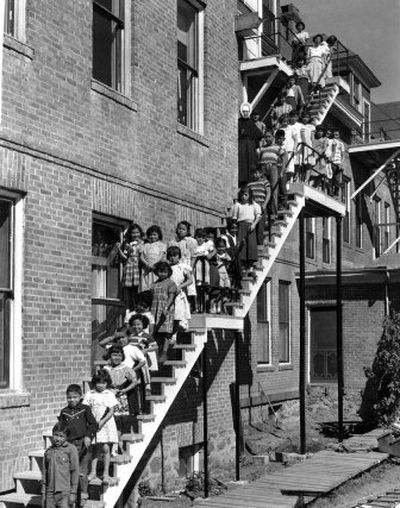 Today is Saturday, Sept. 17, the 260th day of 2005. There are 105 days left in the year.
Today's Highlight in History:
On Sept. 17, 1787, the Constitution of the United States was completed and signed by a majority of delegates attending the constitutional convention in Philadelphia.
Ten years ago: Hong Kong held its last legislative election before the 1997 takeover by China, with some of Beijing's fiercest critics the big winners.
Five years ago: A U.N. refugee worker (Mensah Kpognon) was killed and a second (Sapeu Laurence Djeya) kidnapped in a raid in Guinea (the abducted staffer was later released). In Sydney, Australia, swimmer Tom Dolan of the United States won the 400-meter individual medley.
One year ago: President Vladimir Putin said Russia was "seriously preparing" for pre-emptive strikes against terrorists, as Chechen warlord Shamil Basayev took responsibility for a school hostage-taking and other attacks that had claimed more than 430 lives. San Francisco's Barry Bonds hit the 700th home run of his career, joining Babe Ruth (714) and Hank Aaron (755) as the only players to reach the milestone (San Francisco beat San Diego, 4-1).
On this date:
In 1862, Union forces hurled back a Confederate invasion of Maryland in the Civil War Battle of Antietam.
In 1920, the American Professional Football Association – a precursor of the National Football League – was formed in Canton, Ohio.
In 1939, the Soviet Union invaded Poland, more than two weeks after Nazi Germany had launched its assault.
In 1944, during World War II, Allied paratroopers launched Operation Market Garden, landing behind German lines in the Netherlands. The Allies, however, encountered fierce German resistance.
In 1948, the United Nations mediator for Palestine, Count Folke Bernadotte, was assassinated in Jerusalem by Jewish extremists.
In 1976, NASA publicly unveiled the space shuttle Enterprise at ceremonies in Palmdale, Calif.
In 1978, after meeting at Camp David, Israeli Prime Minister Menachem Begin and Egyptian President Anwar Sadat signed a framework for a peace treaty.
In 1980, former Nicaraguan president Anastasio Somoza was assassinated in Paraguay.
In 1984, Progressive Conservative leader Brian Mulroney took office as Canada's 18th prime minister.
In 1996, former Vice President Spiro T. Agnew died in Berlin, Md., at age 77.
Local journalism is essential.
Give directly to The Spokesman-Review's Northwest Passages community forums series -- which helps to offset the costs of several reporter and editor positions at the newspaper -- by using the easy options below. Gifts processed in this system are not tax deductible, but are predominately used to help meet the local financial requirements needed to receive national matching-grant funds.
Subscribe now to get breaking news alerts in your email inbox
Get breaking news delivered to your inbox as it happens.
---