News > Idaho
'Great for everyone'
Sat., Sept. 17, 2005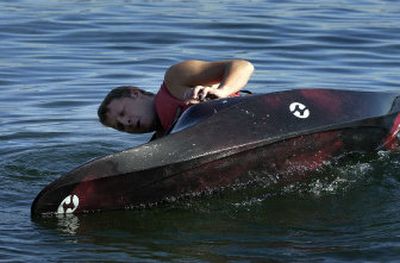 On a recent trip to Alaska by floatplane, I was intrigued by the colorful little dots on the water's surface between the rugged islands. Far from civilization, curiosity got the best of me, and we descended for a closer look. The bright red, orange and blue objects turned out to be kayaks, exploring the Inland Passage in total solitude.
Kayaks can take one on new adventures to remote placid lakes, wild rivers – such as Idaho's famous Hells Canyon – and rocky coastlines. The quiet craft allow paddlers to view wildlife with minimal disturbance, and offer a great workout for a wide range of ages and physiques, with low impact on the body. Popularized by ESPN and extreme sport films, kayaking is becoming one of the most popular sports in America.
If you want to explore the unique world of kayaking, North Idaho College's Kayaking Clinic next Wednesday is a great place to start. Jon Totten, assistant coordinator of NIC's Outdoor Pursuits program, says the course prepares kayakers for a white-water river trip on the Clark Fork in Montana's Alberton Gorge, slated for the weekend of Oct. 1-2.
Totten, a self-described "huge fan of kayaking," says the course starts students on Lake Coeur d'Alene, but the end goal is to challenge the Northwest's white-water rivers. He adds, "I think kayaking on some levels is great for everyone."
For those seeking calm lake waters, rather than fighting the rapids, NIC is offering a kayak/canoe trip on Upper Priest Lake next weekend for $15.
Jamie Dalvini of Kayak Coeur d'Alene says they offer guided kayak trips in the Mica Bay area through September. The two-hour tours offer wildlife viewing and "lots of fun," according to Dalvini. Kayak rentals and sales also are offered.
Kayak rentals for Lake Coeur d'Alene also are available from Coeur d'Alene Parasail and Watersports (208-765-2999). Hayden Lake is a great place for kayaks, and Tobler Marina (208-772-5162) offers kayak rentals, beginning at $30 for two hours.
Here are some kayak facts and terms:
•"Kayak" describes a decked boat that is paddled from a seated position using a two-bladed paddle.
•Kayak types include white-water, recreation, touring, sit on top and even ones with pedal-driven underwater flippers
•Materials used for kayaks include plastic, wood, fiberglass and Kevlar.
•Starting prices for new plastic kayaks begin as low as $250
•Kayaking is great exercise – it takes 500 or more strokes per mile when paddling, resulting in a thorough, low impact upper body exercise and aerobic workout, burning about 400 calories per hour.
•Class I through IV is the international standard classification system for rating the difficulty of rapids, with I the easiest
•The "cockpit" is the opening in the kayak deck where the paddler sits. The curved area around the cockpit edge, used to secure a spray skirt, is the "coaming."
•A "draw stroke" moves the kayak sideways by placing the paddle in the water parallel to the boat at an arm's reach away, then pulling the craft toward the paddle.
•"Ferry" is a maneuver used to cross a current with little or no downstream travel, using the current to move laterally.
•"Initial Stability" is the kayak's resistance to leaning or tipping over.
•"Final Stability" is the kayak's resistance to tipping once it has leaned to a point beyond its "initial stability."
•"Freeboard" is the vertical distance from a kayak's waterline to the lowest part of its gunwale.
•"Gunwale" is a structural support running end to end along the top of the hull.
•"Hull" is the body of the kayak.
•"Keel" is the strop along the bottom of a kayak to prevent sideslipping and to add rigidity.
•To prevent your legs from going numb and a sore bottom after a long paddle, kayaking expert Paul Romero of Team SOLE suggest adding a cheap stadium seat pad and wearing shorts or pants with the least amount of seams, buttons, zippers and buckles.
Local journalism is essential.
Give directly to The Spokesman-Review's Northwest Passages community forums series -- which helps to offset the costs of several reporter and editor positions at the newspaper -- by using the easy options below. Gifts processed in this system are not tax deductible, but are predominately used to help meet the local financial requirements needed to receive national matching-grant funds.
Subscribe now to get breaking news alerts in your email inbox
Get breaking news delivered to your inbox as it happens.
---