News > Idaho
Looking ahead
Sat., Sept. 17, 2005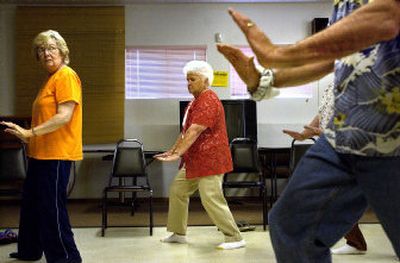 Today
Poetry Writing Workshop – 10 a.m.-5 p.m., at Oden Hall near Sandpoint; workshop presented by poet Christopher Howell; $100; free reading by Howell at 7 p.m. at Oden Hall; 255-4410.
North Idaho College Adult Enrollment Workshop – 10-11:30 a.m., NIC Edminster Student Union Building, Driftwood Bay Room; free; (866) 362-4664 or 666-8017.
Sunset and Moon Cruise – 6-8 p.m., boards at Chatcolet Marina at Heyburn State Park near St. Maries; 46 adults, $2.50 kids; reservations required, 686-4030.
Self Help for the Hard of Hearing – Meets Saturday, 9:30-11 a.m. at Fox Auditorium at Kootenai Medical Center, Coeur d'Alene; speaker is Wes Maynard of the Council for the Deaf and Hard of Hearing; 667-6653.
Silver Valley Habitat for Humanity Walk-a-thon – registration for the 3-mile fund-raiser is today, at 9 a.m. at Kelogg Middle School; minimum pledge of $5 required; 752-7591 or 783-1187.
Free Family Craft Activity – 10 a.m.-3 p.m. at Michaels Arts and Crafts, 225 W. Canfield Ave.; participants will use foam marshmallow characters and create Halloween-themed art, free balloons, fingerprinting and a firetruck will be available; 772-6333.
"The Guys" – 7:30 p.m. at Lake City Playhouse, 1320 E. Garden Ave.; $14 adults, $12 students and seniors, $8 kids 12 and under; 667-1323.
Charleen Martin Studio Gallery – featuring the works of 25 artists through Oct. 31, by appointment only at the studio, 8835 W. Hamaker Road, Coeur d'Alene; 667-6911.
Volunteers Needed for Lake City Playhouse – positions include concessions, usher or box office, 1320 E. Garden Ave. Volunteers receive a free ticket; call 667-1323.
Terry Gieber-Sabbatical Exhibit – exhibit runs through Oct. 8 at the Art Spirit Gallery, 415 Sherman Ave.; 765-6006.
Upcoming
Coeur d'Alene Art Association – meets Monday, 10 a.m., St. Luke's Episcopal Church, Fifth Street and Wallace Avenue, Coeur d'Alene; 762-9107.
Land Use and Planning Process Workshops – Mondays through Oct. 31, 3:30-5 p.m., University of Idaho, 1000 W. Hubbard Ave., Suite 142, Coeur d'Alene; Kootenai Environmental Alliance, 667-9093.
Coeur d'Alene Audubon Chapter – meets Monday, 7 p.m., Idaho Fish and Game Building, 2750 Kathleen Ave., Coeur d'Alene; speaker is Bob Ries; 664-4739.
Coeur d'Alene Audubon Chapter Brown Bag – birding trip Tuesday, noon-1 p.m., meet at the west end Fernan Lake boat launch; Lynn Sheridan, 765-2603.
North Idaho College Adult Enrollment Workshops – free clinic, Tuesday, 2:30-4 p.m. and 5:30-7 p.m. at the NIC Silver Valley Center, 323 Main St., in Kellogg; reservations recommended; (866) 362-4664 or 666-8017.
Kingston Kids – potluck lunch Tuesday, at noon at the Ecklund Home; for anyone who attended school in Kingston; call for directions and info, 689-3406.
North Idaho College Athlete Open House – meet the student athletes and coaching staff Wednesday, 5:30-7:30 p.m., NIC'S Christianson Gym, 1000 W. Garden Ave.; event includes free soda, popcorn and junior Cardinal T-shirts; 769-3448.
William Wharton Cello Recital – Tuesday, , 8 p.m. at the recital hall at the University of Idaho Lionel Hampton School of Music; $5 adults, $3 students and seniors; 885-7212.
UI Law School Bellwood Lecture – Tuesday, 4 p.m. at the UI Student Union Ballroom on campus; featured speaker is Minnesota Supreme Court Justice Alan C. Page; 885-6291.
Alliance for Retired Americans – meets Tuesday, 1 p.m. at Lake City Senior Center, Coeur d'Alene; 773-7964.
Senior Dance – Tuesday, 7-9:30 p.m. at Post Falls Senior Center, 1215 E. Third Ave.; featuring Uncle Harold's Band; cost $3.50; 773-9582.
Whitewater Kayaking Clinic – Wednesday, 4:30 p.m., North Idaho College Beach on Rosenberry Drive; $15; 769-7809.
"Surfing the Web-Searches on the Internet," Computer class – free 90-minute workshop Wednesday, 6 p.m. at Coeur d'Alene Public Library, 201 E. Harrison Ave.; 769-2315.
Fall Session Story Time at Post Falls Library – for ages 3-5 on Wednesdays 10:30-11 a.m., and ages 1-3 on Thursdays, 10:30-10:50 a.m. at the library, 821 N. Spokane St.; 773-1506.
Free Tai Chi – Wednesday, 9-10 a.m. at Post Falls Senior Center, 1215 E. Third Ave.; 773-9582.
Idaho Department of Environmental Quality Public Meeting – Wednesday, , 9 a.m. to noon at the Sandpoint Federal Building, suite 2, 1500 state Highway 2; disussion includes status of lower Clark Fork River total maximum load and formation of watershed advisory group; 769-1422.
Peace Coeur d'Alene International Day of Peace – video presentation Wednesday, 4 p.m. at North Idaho College, followed by an interfaith candlelight vigil at the Coeur d'Alene City Park bandshell; 664-5659.
Kootenai County Democratic Club Luncheon – Friday, noon, Iron Horse Restaurant, 407 E. Sherman Ave; Idaho governor candidate Jerry Brady will speak; 777-1588.
Local journalism is essential.
Give directly to The Spokesman-Review's Northwest Passages community forums series -- which helps to offset the costs of several reporter and editor positions at the newspaper -- by using the easy options below. Gifts processed in this system are not tax deductible, but are predominately used to help meet the local financial requirements needed to receive national matching-grant funds.
Subscribe now to get breaking news alerts in your email inbox
Get breaking news delivered to your inbox as it happens.
---