Sports
Mt. Spokane runs down Clarkston
Sat., Sept. 17, 2005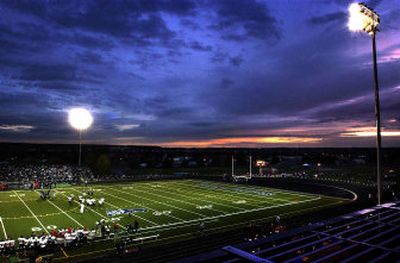 The Mt. Spokane Wildcats have never been known for having a power running game.
But in handling Clarkston 23-6 in the second game of an Albi Stadium Greater Spokane League football doubleheader Friday night, the 2005 edition of the Wildcats showed they have one – in a sense.
"We still don't (have a power game)," Mt. Spokane coach Mike McLaughlin said. "It's all about angles and blocking and effort and execution. We did a great job of all those things tonight."
In the doubleheader opener at Albi, Ferris never punted en route to a 51-14 thrashing of Rogers. In the outside games, Mead set up a showdown with Ferris next week, stopping host University 21-0; Gonzaga Prep opened its on-campus field with another shutout, 38-0 over Cheney; and Lewis and Clark eased past host West Valley 24-7.
As the second game at Albi wore down, so did the Bantams.
"It would appear they have kids who are banged up a little bit," McLaughlin said of the Bantams (1-2 overall and 1-1 in the GSL). "We tried to play without a turnover and we did that. We tried to have our defense force some turnovers and they did a great job of that."
One of Clarkston's turnovers – a bad punt snap – led to two points as Bantams' punter Leigh Zipse had to carry the ball out of the back end of the end zone for a safety to avoid a Wildcats touchdown. The second, a third-quarter fumble deep in Mt. Spokane territory, led four plays later to Nick Ellis' 38-yard touchdown run for a 16-1 Wildcats lead.
Mt. Spokane's speed ("We have good team speed on both sides of the ball," McLaughlin said) contributed to both turnovers and caused the Bantams' offense trouble all night.
"We utilize our speed the best we can," McLaughlin said. "On defense we can't stand in and just take their blocks, so we stunt, move around and make ourselves tough to hit."
Clarkston finished with 184 total yards, but 85 of those came on one play – Clarkston's second play of the game, in fact. Kyle Beggs, who led Clarkston with 130 yards rushing, burst over left tackle – in a hole left empty by a stunt – and outraced the Mt. Spokane (2-1, 1-1) defense to the end zone.
But the Wildcats had a few big plays of their own, including a 36-yard scoring pass from backup quarterback Matt Johnson to Adnan Hatkit that capped the scoring. But they also had that power game, gaining 309 yards on the ground, with nine ball carriers contributing.
Ellis led the way with two scores and 85 yards while Kris Pryor added 84 more. Reserve Korey Sutton had the Wildcats' longest run, a 51-yard scamper as time was running down.
Ferris 51, Rogers 14
The Pirates' gun-option attack fired on the opening drive, powering a 69-yard, nine-play scoring drive. Sean Adebayo put it in the end zone with 4-yard run with a lateral in the left flat. Andrew Durant's two-point conversion pass to Scotty Livengood was good and Rogers (0-3, 0-2) led 8-0.
From there the Pirates' offense misfired, fumbling twice before halftime – when they trailed 23-8 at intermission – and finishing with only 198 total yards.
The Saxons (3-0, 2-0) did most of their damage on the ground, with running back Ryan Murphy rushing for 124 yards, 104 in the first half. He also had two of Ferris' six rushing touchdowns. His younger brother, McKenzie, not to be topped, also scored twice, first on a 5-yard interception return then on a 75-yard kickoff return.
The Saxons finished with 449 yards in total offense as six different ball carriers contributed to 340 yards rushing.
Mead 21, University 0
The Panthers (3-0, 2-0) set up the battle of unbeatens with Ferris by racing to a 21-0 halftime lead and coasting from there.
Skylar Jessen, who finished with 119 yards on 17 carries, scored from 43 yards out on the game's first play from scrimmage, added a 4-yard run later in the quarter, and then, with time running out in the first half, gathered in a pass from Andrew DeFelice and scored from 30 yards out.
The Mead defense held the Titans (0-3, 0-2) to 90 yards in total offense, including just 25 on the ground. The Panthers' offense racked up 329 yards, with Jessen accounting for 166 of those.
Lewis and Clark 24, West Valley 7
Ethen Robinson carried 34 times for 188 yards and two scores as the Tigers (2-0, 2-0) defeated the host Eagles (1-2, 1-1).
LC limited West Valley to 107 yards on 35 plays while running 73 of its own.
The Tigers' two quarterbacks combined to hit 18 of 21 passes, with Alston Umuolo converting 6 of 7 for 60 yards and Michael Kugler 12 of 14 for 151 yards.
Gonzaga Prep 38, Cheney 0
The Bullpups christened their on-campus field in style with a shutout win. The Blackhawks (1-2, 0-2) gained just 75 yards, 31 on the ground.
The Pups (3-0, 2-0) pounded out 199 yards rushing, including a 38-yard scoring run by quarterback Max Manix.
Manix also hit 8 of 13 passes for 175 yards, including a 38-yard touchdown toss to Conner Hare, who added two rushing touchdowns.
The game was the first varsity football game on the Gonzaga Prep campus since the school moved to its current site.
Local journalism is essential.
Give directly to The Spokesman-Review's Northwest Passages community forums series -- which helps to offset the costs of several reporter and editor positions at the newspaper -- by using the easy options below. Gifts processed in this system are not tax deductible, but are predominately used to help meet the local financial requirements needed to receive national matching-grant funds.
Subscribe to the sports newsletter
Get the day's top sports headlines and breaking news delivered to your inbox by subscribing here.
---