Sports
Destiny brought Smith to UI
Fri., Sept. 23, 2005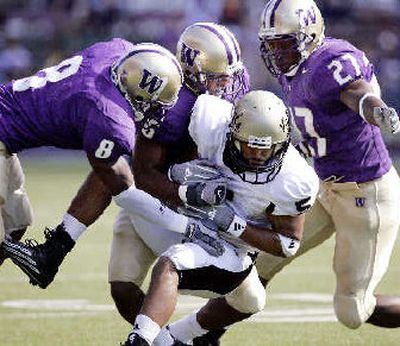 So what's a guy who is married to Beyonce's younger sister, whose half-brother is Cuttino Mobley of the Los Angeles Clippers, who counts Texas quarterback Vince Young as one of his closest friends, doing in Moscow, Idaho?
Same thing as everyone else on the University of Idaho football team: He's trying to become a better football player and earn a college degree.
Oh yeah, he wants to play on the Vandals basketball team, too.
Meet junior wide receiver Daniel Smith.
"Moscow is a big adjustment," said Smith, who grew up in Houston and played at Los Angeles Pierce College before joining the Vandals. "It's slow, but it gives us a lot of good family time. It's 3 million (people) versus 20,000, but we're here for a purpose and we're trying to get it accomplished."
There are many hats Smith could probably wear. He has an uncle who operates a well-known apparel company. His 19-year-old wife, Solange Knowles, has recorded a solo album, written and produced songs, danced on tour with Destiny's Child, been in a movie and made numerous appearances on TV shows. The couple has an 11-month-old son, Daniel II.
But Smith has chosen to wear a Vandals helmet.
"I got pretty close to Daniel," Pierce coach David Banuelos said. "He's pretty well-rounded. He's got other options. He doesn't have to play football, but he loves the game so he's doing the best he can for himself and making a mark for himself. He's a pretty deep kid.
"There's a lot more to him than just football."
Such as basketball, his sport of choice as a youngster. Smith was the point guard and Young was the center at Madison High. Smith played only one year of football, settling in at receiver while Young directed an option offense.
"I blocked a lot," Smith said, "but we also threw for 3,300."
Smith always thought his route to college athletics would be on a basketball court, but, as he often has in his life, he took a different avenue. He went to I-AA Texas Southern with the intention of playing both sports but left when he found out he was earmarked to redshirt in football and when he learned the coach was going to be fired.
"I felt like I was one of the better players, so I was a little disappointed (to redshirt)," Smith said. "I didn't have problems there. I just really wanted to get out on my own."
Banuelos had heard about Smith through a friend in Houston. That led Smith to Pierce, where he planned on playing football and basketball. Smith made an immediate impact, but his freshman year was cut short by a knee injury at midseason. The injury kept him out of basketball, too.
He had 43 receptions for 795 yards and five touchdowns as a sophomore. He signed early with Idaho and enrolled in January, meaning he never suited up for Pierce's basketball team.
"A lot of people were looking at him," Banuelos said. "He was close to Washington State and Cal. Cal offered him after he'd signed with Idaho."
The 6-foot-1 Smith had 10 catches in his Vandals debut against WSU. In three games, he has 22 receptions for 314 yards and two touchdowns.
He's 13th nationally with 7.3 catches per game and 18th with 104.7 yards per game.
He is one of those receivers that does everything well. He's tall enough to win physical battles with cornerbacks. He's fast enough to create open space, and he's tough enough to go over the middle.
"Speed is important, but there have been a lot of great players that haven't been burners," UI receivers coach Chad Q. Brown said. "First and foremost is his body control and ball skills. He's definitely got a gift."
Smith has done his part by shedding some extra weight, dropping from 210 to 195.
"We started calling him chubby," Brown said. "He wasn't flying around or playing fast. He chose to work it off, and he's playing faster than he ever has."
Smith and quarterback Steve Wichman appear to have a natural connection, in part because both like to improvise on the field. Wichman calls Smith's son "nephew."
"(Wichman) brings great presence to our offense," Smith said.
Smith wears No. 5 at Idaho because it's the number Mobley wears for the Clippers. The two talk almost daily.
"He's really my role model," Smith said. "He's the person I look up to and he guides me."
Smith's goal is to play in the NFL. If that doesn't work out, he's already dabbled in designing clothes when he worked summers for his uncle.
Smith has a lot on his mind these days, with Hurricane Rita bearing down on his hometown, a home game against Hawaii on Saturday night in the Kibbie Dome and his wife heading to Los Angeles next month to begin shooting a movie. Smith's aunt will help take care of Daniel II while Solange splits time in California and the Palouse.
Not a day goes by without somebody asking Smith about Solange or Beyonce, who stopped by for a brief visit last month. Smith takes it all in stride.
"Solange has been great," he said. "She's loud. I can hear her in the crowd during games."
Smith wants to keep making noise, too, on the field.
"We've spoken a lot of times about him making a mark for himself and making sure he works for everything he gets," Banuelos said. "He's doing that. That's probably why the bio (in Idaho's media guide) doesn't mention all the other things. I'm extremely proud of him because he's doing really good things."
Said Smith: "I'm a homebody. If it ain't football or school, I just want to sit and watch ESPN or listen to music videos."
Local journalism is essential.
Give directly to The Spokesman-Review's Northwest Passages community forums series -- which helps to offset the costs of several reporter and editor positions at the newspaper -- by using the easy options below. Gifts processed in this system are not tax deductible, but are predominately used to help meet the local financial requirements needed to receive national matching-grant funds.
Subscribe to the sports newsletter
Get the day's top sports headlines and breaking news delivered to your inbox by subscribing here.
---