News > Nation/World
Rita comes surging ashore
Sat., Sept. 24, 2005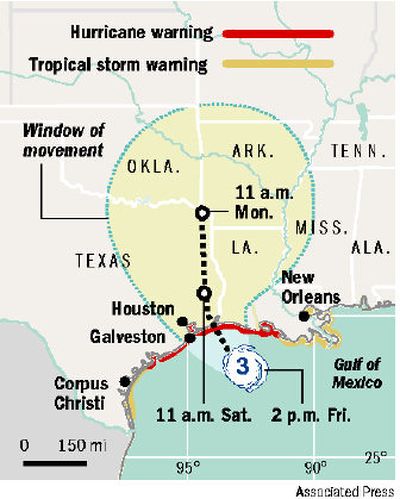 BEAUMONT, Texas – Hurricane Rita steamed toward refinery towns along the Texas-Louisiana coast with 120 mph winds Friday, creating havoc even before it arrived: Levee breaks caused new flooding in New Orleans, and as many as 24 people were killed when a bus carrying nursing-home evacuees caught fire in a traffic jam.
Rita weakened during the day into a Category 3 hurricane after raging as a Category 5, 175-mph monster earlier in the week. But it was still a highly dangerous storm.
The hurricane was expected to come ashore early today on a course that could spare Houston and Galveston but slam the oil refining towns of Beaumont and Port Arthur, Texas, and Lake Charles, La., with a 20-foot storm surge, towering waves and up to 25 inches of rain.
"That's where people are going to die," said Max Mayfield, director of the National Hurricane Center. "All these areas are just going to get absolutely clobbered by the storm surge."
Late Friday, southwestern Louisiana was soaked by driving rain and coastal flooding. Sugarcane fields, ranches and marshlands were already under water at dusk in coastal Cameron Parish.
The sparsely populated region was almost completely evacuated, but authorities rushed to the aid of a man who had decided to ride out the storm in a house near the Gulf of Mexico after one of the man's friends called for help.
They were turned back by flooded roads.
"He's going to take the full brunt of this hurricane coming in," sheriff's Capt. James Hines said.
Police rescued four people huddled under an overhang outside the locked downtown civic center in Lake Charles. "There's probably going to be 4 feet of water where they are now," Hines said. "So they need to get out of there."
Empty coastal highways and small towns were blasted with wind-swept rain. A metal hurricane evacuation route sign along one road wagged violently in the wind, and clumps of cattle huddled in fields.
Steve Rinard, a National Weather Service meteorologist in Lake Charles, said he could not keep count of the tornado warnings across southern Louisiana. "They were just popping up like firecrackers," he said.
Rita threatened dozens of shuttered refineries and chemical plants along the Texas and Louisiana Gulf Coast that represent a quarter of the nation's oil refining capacity. Environmentalists warned of the risk of a toxic spill, and business analysts said Rita could cause already-high gasoline prices to rise to as much as $4 a gallon.
In the storm's cross hairs were the marshy towns along the Louisiana line: Port Arthur, a city of about 58,000 where the main industries include oil, shrimping and crawfishing; and Beaumont, a port city of about 114,000 that was the birthplace of the modern oil industry. It was in Beaumont that the Spindletop well erupted in a 100-foot gusher in 1901 and gave rise to such giants as Gulf, Humble and Texaco.
Mike Hargrave, 42, was ordered to evacuate from his home in Sulphur, just west of Lake Charles. He arrived late Thursday at a church shelter in Lafayette, 80 miles east, carrying only a bag of clothes.
"The police told me we will escort you out or you will be going to jail," he said.
Kandy Huffman had no way to leave, and she pushed her broken-down car down the street to her home with plans to ride out the storm in an otherwise-deserted Port Arthur, where the streetlights were turned off and stores were boarded up.
"This isn't my first rodeo. All you can do is pray for best," she said as a driving rain started to fall. "We're surrounded by the people we love. Even if we have to all cuddle up, we know where everybody is."
In New Orleans, which had just drained nearly all the putrid floodwaters from Katrina, Rita's wind and rain sent water gushing through a patched levee along the Industrial Canal and into the already-devastated Lower Ninth Ward and parts of neighboring St. Bernard Parish. The water rose to waist level.
About the same time, water streamed through another levee along the patched London Avenue Canal, swamping homes in the Gentilly neighborhood with 6 to 8 inches of water.
"Our worst fears came true," said Maj. Barry Guidry, a National Guardsman on duty at the broken levee in the Ninth Ward.
Refugees from the misery-stricken neighborhood learned of the crisis with despair.
"It's like looking at a murder," Quentrell Jefferson said as he watched the news at a church in Lafayette, 125 miles west of New Orleans. "The first time is bad. After that, you numb up."
President Bush, mindful of criticism the federal government was slow to respond to Katrina, had planned to visit his home state to review the Rita response but canceled at the last minute to avoid slowing down the preparations. He planned to watch over the storm from the U.S. Northern Command in Colorado Springs.
At least 2.8 million people fled a 500-mile stretch of the Louisiana-Texas coastline in a seemingly all-at-once evacuation that caused monumental traffic jams in which hundreds of cars broke down or ran out of gas. By midday Friday, the bumper-to-bumper traffic had cleared from the outskirts of Houston toward Austin and Dallas.
In a traffic jam on Interstate 45 near Wilmer, southeast of Dallas, a bus caught fire, killing as many as 24 people. Early indications were that mechanical problems caused the fire, and then passengers' oxygen tanks started exploding in rapid succession.
At 8 p.m. PDT, Rita was centered about 55 miles southeast of Sabine Pass along the coast at the Texas-Louisiana border, moving northwest at near 13 mph, and forecasters said it could weaken further become coming ashore.
The military sent cargo planes to evacuate hundreds of medical patients and others from Beaumont. Downtown Beaumont was all but deserted, with buildings boarded up and practically nothing moving but windblown plastic bags. On the horizon, covered in gray clouds, refinery torches belched black smoke.
Sherry Gates, whose husband is maintenance director of the Beaumont Hotel, planned to stay behind to protect the place from looters. The hotel, she said, can withstand whatever Rita brings. "This old girl," she said, "will see us out."
About 90 percent of Galveston's 58,000 residents had cleared out, with the rest left to the mercy of a 17-foot seawall that was built after a 1900 hurricane that killed 6,000 to 12,000 of the island's residents in what is still the deadliest natural disaster in U.S. history.
"I'd rather die in my house than on the street," Linda Rieffannacht said as Rita's outer bands began pushing waves onto the seawall. "This way they will know where I am."
Because of the approaching storm, authorities called off the search for bodies from Katrina, and the death toll across the Gulf Coast stood at 1,079, including 841 in Louisiana.
Local journalism is essential.
Give directly to The Spokesman-Review's Northwest Passages community forums series -- which helps to offset the costs of several reporter and editor positions at the newspaper -- by using the easy options below. Gifts processed in this system are not tax deductible, but are predominately used to help meet the local financial requirements needed to receive national matching-grant funds.
Subscribe now to get breaking news alerts in your email inbox
Get breaking news delivered to your inbox as it happens.
---