Sports
U.S. captures Cup
Mon., Sept. 26, 2005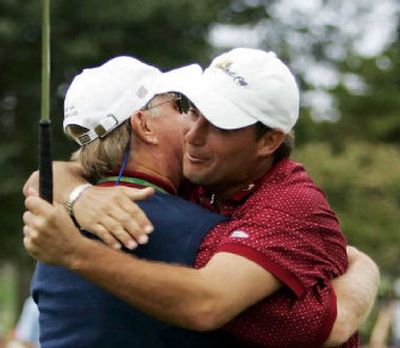 GAINESVILLE, Va. — Fred Couples delivered another magical moment. Chris DiMarco provided the clinching point with the biggest putt of his life. Best of all, the Americans sent captain Jack Nicklaus into retirement as a winner.
Right when it looked like the Presidents Cup might end in another tie, DiMarco capped off a sensational week with a 15-foot birdie on the 18th hole on Sunday, giving him a 1-up victory over Stuart Appleby, the final points the Americans needed to win the cup.
"Every piece of my body was shaking," DiMarco said. "My caddie says before I hit the putt, 'This is the moment you've waited for your whole life, so go ahead and do it.' And you know, I did."
DiMarco knew it was good as the ball was still a few feet from the hole. He charged toward the cup, and then into the arms of Nicklaus as the players hugged everyone they could find.
It was a great week for DiMarco, who went 4-0-1.
But ultimately, this was more about getting a win for their captain, the greatest champion in golf.
"All I thought about was to get him a win," DiMarco said.
Nicklaus doubts he'll be a Presidents Cup captain again, wanting someone else to get a chance.
"It feels a lot better to have a win, there's no question about that," said Nicklaus, whose team had lost badly in Australia in 1998, and tied in South Africa two years ago. "As far as being something special, I may never captain another team, I may never play another round of golf, and if I end my career this way, it's a pretty good way to end it."
Nicklaus put Phil Mickelson and DiMarco in the final two matches, and they came through in the clutch.
Mickelson thought he had earned the clinching point when he stuffed a wedge into 4 feet and made birdie on the 18th hole to square his match with Angel Cabrera. But under new rules this year, every match had to go extra holes until one team had enough points to claim the cup.
Someone apparently forgot to tell Mickelson.
With the Americans already at 17 points, Mickelson pounded his fist when the putt fell, removed his cap to shake hands and was ready to start the celebration when European tour rules official Andy McFee broke the news — the match wasn't over.
Mickelson looked on with utter shock, and headed to the first tee.
But he never had to finish the extra hole. A massive roar behind him told him all he needed to know.
"For Chris to win it was so fitting this week," Mickelson said. "It's a memory that we'll have a lifetime, and we'll never forget."
DiMarco put himself in trouble on 18 with a tee shot into the right rough, forcing him to play it with his feet in the bunker. But the shot came out clean and settled 15 feet from the cup.
Appleby missed his birdie putt, and DiMarco settled in for a putt he won't soon forget.
The only other match that reached the 18th hole was equally important, and produced the loudest cheer of the day. Tied coming to the 18th, Couples rolled in a 20-foot birdie putt to beat Vijay Singh.
"I figure if I beat him, there might be a small, golden rainbow out there, and I did," Couples said.
Davis Love III closed out an easy victory behind him, assuring the Americans at least a tie and turning the stage over to DiMarco and Mickelson, who never lost a match all week.
PGA Tour
Robert Gamez snapped a PGA Tour-record 15 1/2 -year winless streak, closing with a 6-under 64 for a three-stroke victory at the Texas Open in San Antonio.
The 37-year-old Gamez won for the first time in 394 events, dating to the 1990 Bay Hill Invitational, a stretch of 15 years, 6 months. He recently surpassed Butch Baird's record of 15 years, 5 months and 10 days between wins. He also avoided Ed Fiori's mark of 409 events without a victory.
European Tour
Colin Montgomerie's Britain and Ireland team registered the biggest win in the Seve Cup, defeating Continental Europe 16 1/2 to 11 1/2 in Billingham, England.
Local journalism is essential.
Give directly to The Spokesman-Review's Northwest Passages community forums series -- which helps to offset the costs of several reporter and editor positions at the newspaper -- by using the easy options below. Gifts processed in this system are not tax deductible, but are predominately used to help meet the local financial requirements needed to receive national matching-grant funds.
Subscribe to the sports newsletter
Get the day's top sports headlines and breaking news delivered to your inbox by subscribing here.
---