News > Business
Industry over a barrel
Thu., Sept. 29, 2005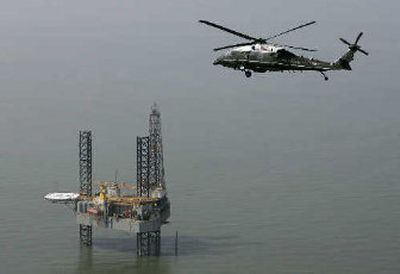 DALLAS — Hurricane Rita may have caused more damage to rigs and platforms than any Gulf of Mexico storm — even its formidable predecessor Hurricane Katrina, oil and gas analysts said on Wednesday.
The double-whammy of those hurricanes has already cost the Gulf almost 7 percent of its annual oil production and 5 percent of its yearly natural gas output, according to a report Wednesday from the U.S. Minerals Management Service.
"The impact on the rigs is something that's never been seen by this country before," said Daniel Naatz, director of federal resources for the Independent Petroleum Association of America.
ODS-Petrodata, which provides data and information to the industry, reported 13 rigs already seriously damaged or destroyed by Rita. Platform damage still is being assessed, said Tom Marsh, ODS analyst
"You may think that 13 is not significant amount, but this is 10 percent of the contracted fleet out of service for various lengths of time or in some cases permanently," Marsh said.
Meanwhile, 9 of 12 pipelines that move gas and oil onshore remain shut down or operate at less than 100 percent capacity, according to the latest report by the Association of Oil Pipelines.
Refineries in the hardest-hit area of Beaumont and Port Arthur, Texas, plus Lake Charles, La., still are not operating, costing about 1.7 million barrels a day of refined products, according to the U.S. Department of Energy.
They include:
• Citgo Petroleum Corp.'s Lake Charles 324,000-barrel-a-day facility.
•ConocoPhillips Co.'s West Lake, La., 239,000-barrel-a-day refinery.
• Exxon Mobil Corp.'s 348,000-barrel-a-day Beaumont plant, the largest producer in that area.
• A 285,000-barrel-a-day joint venture between Royal Dutch Shell PLC's Shell Oil Co. and Motiva Enterprises LLC.
• Total SA's 233,500-barrel-a-day Port Arthur facility.
•Valero Energy Corp.'s 255,000-barrel-a-day plant in Port Arthur.
The slow pace of recovery for the Gulf refineries, rigs and platforms, and concerns about demand for heating oil this winter and for gasoline as the economy bounces back from Katrina and Rita, drove up oil futures on Wednesday.
Light, sweet crude for November delivery rose $1.28 to $66.35 a barrel on the New York Mercantile Exchange. Natural gas futures for October rose more than $1 to $13.907 per million British thermal units.
Heating oil gained more than 7 cents to settle at $2.1411 a gallon, while gasoline gained more than 17 cents to settle at $2.3393 a gallon — an increase of about 8 percent.
Industry executives and analyst say consumers and companies should brace for an expensive winter. And natural gas prices could soar more than fuel oil because, unlike crude oil, there are no natural gas reserves to tap.
Since Katrina struck, the country has received an occasional oil injection from the Strategic Petroleum Reserve and the Paris-based International Energy Agency.
Local journalism is essential.
Give directly to The Spokesman-Review's Northwest Passages community forums series -- which helps to offset the costs of several reporter and editor positions at the newspaper -- by using the easy options below. Gifts processed in this system are not tax deductible, but are predominately used to help meet the local financial requirements needed to receive national matching-grant funds.
Subscribe now to get breaking news alerts in your email inbox
Get breaking news delivered to your inbox as it happens.
---