Sports
Pullman's Jones takes one for team
Thu., Sept. 29, 2005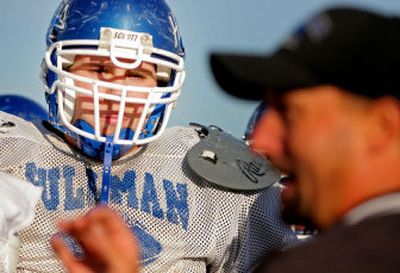 Everyone wants to be the football hero and Jeff Jones, no exception, had his moment in the spotlight last year at quarterback for Great Northern League champion Pullman.
But his most heroic football act has nothing to do with a strong arm on Friday nights. It is the about the sacrifice that the 6-foot-2, 240-pound athlete willingly made in order to keep this year's Greyhounds rolling.
Jones has moved from quarterback to the line. And while such a switch may not be unprecedented, it is highly unusual. Jones said his coaches told him it was a first for them.
"It was one of the hardest things I've had to do," said Pullman coach Bob Wollan. "We had two good quarterbacks, but we had no one for the line and it just made sense. He made the biggest sacrifice for the team."
By its nature, football is built on something of a caste system. The glamour positions belong to backs and receivers. The indispensable grinders in the trenches get scant recognition beyond appreciation dispensed by coaches during film analysis.
Jones has now found himself a part of both worlds.
He had basked in the limelight at quarterback for the Great Northern League champions, completing half his passes for nearly 1,000 yards as a junior before a medial collateral knee ligament injury ended his season.
His world was further turned topsy-turvy while in the weight room at season's end rehabbing for his senior year. Wollan asked him to switch to the line and anonymity.
Jones now starts at offensive guard and also plays defensive end for the unbeaten Greyhounds. So far this season they have outscored four opponents 159-42, including highly-touted 3A Prosser on the road 35-28.
"The bonus," said Wollan, "is that I would have been reluctant to play him on defense if he were quarterback. Now he's in the middle of our defense in a big, big way."
As might be expected, the proposal was not met with alacrity by either player or parents.
"No one would be too thrilled," Jeff admits. "Quarterback is a glory position. But after a couple of days I figured it was best for the team. I couldn't be a spoiled brat and took it on."
His father, Al, also accepted the notion of the common good. His mother Laurie, Jeff said, didn't take it as well.
"It was more the timing when it happened that threw us off guard," Laurie explained. "He had been injured, had had a good season and all of a sudden it (quarterback) was stripped from him."
But she has since come to terms with the switch, although there lingers the hope that colleges, who wrote to him about becoming their quarterback, will still maintain interest.
"Coach Wollan is great about letting people know he's an athlete who can go in a lot of different directions," she said.
"But it is tough seeing him get so big."
Jones last year played at 210 pounds. When informed of the move, he hit the weights in a big way and has packed on 30 pounds to become Pullman's biggest lineman.
"I wanted to fit the part and do the best I can," he said.
The Pullman native began playing football in seventh grade. Even then, said his mom, he didn't start at quarterback until reaching high school.
Jones played junior varsity as a sophomore and some special teams for Pullman's 2003 state finalist.
"My first start on varsity was almost in the Tacoma Dome because our quarterback had hurt his shoulder," Jeff said. "But he played it out and had a good game."
The starter as a junior, Jones completed 63 of 126 passes for 990 yards. The Greyhounds' only loss was in overtime to Prosser. But after rushing for one score and throwing for another in the next-to-last game of the regular season on a rainy night in Chewelah he went down and altered history.
"I got hurt running the ball," he said. "I had it in my mind I was going to score and got hit the wrong way."
Sophomore J.T. Levenseller, son of WSU offensive coordinator Mike, replaced him.
"We were just going to let it play out," said Wollan. "His understanding of our offense wasn't near the level Jeff's was, but when the situation presented itself his learning curve raised dramatically."
And Jones moved. He said he is still learning his new position and doesn't necessarily consider himself the best lineman on the team.
Wollan said that "He's done great. He's kicking butt, is an emotional leader on the line and been a force on both sides of the ball."
And there is a perk while blocking for Levenseller and two outstanding running backs, J.C. Sherritt and Mike Thomas.
"Guards pull and Coach knows I like to hit people," Jeff said. "Now I've got that lineman mentality."
If truth be told, Jones doesn't mind laboring in anonymity. He said he doesn't remember how he became a quarterback in the first place and never was much into stats.
"The glory thing was cool, but now that I think about it, I never had a goal to be the No. 1 quarterback in the state," he said. "I wanted to win with the team and that's how I am on the line."
Local journalism is essential.
Give directly to The Spokesman-Review's Northwest Passages community forums series -- which helps to offset the costs of several reporter and editor positions at the newspaper -- by using the easy options below. Gifts processed in this system are not tax deductible, but are predominately used to help meet the local financial requirements needed to receive national matching-grant funds.
Subscribe to the sports newsletter
Get the day's top sports headlines and breaking news delivered to your inbox by subscribing here.
---