Sports
Big City NASCAR
Fri., Dec. 1, 2006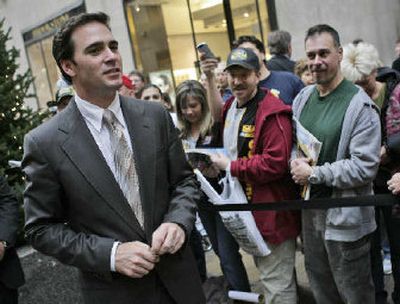 NEW YORK – Jeff Gordon was taking a leisurely stroll past Central Park when he heard someone calling his name from a passing car. In one of the few cities where the NASCAR star still maintains some anonymity, he was taken aback.
"I thought I recognized him, and I turned around … and it was Spike Lee," Gordon said Thursday. "He thought I didn't recognize him, but I did, and he stuck his head out the window and yelled, 'Spike Lee! What's up?' "
That's the kind of recognition NASCAR is looking for each year by celebrating its "Champions Week" in the Big Apple.
A tradition started 26 years ago by former chairman Bill France Jr., the industry takes the city by storm for an entire week of parties, promotions and pomp.
Lunch at the 21 Club, cocktails at Tiffany & Co., sightseeing at the Top of the Rock, a "victory lap" through Times Square and a blowout bash at hip club Marquee, where DJ AM will spin the hottest tunes.
It's a whirlwind of activities that concludes with tonight's black-tie gala at the famous Waldorf-Astoria Hotel.
Earnhardt Jr. likes new title
Congratulations, Dale Earnhardt Jr.
Now that Jimmie Johnson has won a championship and Mark Martin is no longer planning to run a full NASCAR Nextel Cup schedule, Earnhardt has the dubious distinction of being perhaps the best driver without a championship.
Earnhardt, the son of a seven-time champion, arrived in Cup full time in 2000 with two Busch Series titles and sky-high expectations.
So far, his best season finish has been third – in 2003 – and, although he remained in the points battle to the final race this season, Junior wound up fifth.
Earnhardt raised his eyebrows and smiled at the thought of being considered the top guy not to have won the biggest trophy in the sport.
"It's quite a compliment," Earnhardt said. "I ain't never been called the best driver in anything.
"I feel like, personally, I'm the best driver out there. I don't know, at the end my career, whether I'll get the true credit for how talented I am and how talented my team is.
"Being called the best of something takes the sting off of not having won that championship, yet."
Earnhardt collected his fourth consecutive Chex Most Popular Driver Award.
Stewart cleans up
Who says you have to be a big winner to get the big money in NASCAR?
Tony Stewart, who failed to make it into the Chase for the championship and wound up 11th in the points, collected a pile of checks during an awards luncheon, part of NASCAR's Champions Week in New York.
Stewart collected checks totaling $135,000 from Bank of America for its Mid-Race Leader Award, got $100,000 from Checkers/Rally's for its USG Improving the Finish Award and added $75,000 from Wix Filters for its Lap Leader Award.
Awards and more awards
Other awards handed out included:
"Rookie of the Year trophy and $50,000 to Denny Hamlin.
"Budweiser Pole Award and $100,000 to Kasey Kahne, who led the Cup series with six poles.
"Mechanix Wear Pit Crew of the Year Award and $75,000 to the No. 31 Richard Childress Racing Chevrolet driven by Jeff Burton.
"Mobil 1 Driver of the Year Award and $100,000 to Kevin Harvick.
Local journalism is essential.
Give directly to The Spokesman-Review's Northwest Passages community forums series -- which helps to offset the costs of several reporter and editor positions at the newspaper -- by using the easy options below. Gifts processed in this system are not tax deductible, but are predominately used to help meet the local financial requirements needed to receive national matching-grant funds.
Subscribe to the sports newsletter
Get the day's top sports headlines and breaking news delivered to your inbox by subscribing here.
---