News > Idaho
New life for old cops
Sun., Feb. 5, 2006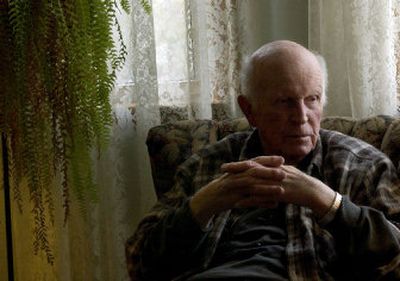 Even in retirement, Addison Arce carries the weight of a career spent solving murders.
It's in the bags under his eyes and in the blue bracelet he wears on his wrist – engraved with the name of a fellow Los Angeles police detective, a partner and mentor, killed in a shootout.
Yet there's pride in his voice when he talks about cases he worked. He was lead detective on the Rodney King police brutality investigation. Another case, the investigation into an LAPD cop who orchestrated scams and up to three murders, was made into a book by Pulitzer Prize winner Edward Humes.
Among Arce and three other retired California cops working cold cases for the Coeur d'Alene Police Department, there are plenty of stories, culled from long big-city careers. One of Mike Westray's cases was the topic of a book and a made-for-TV movie, "Murder, No Doubt."
They retired to North Idaho to escape it all. And they're not the only ones.
Arce said he knows 75 retired officers from the LAPD alone who live within 50 miles of Coeur d'Alene. A large group of retired law enforcement officers – most hail from Southern California – also meets monthly at a downtown restaurant. Officers Without Legal Standing, or OWLS, has about 100 members.
Coeur d'Alene Police Sgt. Christie Wood said the retirees have experience and training that allow them to tackle jobs other volunteers can't, either for lack of training or because of the sensitive nature of police investigations.
"A lot of these guys are upper-level command and retired as captains," said Wood, who runs the department's volunteer programs. "They've never said, 'Listen, idiots, let's show you Idahoans how to do something.' "
Each Tuesday, the four spend the day at the Coeur d'Alene police station, pitching in wherever help is needed. Last week they followed leads on the missing owner of a Coeur d'Alene stereo store, calling businesses where he had accounts to check for recent activity.
The department is putting the retired detectives to work combing the files of cold-case homicides and missing person cases dating back to the 1960s. Lt. Jay Heintz said they are re-examining crime scene evidence to see if advancements in DNA and other technology might help solve the crimes.
"With our manpower as it stands now, we're having a hard time keeping up with current cases, let alone going back to look at a case from the 1960s," Heintz said.
They're also looking into a series of rape cases from 2004. DNA evidence showed the attacker was the same in four of the cases, but police believe he is responsible for others.
When police set up a tip line last summer to field thousands of incoming calls on the Groene killings and child abduction case in Coeur d'Alene, the retired officers helped take phone calls.
"They were so valuable at that time," said Kootenai County Sheriff's Capt. Ben Wolfinger. "They know the right questions to ask. It's just second nature for them."
Coeur d'Alene FBI Supervisor Don Robinson said the volunteers who came in off the street were appreciated and could take down information and pass it on, but the retired law enforcement officers who answered the phones were able to screen and prioritize those tips.
"The military uses the term force multiplier," Robinson said. "That's what they are to us. It's just invaluable having someone with 20-plus years of police experience to screen these calls."
Coeur d'Alene police have capitalized on the expertise of their volunteers.
Bill Gough, a 60-year-old retired detective from the Downey (Calif.) Police Department, has been helping Coeur d'Alene police with crime analysis and research. The computer savvy retiree also puts together an e-mail newsletter that the Coeur d'Alene Police Department sends out to the community.Westray, 66, also comes from Downey, a city of 110,000 13 miles from downtown Los Angeles and bordered by seven other cities. He was Gough's training officer 35 years ago and they know of four others from the department who retired to North Idaho.
Robinson, who used to work as a street agent in Southern California, said there was a standing joke that half of the LAPD retired to North Idaho.
Jack Smith was encouraged to come to Idaho by two fellow cops from the Inglewood Police Department who came here to hunt. He's been in Post Falls since 1973.
"People come up to visit someone and they say, 'Gee, I like it,' " said Smith, president of OWLS since 1992.
He believes the area's natural beauty lures retired cops to the area, not to mention the fishing and hunting. But he said it's also about escaping the problems of the big city.
"To us, the crime rate is low," he said. "You still feel that you can walk down the street and not get shot just to see what way you fall."
Even though he's been retired for more than 30 years, Smith, 83, is still very much a cop. He said he watches the news on TV and says to himself, "That guy's guilty and I know why."
"There's an expression about firemen who never let go of the hose," Smith said. "It's the same with policemen."
But the volunteer work isn't as draining.
Dave Coppom, a retired detective's captain from Northern California, compares his work with Coeur d'Alene police to a visit with the grandkids. At the end of the weekend, they go home to mom and dad.
"When our volunteer time is over, it's over," said Coppom, who also volunteers with the Civil Air Patrol. "I don't take the pressure and thoughts about a case home with me like I used to. I never realized how those cases were staying with me."
Local journalism is essential.
Give directly to The Spokesman-Review's Northwest Passages community forums series -- which helps to offset the costs of several reporter and editor positions at the newspaper -- by using the easy options below. Gifts processed in this system are not tax deductible, but are predominately used to help meet the local financial requirements needed to receive national matching-grant funds.
Subscribe now to get breaking news alerts in your email inbox
Get breaking news delivered to your inbox as it happens.
---