Sports
Weir wears image well
Fri., Jan. 13, 2006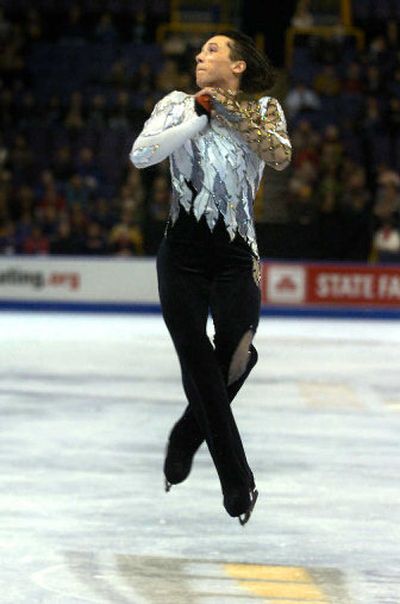 ST. LOUIS – Men's skating is so, well, 3 o'clock.
Talk about being defined by your time slot. Here at the 2006 State Farm U.S. Figure Skating Championships – and any other ice event of import – it's the women who are prime time, befitting their audience pull as miniseries/Christmas special/reality serial all rolled into one.
The men? Bad game shows, "Saved by the Bell" reruns, Senate hearings. Three o'clock throwaways.
Matinee I-dulls.
This is no small paradox, seeing as easily the most stimulating creature here relative to his avocation is Johnny Weir. If you don't believe it, just ask him.
"I still think it's boring," he's been quoted as saying of skating. "I cannot sit down and watch a competition that I'm not in."
Surely he saved the competition he was in Thursday, the men's short program performed for a Savvis Center house not even one-third full. From the way he glided through his program – skated to Saint-Saens' "The Swan" – to his luminescent laundry to his post-skate debriefing, Weir rendered the descriptive "flamboyant" inadequate in the same way Tonya Harding transcended "trashy."
Oh, and he's also kicking a little ass.
He's six points up on skating perennial Michael Weiss and a bunch more ahead of the other Olympic contenders, Evan Lysacek and Timothy Goebel, although it's not insurmountable – unless Weir aces his free skate the same way. If that happens, he'll be the first male to win three consecutive U.S. championships since Brian Boitano almost two decades ago. That should be enough incentive to get the 21-year-old from suburban Quarryville, Pa., to Spokane for next year's championships and a shot at a fourth.
"Figure skating is an amazing ride," said Weir. "You go from feeling like the lowest scum in the pond two hours ago and now I can feel like I'm a flower growing out of the pond."
At which point he chastised himself for sounding "like a teenage girl."
Not so. The teenage girls who get the good time slot here can throw triples like nobody's business but are often still learning how to form sentences. Surely they can't illustrate audience reaction to his show the way Weir did on Thursday.
"My short program is very lyrical, the music – it's not one of those that you clap along to," he said. "I watched Ryan Bradley skate earlier with 'Zorba' and that was awesome, but it was a different kind of support. This one they kind of sat back and had their cognac and cigarettes and they were just relaxing and watching. The other was more like a vodka-shot-with-some-snort-of-coke kind of thing – just very different.
"Sorry for all the drug references."
Yeah. Don't go all Bode Miller on us.
That Weir was able to put together such a dynamic skate was something of a revelation in a season that's been a minor calamity. His Olympic preparations were turned upside down in the fall when he debuted a new program designed to play to the new scoring system, only to be told by judges that it wasn't difficult enough. The results he's posted in reworking the routine and "playing catch-up" have been something less than wow.
"In such a pressure-filled year, every federation wants their skaters to be the best and bring home as many medals as possible," he said. "So ultimately, they were pushing me for my own good and their medal count. But I don't appreciate it at a personal level. I didn't feel like hearing it with all the other stuff going on."
The other stuff? Weir was a little coy about that, referencing only "relationships with my friends and family I never thought would affect my skating." Yet in the next breath, he admitted the off-ice dramas can't help but bleed all over performance no matter what the profession.
"It's just difficult, especially when you're in the public eye," he said. "Like Britney Spears – I can see her carrying teddy bears around until she's 80 just because she's never had a chance to grow up."
If you haven't figured it out yet, Johnny Weir is a skater tailor-made for "Entertainment Tonight." While Weiss is middle-America comfort food – references to his kids and fellow golden oldie Vinny Testaverde laced his post-skate remarks – Weir is a cross between InStyle magazine and a '40s musical.
Or, if you prefer, a flesh-and-blood blog.
"He was positively thrilled that a fan, Nancy Appl of Castlewood, S.D., had him autograph her ankle at an event last October and then had it inked into a tattoo. "If any of you can find out if I'm the first skater that's ever had a tattoo," he said, "I'd really appreciated it."
"He is less than jazzed about the new judging methodology. "A lot of the interesting positions you can hit aren't considered difficult – you know, if you're not chewing on your own foot from behind your left ear. You go for what gets you the most points and so it's not pretty right now. It's not a pretty sport."
"Ah, but he wears a pretty rag, featuring one sleeve of loose fishnet and the other of feathers – topped by the head of swan flopping off the wrist. He even named it Camille. "When I skate poorly," he said, "I blame it on my glove."
"He tracks his pub. "Is the woman who wrote the story in USA Today here? That was a scarf I was wearing, not a boa." he corrected her. "It was a good story, though."
Yet for all his patter and panache – and the females who screech "Heeeeeere's Johnny!" when he takes the ice – Weir may be the least renowned U.S. champion since Rudy Galindo, American skating's original one-hit wonder. It might help, of course, if the U.S. men would actually win something on the international stage – Boitano's 1988 win was our country's last Olympic men's gold. This would be Weir's first try, though he's been fourth and fifth in his two appearances at worlds – not exactly what we expect from our national champions.
Is the lesson that you can't be a character and still cultivate the hard shell and tunnel vision of a champion?
With Johnny Weir, we might never find out, for he is both dismissive of the Olympics as an end-all ("I'm not placing all my worth as a skater and years of blood, sweat and tears on one event") and the notion that all that counts here is making the team to Turin.
"I've come back here to be a third-time national champion – not a bronze medalist," he said. "That's not how I play this game."
Tough talk from a man in a boa, er, scarf. But as he said, it's not a pretty sport.
Local journalism is essential.
Give directly to The Spokesman-Review's Northwest Passages community forums series -- which helps to offset the costs of several reporter and editor positions at the newspaper -- by using the easy options below. Gifts processed in this system are not tax deductible, but are predominately used to help meet the local financial requirements needed to receive national matching-grant funds.
Subscribe to the sports newsletter
Get the day's top sports headlines and breaking news delivered to your inbox by subscribing here.
---