Drivers can't help looking ahead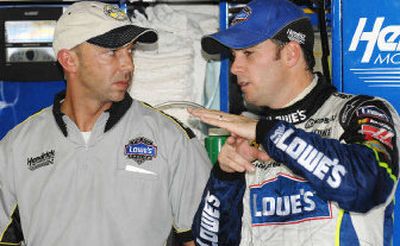 The 2006 NASCAR season is only half over, yet already attention is being diverted to 2007.
The announcement last weekend that Juan Pablo Montoya would jump from Formula One to Nextel Cup next year only added to the buzz around a 2007 season that is guaranteed to bring a number of significant changes.
NASCAR chairman Brian France believes the format for the Chase for the Nextel Cup, which is in its third year of trimming the field to 10 championship contenders over the final 10 races, is due for a remodeling.
Details to come.
Toyota is on the way with three teams and at least seven cars, bringing with it a reputation for spending whatever it takes and then some to be successful.
The "Car of Tomorrow" will become the car of today in March when it debuts at Bristol (Tenn.) Motor Speedway. Opinions are mixed on whether it will deliver on NASCAR's promise to make the racing cheaper, safer and better.
By the time the green flag falls on the 2007 Daytona 500, the driver lineup will look considerably different than it does today. Already, Dale Jarrett, Casey Mears and Brian Vickers have signed with different teams, and they won't be the last.
With veteran talent in high demand, Bill Elliott, Ricky Rudd and Ward Burton could be coaxed off their sofas and back into a car.
"Silly season is going to be the craziest in NASCAR history," said Mark Martin, whose impending retirement as a full-time Nextel Cup driver – already postponed once – opens up another quality ride.
"I think we already see that. We've got Montoya coming. And that's just the start. Experienced drivers are really hot commodities right now – guys that can get it done. It's going to be a really interesting fall."
Amid the intrigue, a 2006 champion will be crowned. Jimmie Johnson is in his customary midseason position atop the standings, with Matt Kenseth just 51 points behind. Then come a dozen drivers jockeying for the final eight spots in the Chase field.
"Our mentality is to act like we're in the Chase, in a sense, and make sure we're collecting as many points as we can every week," Johnson said. "In years past, we had a nice margin and elected to try new things and we lost something."
The second half kicks off today at New Hampshire International Speedway in Loudon, the first of the eight remaining events in the race to get into the Chase and where the Chase begins Sept. 17.
"Jimmie and Matt are looking at this as the first of two races," said Jeff Burton, who is fourth in the standings. "The rest of us are looking at it as this race and this race only."
With 18 races down and 18 to go, here's a team-by-team report card:
Grade A
Hendrick Motorsports: With Johnson and Jeff Gordon combining for five wins and Kyle Busch joining them in the top 10, Vickers' lame-duck status is a minor irritation.
Richard Childress Racing: Burton is leading the team's resurgence and Kevin Harvick, who spurned offers to go elsewhere, joins him in the top 10. Clint Bowyer is a promising rookie.
Grade B
Roush Racing: A repeat of last year, when all five teams made the Chase, isn't going to happen. But Kenseth and Martin are in good shape, and Greg Biffle and Carl Edwards still have decent shots at it. Only newcomer Jamie McMurray is lagging.
Dale Earnhardt Inc.: Dale Earnhardt Jr. is giving his legion of fans reason to cheer again and Martin Truex Jr., although not having the rookie season many expected, still has a bright future.
Joe Gibbs Racing: Despite having his ups and downs, Tony Stewart is a threat to win his third title and second in a row. Of the team's two rookies, Denny Hamlin has thus far outshone J.J. Yeley.
Grade C
Evernham Motorsports: Kasey Kahne earns an A for his series-leading four wins, but Jeremy Mayfield and Scott Riggs drag down the grading curve.
Ganassi Racing: Rookie Reed Sorenson looks like a keeper and Mears is on the fringes of Chase contention. David Stremme needs to pick up the pace if he hopes to be a teammate to Montoya next year.
Penske Racing South: Hiring Kurt Busch to team with Ryan Newman seemed like a dream pairing – and still could be – but results so far have been average at best.
Petty Enterprises: Off-season additions of title-winning crew chiefs Robbie Loomis and Todd Parrott and driver Bobby Labonte by owner-driver Kyle Petty have improved the team's performance, even if it has yet to show up in the results.
Hall of Fame Racing: Tony Raines and Terry Labonte have combined to get a team co-owned by former NFL quarterbacks Troy Aikman and Roger Staubach off to a respectable start.
Grade D
Robert Yates Racing: Once-proud team has fallen on hard times with Jarrett leaving (taking sponsor UPS with him) and Elliot Sadler perhaps not far behind.
Robby Gordon Motorsports: Gordon finds the going tough as a solo effort, but he has qualified for every race, an improvement on '05.
Wood Brothers: With his winless streak at 497 and counting, 51-year-old Ken Schrader could finally be nearing end of the line.
Bill Davis Racing: Dave Blaney is keeping the ship afloat while Davis and Michael Waltrip ramp up their Toyota programs for next year.
Haas CNC Racing: Jeff Green plugs along while owner Gene Haas prepares to take on the IRS in court.
MB2 Motorsports: Popular veterans Joe Nemechek and Sterling Marlin deserve better.
Grade F
Morgan-McClure Motorsports: Scott Wimmer hasn't fared any better in this car than those who drove it before him.
PPI Motorsports: Ditto Travis Kvapil in this car.
BAM Racing: And Kevin Lepage in this one.
---