Sports
Weekend was O'Reilly's
Sun., May 28, 2006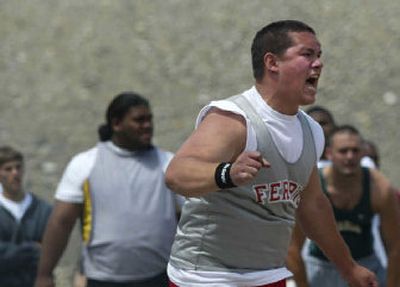 PASCO – Maybe it's not fair to Cameron Elisara's second state championship in the shot put or Wes Nolan's surprising win in the javelin but the 2006 State 4A track championships are going to be remembered as Megan O'Reilly's weekend.
O'Reilly, less than 18 hours after running the fastest high school girls 3,200 meters in Washington history, came back to gut out a thrilling 1,600 Saturday afternoon at Edgar Brown Stadium.
The Mt. Spokane senior had to out-sprint Eastlake's Jessica Pixler, an accomplishment that became even more impressive when Pixler out-kicked Mead's Nikki Codd in the 800 less than two hours later.
O'Reilly's time of 4 minutes, 46.58 seconds was a personal record by more than a second, the 12th-fastest all-time and just enough to beat Pixler's 4:48.
"Oh my gosh, my legs," O'Reilly said. "I don't know how I went that fast. I was so beat I don't know what I was going on."
Meanwhile, Elisara finished his season as the state's dominant shot putter this year, winning by almost 8 feet with a throw of 63 feet, 4 1/2-inches that left him slightly disappointed because he was short of his 65-foot goal and his 63-8 PR that is sixth in the nation this spring.
"I'm content, but I wouldn't say happy," he said. "I'll settle for what I got, but I would have liked to have done better, 65 at least."
Before that, Nolan uncorked a 190-7 throw in the javelin that left him as a somewhat dazed state champion at the end of a whirlwind three weeks. He had a 15-feet PR at districts, throwing 187-6. He backed that up with a last-throw state-qualifying 182-9 on a wet runway for second at regional.
"I've been trying to break 190," he said after considerable thought. "State champ (is better)."
Wilson won the boys team title with 50 points, eight ahead of Gig Harbor. Ferris was the top Greater Spokane League team, finishing eighth with 25 points. Olympia also had 50 to win the girls title by six over Kamiakin. Mt. Spokane's 26 was good for eighth.
Girls
Pixler pushed the 1,600 pack early, going 1:12 for the opening quarter and hitting the halfway mark at 2:24, but Riley was tucked in behind her.
They dropped Bellermine Prep's Nichole Cochran and Sumner's Katrina Drennen on the third lap and starting the fourth Pixler surged.
"When she opened up," O'Reilly said, "I almost mentally thought, 'Oh, well.' I thought I could hold on (for second), that's all I can give."
But as she went down the backstretch, the state cross country champion had another thought.
"I wanted the triple crown," she said. "Something kicked in and I found another gear."
She caught Pixler at the corner and tried to get by her, but Pixler's elbows cut her off. O'Reilly swung outside and as they turned home O'Reilly shifted one last time.
"I never thought I could out-kick Jessica," the Montana-bound O'Reilly said. "I realized I wanted something more."
In a way that may have doomed Codd, who is a faster sprinter than O'Reilly.
After following Pixler through a 63-second first lap, Codd went around Pixler and led until the homestretch when Pixler caught her and won in 2:09.72.
"I think I went too soon," Codd said after running a school-record 2:11.09. "That's OK. She made me PR. That was pretty sweet. … She's a good racer. She's got a lot of guts."
University sophomore Dana McClendon grabbed her second runner-up medal with a 129-5 in the discus.
Boys
Elisara's disappointment is easy to understand considering his PR is a state-best by almost 2 feet and almost 7 feet better than any other 4A thrower.
"Two-time state champion is a good thing to say, but I like to compare myself on a national level, not just state," he said. "Once again I was right there in practice. I get in competition and I get too excited."
He scratched his first throw and then threw a safety of 52-8, which put him fourth going into finals. He moved into the lead with a 55-9 1/2 on his fourth throw and iced it with a 61-9 1/2 on his fifth.
Nolan unleashed his winning throw in the second round, but he knew he wasn't safe since there were a half-dozen other throwers with a mark as good or better than his old PR.
"I knew it was going to be tough," he said. "All I was thinking is top three. I was third (seeded) coming in and I wanted to be at least third going out. I was just happy it wasn't going to rain. This is my fourth time here and the first three times it rained."
Anthony Zackery led Ferris' charge with three medals. He was seventh in the long jump (21-10 3/4 on Friday), third in the 100 (10.97) and eighth in the 200 (22.54).
"That's all right, I can't complain," he said after the 200. "I was envisioning two medals, the long jump just came on. The one thing with track is you always want to do better than you do. Looking back, I gave it my all."
David Hickerson added a third in the 800 (1:55.94).
Local journalism is essential.
Give directly to The Spokesman-Review's Northwest Passages community forums series -- which helps to offset the costs of several reporter and editor positions at the newspaper -- by using the easy options below. Gifts processed in this system are not tax deductible, but are predominately used to help meet the local financial requirements needed to receive national matching-grant funds.
Subscribe to the sports newsletter
Get the day's top sports headlines and breaking news delivered to your inbox by subscribing here.
---