Moose sightings hitting record highs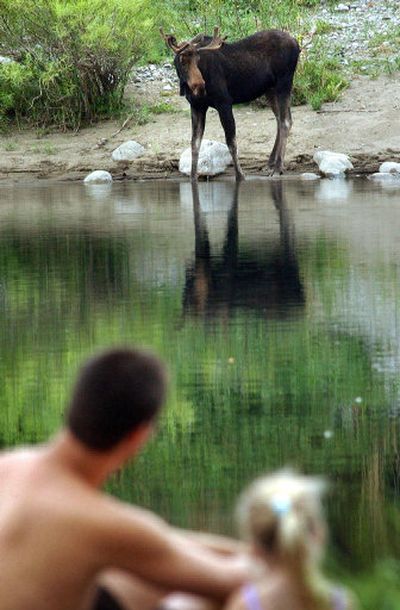 More moose than ever are believed to be living in Spokane and Kootenai counties, according to state biologists.
So many moose are in the Inland Northwest that the giant, generally gentle creatures are increasingly making homes in terrain once considered unlikely habitat, including the wheat country of the Palouse.
Mount Spokane and Mica Peak now have upward of one moose per square kilometer, according to recent research conducted by the Washington Department of Fish and Wildlife. This means more moose than elk in some parts of Mount Spokane, but still far fewer than the number of deer in the area, said David Volsen, a biologist for the agency.
"Many people who have lived in Spokane a long time don't realize we have moose around here," Volsen said.
Moose numbers have been rising in the region for the past several decades. That's because old clear cuts are now brimming with shrubs and young trees favored by moose, according to Volsen and other biologists.
As these forests age, however, the habitat quality will begin to decline and moose numbers will likely drop, Volsen predicted. New logging and wildfires will continue to provide some measure of quality terrain for moose, though.
Although moose are notoriously difficult to count, 15,000 to 20,000 of the animals are believed to live in Idaho, with the highest populations found near the Canadian border, said Dale Toweill, moose program leader for the Idaho Fish and Game Department. Fifty years ago, Toweill estimates, there were fewer than 1,000 moose in the state.
"Populations have just exploded," he said.
In recent years moose have been found living on the Snake River plain. Others have swum across Hells Canyon to northeastern Oregon, Toweill said, and moose have recently taken up residence in the Blue Mountains of southeastern Washington.
Last month, a cow moose previously spotted near Audubon Elementary School on Spokane's North Side was identified near Riggins, Idaho, about 180 miles away, said Kristin Mansfield, a veterinarian for the Washington Department of Fish and Wildlife.
The animals live solitary lives and roam to find new sources of food, Mansfield said.
Sometimes their wandering puts them close to homes and cities, particularly during hard winters. This year, the state of Washington has had to tranquilize and move five moose. This is down from the 13 moose moved in 2005.
In some cases, there have been reports of problems with love struck moose trying to strike up romances with horses, said Toweill. Usually this happens in early fall, when breeding season begins and inhibitions fall.
"Horses are terrified of moose," Toweill added.
The growing moose population has been welcomed by hunters. Idaho now issues a record 1,200 moose hunting permits each year. Two years ago, the state removed its once-in-a-lifetime restriction for residents to obtain a moose permit. Toweill said the typical bull moose shot in the state has a 36-inch-wide antler spread, which is fairly large for the shiras subspecies of moose that inhabits Washington and Idaho.
"We're getting an excellent reputation for having a lot of moose," Toweill said.
Forty moose hunting permits are now issued each year in the Spokane area, including 30 for the hunting unit that encompasses Mount Spokane and 10 for the area around Mica Peak. Success rates are topping 90 percent, Volsen said. "Twenty years ago we didn't offer permits at all for those areas."
These two areas are the "strongholds for moose in the state of Washington," Volsen said. Many are also found in the Okanogan region. No moose have been found west of the Cascades.
Matt Rhodes, a supervising conservation officer for the Idaho Fish and Game Department, said eight moose have been illegally shot in the Coeur d'Alene area this fall, including an adult bull moose shot recently on the side of Interstate 90 near Fourth of July Pass. The animal, antlers and all, was simply left to rot.
"It's pretty disgusting," Rhodes said.
To report poaching, call 1-800-632-5999 in Idaho. In Washington, call 1-800-477-6224.
---