News > Features
Bond bombshell
Fri., Nov. 17, 2006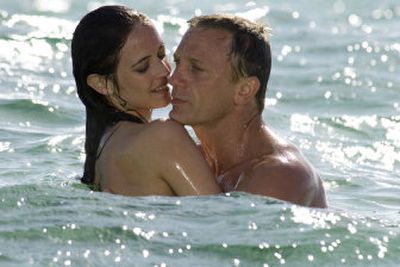 Over the course of 44 years and 20 films, James Bond has battled megalomaniacs and madmen, killed with pistols, poisoned darts and spear guns, and cut a dashing figure whether in a tux or a tank. But it's a blue swimsuit that may finally make him a true babe magnet.
"Casino Royale," opening today, introduces Daniel Craig as cinema's most popular secret agent on his first mission as 007.
And while Internet buzz was once about whether Craig would be a worthy successor to the character Sean Connery first brought to the big screen in 1962's "Dr. No," now you hear heavy breathing from the ladies about a scene in which he emerges from the ocean.
"There's an intense sexuality about Daniel," says co-producer Barbara Broccoli. "It was just a scene in the script – Bond is in the water doing surveillance – but when he came out of the sea, I actually gasped. The women on the crew had their mouths open.
"We all knew Daniel was in great shape, he'd been in training for three months and took it very seriously; he was doing it to have the stamina and energy and flexibility for the fight scenes … but, lemme tell ya!
"And it is about bringing women into the fold, since Bond is a female fantasy, too," Broccoli adds. "We can fantasize about being with someone like him.
"Men may want to be him, but a lot of women dream about being a Bond girl. … It's nice for the girls to be able to have the toys this time."
Says Craig, who during a recent discussion cut a more respectable figure in a tailored gray suit: "I remember there was discussion about 'What bathing suit should he wear?' I was like, 'It can't be a Speedo. And it can't be a thong. Then you're left with a pair of longer shorts.' It's somewhere between the two.
"And believe me, when I came out of the water, I thought, 'Well they did this with Ursula Andress in "Dr. No" ' … Hopefully it makes people smile."
There was some worry, when Craig's name was announced as the new 007 a year ago, that no one would be smiling. Shorter, blonder and more rough-hewn than his predecessors (who, besides Connery, include George Lazenby, Roger Moore, Timothy Dalton and Pierce Brosnan), Craig was an actor first and foremost, in films like "Sylvia," "Road to Perdition," "Munich" and this year's "Infamous."
In fact, when he discussed the possibility of playing Bond in spring 2005, it was with trepidation. His British gangster film "Layer Cake" was opening, and his name had just been floated as a possible 007 by Broccoli and her half brother, Michael Wilson, who've guided the franchise since her father, series co-founder Albert R. (Cubby) Broccoli, died in 1996.
"Since I was a kid on the playground, I'd (imagined) playing Bond," Craig said then. "I'd have to think about it seriously."
But could he turn it down? "Ah, but I could, mate – I could," he mused.
Today, Craig – who, at 38, is six years older than Connery was when he began playing the character – is getting credit for indeed making Bond more serious.
Certainly, Craig's Liverpool-bred accent and gritty manner are markedly different from Brosnan's more patrician portrayal in the four most recent films, from 1995's "GoldenEye" to 2002's "Die Another Day" – the series' biggest box-office hit.
"I just didn't want to repeat anything that had gone before," says Craig. "But this was something I thought could be new and fresh. And I think they nailed it.
"Doing it from scratch was one of the appeals – I now have the chance to set something up. But that doesn't mean 'Casino Royale' doesn't seem like Bond. I want people to see this and say, 'This is a Bond movie, all the boxes are ticked.' "
The new film is an adaptation of Ian Fleming's first Bond novel, from 1953, which had been done as a live TV drama in 1954 (with an Americanized Bond) and as a much-maligned film spoof in 1967 (co-starring Woody Allen).
This latest "Royale" pares down the Bond formula – there are no wild gadgets – and keeps the story contemporary, with Judi Dench returning as MI6 chief M. There's also sexy Bond girl Vesper Lynd (Eva Green), a crucial card game punctuated by action, and a scene, drawn from the book, of Bond being tortured that may make male moviegoers squirm.
"My father and (then-co-producer) Harry Saltzman wanted to make 'Royale,' but the rights weren't available," says Broccoli.
When she acquired them in 2000, Broccoli says, she obtained "the Holy Grail of Bond stories. People will learn why Bond is the way he is. And because of that, we needed an actor who could revolutionize the series, and do what Sean did: explode off the screen."
Though names like Clive Owen ("Sin City"), Eric Bana ("Munich") and Ewan McGregor were thrown about, Broccoli says, "There was not a better actor for this on the planet than Daniel. … In the books, Bond is described as a 'coiled spring.' He has this underlying sense of violence, at any minute you don't know what's going to happen. And Daniel brings that to the character."
As for the man with the newly-minted license to kill, he's taking it in stride.
"You can never predict how things will turn out," says Craig. "But I do have a certain confidence about myself, and you just push forward with that and try and make the best decisions you can."
And how is he handling the Bond media juggernaut, a thunderball that often pummeled previous actors?
"You know how when you go through something traumatic, your body releases a hormone that lets you forget? I may be in that now," he says.
"At the end of shooting 'Royale,' there was noise about maybe getting the next out in 2007, for the '007' connection, and I was like, 'Leave me alone, I can't jump back so fast.' …
"Now that this movie is just about to be released, of course, I'm like … 'Let's do another one fast!' "
Local journalism is essential.
Give directly to The Spokesman-Review's Northwest Passages community forums series -- which helps to offset the costs of several reporter and editor positions at the newspaper -- by using the easy options below. Gifts processed in this system are not tax deductible, but are predominately used to help meet the local financial requirements needed to receive national matching-grant funds.
Subscribe now to get breaking news alerts in your email inbox
Get breaking news delivered to your inbox as it happens.
---