Refuges brace for rough waters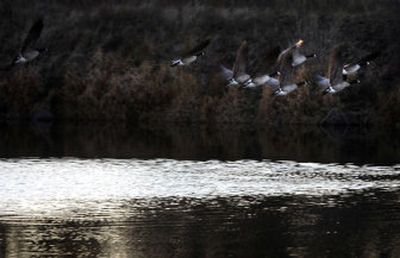 National wildlife refuges across the region are preparing for a 20 percent staff reduction over the next three years to comply with increasingly tight federal budgets.
Turnbull, Kootenai and Little Pend Oreille refuges are now planning to lose a combined four staff positions out of 18 total. Refuge managers worry the losses could undercut their ability to serve the public while also maintaining some of the nation's last, best fish and wildlife habitat.
"We're all pretty brokenhearted," said Dianna Ellis, manager of the Kootenai National Wildlife Refuge near Bonners Ferry, Idaho. Two of the refuge's five staff positions are expected to be lost over the next three years. The cuts are expected to come from retirement, not forced reductions, Ellis said.
"It's just going to place a tremendous amount of stress on the staff that's left here," she said.
The three refuges in the Spokane area will also be reorganized and clumped together administratively. A manager who oversees all three refuges will be stationed at Turnbull under the plan, said Nancy Curry, the current manager of Turnbull. Details are still being worked out as to when all the changes will take place, but they are expected to begin next year.
The U.S. Fish and Wildlife Service operates 545 refuges over 96 million acres nationwide. The agency is expecting a slight decrease to its annual refuge system budget of $380 million under the Bush administration's 2007 budget proposal, according to information released by the nonprofit watchdog group Public Employees for Environmental Responsibility.
At the same time, the nation is spending an estimated $177 million per day in Iraq, said Grady Hocutt, PEER's refuge program manager, citing a number widely used by critics of the war. "Redirecting a tiny fraction of what audits show is wasted or stolen in Iraq would allow for full funding of all refuge system needs," said Hocutt, a former refuge manager.
Although the budget decrease for refuges is considered small, the Fish and Wildlife Service is facing annual cost increases of about $16 million, refuge managers say. The increase includes things like cost-of-living pay raises and the rising price of materials such as fuel and fertilizer. Also, 17 refuges have been added to the national system since 2001.
Refuges already have been feeling the budget belt tighten. An assistant manager's position at Turnbull has been left unfilled and the refuge has been trying to find other ways to cut costs, including keeping most bathrooms closed in winter, said refuge manager Curry. A maintenance position is expected to be cut in the next three years, bringing the refuge down to five employees.
"Our two maintenance guys can hardly keep up with the things we're doing in the first place. To lose that position will really hurt," Curry said, before going on to describe how the refuge might be affected by the loss. "Roads won't be maintained. Signs may deteriorate. Fences may fall down. I don't like that kind of picture."
Until recently, Curry said, she and her staff have been operating under the principle of "do more with less." Nowadays, as the budget picture looks increasingly bleak, there's been a new mantra: "Do less with less," Curry said. "That's a real hard thing for managers to do out in the field."
Because of Turnbull's proximity to Spokane, the refuge has benefited from the help of some 800 volunteers who donated 27,000 hours of time last year. The other two refuges in the region are more remote and have trouble getting that much free help.
Lisa Langelier, manager of the Little Pend Oreille Refuge near Colville, said the refuges are in the process of developing a plan to weather the changes. Little Pend Oreille, which encompasses about 42,000 acres, is expecting to lose one of its seven positions.
"It's going to be tough overall, but we're just going to have to learn to work together better," Langelier said.
Refuge managers might be trying to keep a stiff upper lip, but they admit the next few years might be tough. Langelier said stream restoration work might slow. Ellis, the manager of the Kootenai refuge, said the maintenance position on the chopping block at her refuge has been critical for day-to-day management of wetlands and for fighting noxious weeds. She said her staff has made slow, steady progress in its effort to restore native plants that are attractive to waterfowl and other wild-life.
"If we lose that position, we're going to lose that war again on noxious weeds," Ellis said. "All this will, in turn, affect wildlife."
Sam Wallace is president of Friends of Kootenai Refuge, a volunteer group. She said the popularity of the refuge has been growing in recent years. Apart from bird and moose watchers, or tourists passing through on the nearby Selkirk Loop highway, the refuge increasingly plays host to school trips, mountain man rendezvous and even public library readings.
"We're just trying to utilize what we've been blessed with up here," Wallace said.
News of the coming cuts has been "devastating," Wallace said. "I look at that refuge there as our legacy. If that is depleted, we're in big trouble."
Although fewer humans tend to visit the refuges in these dark, wet days of late fall, refuge managers say southbound ducks, geese and swans continue to show up in strong numbers. In recent days, dozens of tundra swans have been stopping for food and rest at Kootenai and Turnbull refuges.
---