Sports
Agassi wins one for ages
Fri., Sept. 1, 2006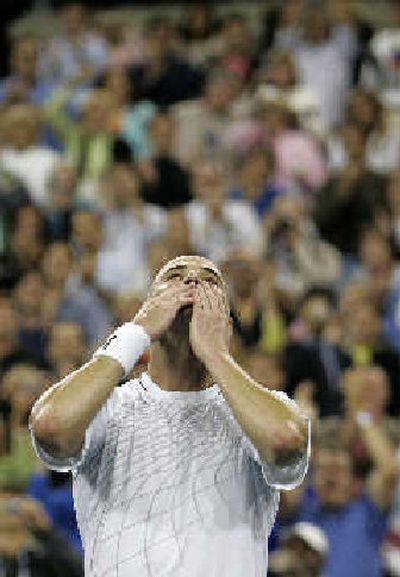 NEW YORK – Not long after midnight struck this morning, Andre Agassi dug down deep into whatever reserve he has left after all these years to keep the clock of his career from striking the same.
Tick-tick-tick-tick. Andre Agassi plays on at the U.S. Open.
Skipping onto the court, bowing and blowing kisses to all four sides of Arthur Ashe Stadium in his trademark salute to the fans, Agassi didn't say goodbye.
Instead, in a five-set match for the ages that was at times a seething cauldron, other times a carnival, he postponed the end of his career despite being staggered in the third and fourth sets.
He plays on after surviving a 6-4, 6-4, 3-6, 5-7, 7-5 meat-grinder of an instant classic against eighth-seeded Marcos Baghdatis, the feisty 21-year-old Cypriot considered a 15-years-younger mirror image of his grizzled opponent – but who cramped up critically nine games into the final set.
Less than 48 hours removed from taking a cortisone shot in his back he found necessary after he said he couldn't stand shortly after Monday's first-round victory over Andrei Pavel, Agassi withstood countless punches landed by his hyperkinetic opponent – particularly after he blew a 4-0 fourth-set lead.
"It wasn't my back getting tight," he said. "It was my throat, my breathing."
With his opponent undergoing treatment in the final two sets for cramps in both his legs, Agassi held serve in an eight-deuce game for a 5-4 fifth-set lead after Baghdatis cramped up again severely.
Then, after squandering a match point in the next game, he cashed in the next when Baghdatis fired a backhand long to end a 3-hour, 48-minute match that lands in the Open's rain-delay replay rotation.
In control of his game when he needed to be in a baseline-to-baseline, ground stroke grind of a match, Agassi was also in control of his people in a stadium clearly leaning his way. His first-set victory prompted the playing of the Gary Glitter arena anthem "Rock and Roll, Part 2" – with the crowd appropriately hollering "Hey" to punctuate verses.
Now he sits just one victory away from a possible fourth-round match against fellow American Andy Roddick.
But rather than the expected 30th-seed Sebastien Grosjean, he'll play his third round (Saturday or Sunday) against Germany's Benjamin (no relation to Boris) Becker, a 25-year-old regular on the minor league Challenger Tour who swamped Grosjean, 7-6 (7-3), 6-1, 6-2 Thursday.
Form said Agassi was supposed to sign off with the match against his energetic opponent. Except the often over-animated Baghdatis never took hold of the match the way Agassi did.
Local journalism is essential.
Give directly to The Spokesman-Review's Northwest Passages community forums series -- which helps to offset the costs of several reporter and editor positions at the newspaper -- by using the easy options below. Gifts processed in this system are not tax deductible, but are predominately used to help meet the local financial requirements needed to receive national matching-grant funds.
Subscribe to the sports newsletter
Get the day's top sports headlines and breaking news delivered to your inbox by subscribing here.
---