A&E > Food
SECRET SPECIALS
Wed., April 11, 2007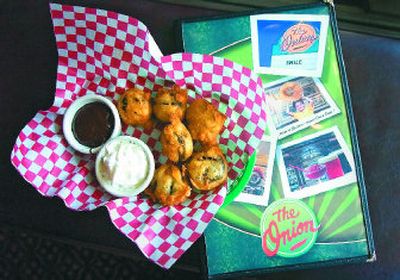 Want to act like a regular at a restaurant you've never visited before? Here's the secret: Think outside the menu. In many cases, some special dishes simply aren't listed. To order them, you have to be in-the-know, you know? But how can you ask for something special when you don't even know what it is? Well, we've done some sleuthing for you. Here, in alphabetical order, are some of the secret, off-the-menu offerings at Inland Northwest establishments. Now, if you could only arrange for bar patrons to shout your name when you walk in the door, you'd really pass for a regular.
Knock two times on your table at Bluefish, 830 W. Sprague Ave., and your server will whet your whistle with a Secret Knock. It's a Lemon Drop cocktail, kicked up with Stoli Vanil and Chambord.
The drink is currently on the menu as a Red October, but it won't be for long, says Andrew Gumprecht, beverage director for Bluefish and the company's new restaurants at the Ridpath complex.
If you want one, you'll just have to knock.
Lunch patrons at Brooklyn Deli, 122 S. Monroe St., often request the grilled cheese and tomato soup combo, which isn't actually on the menu, says owner Jody Harville.
And they also clamor for a secret concoction she whipped up, the Chicago Reuben. This hot sandwich is piled with corned beef, jalapeños, olives, Swiss and cheddar cheese, sauerkraut, Thousand Island dressing, and sweet hot mustard, stuffed between two slices of rye bread.
Spokane institution Clinkerdagger, 621 W. Mallon Ave., which has been open since 1974, gets frequent queries about dishes that are no longer on the menu, general manager Lynette Baskins says. One of the most popular is the classic spinach salad with hard-cooked egg, bacon and vinaigrette. The kitchen will send out that trip down memory lane for you if you ask.
Want to look like a pro at the Downriver Grill, 3315 W. Northwest Blvd.? Ask for the Firecracker Prawns. The spice-rubbed shrimp, which aren't on the menu, pair nicely with the restaurant's flatiron steak, executive chef Jonathan Sweatt says. The prawns are coated with cayenne, paprika, other spices and sugar before cooking. Sweatt came up with the dish for himself and his employees, but it caught on when customers saw them eating it.
Sweatt also gets repeated orders for pasta with fiery puttanesca sauce, which was once on the menu but is not currently.
And then there's Yellowfin Tuna Hal's Style, a sesame-encrusted seared tuna steak created for Sweatt's business partner. So many guests ordered the dish after seeing Hal enjoy it that it now has a home on the menu.
"We'll probably never take it off," Sweatt says.
Frank's Diner, 1516 W. Second Ave., is used to accommodating strange requests, says Suzanne Sorenson, a server.
"If somebody wants something, we'll go to the store and go get it," Sorenson says.
Servers have picked up flavored coffee creamers at the request of diners, she says, as well as avocado, among other things.
(Note: Don't take this as an opportunity to be a jerk during the breakfast rush and send a waitress to the market for saffron threads or something.)
When it comes to common off-the-menu orders, Sorenson says plenty of people ask for their hash browns to be loaded up with whatever's available – peppers, tomatoes, onions, mushrooms and more.
"Anything we can throw in them," she says.
At The Globe Bar and Grille, 204 N. Division St., at least on Thursday nights, you get the ultimate in secret menus. You get to write it yourself. Chef Howard Bateman has devised the Custom Cuisine program, in which diners fill out a short questionnaire, so they can be served whatever suits their fancy. You want spicy chicken with cream sauce in a sandwich? Or a curried seafood pasta dish? Bateman's got you covered.
There aren't too many secrets at Ionic Burritos, 1415 N. Hamilton St., where you can already order up just about any combination you desire.
But you can also request any of those same fillings on top of a mountain of tortilla chips instead of tucked inside a tortilla.
"We do nachos," says Pete Cleary, who works there. "But they aren't on the menu."
Search online and you'll find an extensive "secret menu" of smoothie flavors at Jamba Juice, 202 W. Ironwood Drive in Coeur d'Alene.
Many of the flavor combinations, such as the Strawberry Shortcake and Gummy Bear, are so packed with sugar that the health-food focused company won't list them on the regular menu, a worker at the Coeur d'Alene store says.
But you can still order them. Just let your conscience – and your waistline – be your guide.
Chef David Blaine of Latah Bistro, 4241 S. Cheney-Spokane Road, keeps a secret stash of high-end chocolate to tempt regulars and select customers at the end of the meal, says Steve Kessler, a bartender and server there.
Regular customers are also rewarded with special wine and champagne offerings, Kessler says. (But you probably can't fake your way into that deal.)
Mamma Mia's, 420 W. Francis Ave., just may have the most extensive secret menu in the area. There are always five or six unprinted dishes available each night. Plus, says owner Jerry Amicarella: "If somebody comes here and wants something, I'll make it for them."
Amicarella buys extra portions of certain items. He'll make as many orders of veal parmesan, for example, as diners ask for off the printed menu. Then, he'll use the leftovers for special requests of veal piccatta or veal marsala. Same goes for chicken dishes and other recipes.
One popular dish there is pan-fried spaghetti, which came from a customer's suggestion.
"We fry it on top of the stove," he says. "It changes the texture and the flavor."
Customers often bring him recipes for special dinners, such as baked ravioli or puttanesca sauce or stuffed peppers.
The best recipes make their way onto his menu, along with a credit for the originator. There's Johnny D's Fried Spaghetti and Father Tracy's Stuffed Peppers.
"I honor those people," he says.
At Milford's Fish House, 719 N. Monroe St., the menu is new each night, featuring the freshest fish and seafood owner Jerry Young can get.
So, does he offer any secret, unlisted items? Yes. But he's not telling.
"I've probably got 50 things like that," Young says. "I've got regular customers coming in for 25 years and things I haven't cooked for 20 years except for them."
Sometimes, it pays to be a regular.
Mustard Seed Asian Cafe, NorthTown Mall and 9806 E. Sprague Ave., is another area establishment that will whip up just about any combination you dream up from its vast supply of ingredients on-hand.
The restaurant will steam or bake items listed as "fried" on the menu. It'll interchange just about any protein in a dish or add vegetables where none is listed.
"We have a lot of modifiers," says Patty Roddy, assistant general manager of the NorthTown Mall restaurant. "People will come in and say, 'I want this with that. I want Chicken Osaka cooked with halibut instead of chicken.'"
Since Okane on the Hill, 2910 W. 57th Ave., shares the same owners as RAW Sushi and Island Grill, 523 W. First Ave., you can get some of the same menu items at each, even if they're not listed on the menu. At Okane, for example, you can request some of the favorites from RAW's menu, such as a Rainbow, Firecracker or Victoria's Secret roll.
For their serious Hawaiian-food loving guests, Okane chefs keep Spam in the pantry to make musubi, a popular snack which includes a block of Spam, topped with rice and wrapped with dried seaweed, general manager Craig Louderback says.
The most popular dessert at The Onion, 302 W. Riverside Ave., and 7522 N. Division St., has never run on the menu, says Kim Jacobson, manager of the Riverside location.
That not-so-secret secret is a plate of deep-fried Oreo cookies. The sandwich cookies are dipped in beer-batter, fried and topped with hot fudge and whipped cream.
The artery-ravaging taste treat got its start nearly two decades ago, Jacobson says, after some college students began requesting it.
Anybody who has ordered anything from Starbucks, locations nearly everywhere, knows you can request a staggering array of caffeinated and noncaffeinated beverages. (Half-caf double-tall soy latte, anyone?)
But there are a couple of popular options that aren't listed on the menu.
First, you can ask for any drink in a "short," 8-ounce size, instead of the "tall," 12-ounce size listed as the smallest option on the menu.
Also, you can make a special request for a "misto" (pronounced mees-tow). It's basically a café au lait, a drink with half coffee and half steamed milk.
You won't find the Kyle Roll or the Harley-Davidson Roll on the menu at Sushi.com, 430 W. Main Ave. But regulars ask for them all the time.
No wonder. The Kyle is filled with tempura shrimp, spiced tuna and cucumber, and topped with tuna, eel, avocado and special sauces. Inside the Harley is spiced tuna, cucumber and avocado, topped with albacore and then a mixture of crabmeat, egg and scallops, with a sweet sauce and a spicy sauce drizzled over all that.
"They're really popular," owner Kyong Le says.
Have any favorite secret menu items that we missed? Contact us via the information below.
Local journalism is essential.
Give directly to The Spokesman-Review's Northwest Passages community forums series -- which helps to offset the costs of several reporter and editor positions at the newspaper -- by using the easy options below. Gifts processed in this system are not tax deductible, but are predominately used to help meet the local financial requirements needed to receive national matching-grant funds.
Subscribe to the Spokane7 email newsletter
Get the day's top entertainment headlines delivered to your inbox every morning.
---
Subscribe and log in to the Spokesman-Review to read and comment on this story