Sports
Phelps fumbles
Sat., Dec. 1, 2007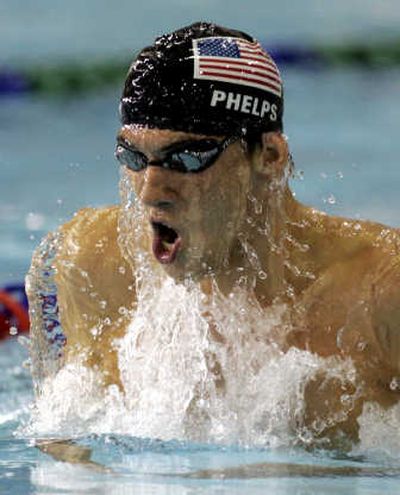 ATLANTA – Michael Phelps is a sleek, powerful machine in the pool, slicing through the water as the world's fastest swimmer.
On dry land, he's a bit of a wreck, as evidenced by his latest mishap that resulted in a broken wrist just more than a year before the Beijing Olympics.
In October, Phelps tripped and fell while getting into a car in Ann Arbor, Mich., where he trains. He tried to brace himself with his right hand and ended up breaking a small bone in his wrist.
"For a moment, he thought, 'Oh my God, I might not be able to do what I'm trying to do.' It was a really good wake-up call," said Erik Vendt, who trains with Phelps at Michigan.
Doctors inserted a pin to stabilize Phelps' wrist, allowing him to return to training sooner. A thin red scar is the only evidence of that mishap.
Then there's the 2-inch thin red scar on the underside of Phelps' right wrist.
"I don't remember what it was, but I have scars all over my body just literally from falling all over the place," he said Friday at the U.S. national short course championships.
Go ahead, call the six-time Olympic gold medalist a klutz.
"Oh, big time," he said, grinning. "You should just keep me in the pool, put a bed in the pool, give me food in the pool so I never get hurt. I'm bad on land."
Phelps' clumsiness dates back to his childhood in Baltimore. He was a handful around the house, running and jumping.
All that activity prompted his mother to sign him up for swimming lessons.
"I was always fooling around," he recalled. "I was falling all over the place."
Today, he and his sister Whitney, a former elite-level swimmer, can't sit still. "We're constantly moving around," he said.
Phelps' pratfalls, however minor, make him an endless butt of jokes by Vendt and his other training partners.
"I've seen him roll his ankles," Vendt said. "He's definitely a water creature."
Jon Urbanchek rates Phelps in the middle of the pack as far as clumsiness goes.
"If you look at the cross section of all the swimmers in America, they're all klutzes. He's average with everybody else," said Urbanchek, the former Michigan coach who assists Bob Bowman, Phelps' coach.
Urbanchek believes swimmers are less coordinated on dry land than other athletes because many of them began in the pool at a young age and never played rougher sports like football and soccer.
For years, Phelps has led a structured life that involves swimming, eating and sleeping.
Away from the pool and the public eye, Urbanchek said Phelps behaves like any other 22-year-old college student, which could mean more scrapes and bruises.
"We just hope there's nothing more," Urbanchek said. "He promises he's going to be careful."
Local journalism is essential.
Give directly to The Spokesman-Review's Northwest Passages community forums series -- which helps to offset the costs of several reporter and editor positions at the newspaper -- by using the easy options below. Gifts processed in this system are not tax deductible, but are predominately used to help meet the local financial requirements needed to receive national matching-grant funds.
Subscribe to the sports newsletter
Get the day's top sports headlines and breaking news delivered to your inbox by subscribing here.
---