News > Idaho
Going separate ways
Sun., Dec. 23, 2007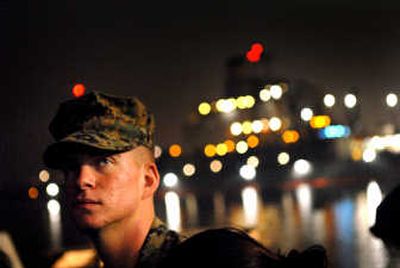 SAN DIEGO – Officially, the destination of Lance Cpl. Robert Shipp is unknown. But it's not hard to guess where the 20-year-old from Hauser Lake, Idaho, and the other combat-ready young men with the 1st Battalion, 5th Marine Regiment were headed when they sailed out of San Diego harbor last month aboard the USS Germantown.
The December newsletter from the amphibious assault ship noted the men have been spending afternoons improving their shooting skills and in classrooms learning Pashtu phrases. That's the language spoken in much of Afghanistan.
Robert's twin brother, meanwhile, has spent the last three months at a remote outpost in Iraq, serving with the 3rd Battalion, 11th Marine Regiment. Despite at least one mortar attack against the base, Lance Cpl. Matthew Shipp has remained safe. In a handful of late-night phone calls home to his parents and new wife 11 time zones away, Matthew said his biggest hassles have been the freezing nights, the boredom and the bland, pre-packaged meals.
This isn't exactly the action-movie combat experience envisioned by the fraternal twins several years back when they decided to enlist, but those dreams were hatched in different times – before they each fell in love and were married, before they came to realize exactly how much they cherish the forests and mountains of the Idaho Panhandle, before they experienced the sadness of being a twin alone.
Their family back in Hauser Lake has also undergone big changes. The Shipps keep a close watch on their bar and restaurant, but they've also started paying attention to the politics of places like Turkey and Iran. They check the Internet often for e-mail from their sons. Their sleep has been interrupted by quick, crackling phone calls from the other side of the world. Like other military families, the Shipps hope and pray to never see a military chaplain walking up to their door.
Dennis and Leslee continue to be proud of their sons' progress in the military – not long ago, Robert briefly dropped out of high school; now he is a team leader – but the pain of having two of their four children serving in danger is also unmistakable. For this close family, Christmas is especially tough.
"It's harder than last year," Leslee Shipp said earlier this week. "I knew they were in boot camp and then training. It's almost like they were away at college. This year it's totally unknown. This year they're pretty much off the map."
The family doesn't just feel separated from their sons, they also feel disjointed from most other Americans. Apart from grousing about the high price of gas, the war hasn't touched most people in this country, Leslee said. Unlike all other sustained wars fought by the United States in the past century, there are no tax increases associated with this war, or victory gardens or drafts. The only blood shed by Americans in this fight has been from volunteers.
"It's far away. It's not here," Leslee said of the war. "Nobody has a clue."
■
Robert was born 23 minutes ahead of Matthew, but the two were rarely far from each other until they split up after boot camp. Matthew went on to artillery training while Robert joined an infantry unit.
In May, the brothers had a brief reunion back home. Matthew was getting married and Robert was able to secure a two-day leave to be in the wedding, which was held at their parents' Hauser Lake Resort. They saw each other only a couple of times the rest of the summer. In October, when Matthew left for Iraq, Robert was practicing beach assaults.
"I try not to think about it," Robert said, when asked about being apart from his twin. "It just makes it harder on me. There's nobody closer to me than him."
Several weeks after Matthew boarded a chartered flight for Iraq, Robert returned from training and was given two weeks off before his unit's deployment. During his short stay in Idaho, Robert surprised his family by announcing plans to follow his brother's footsteps and marry his girlfriend before shipping out. On a gray Monday afternoon in late October, Robert married Dusty Smith, of Hayden, at the Hitching Post chapel in Coeur d'Alene. Recorded music played as the two exchanged promises to remain faithful forever.
Matthew wasn't at the wedding. He was 7,000 miles away, struggling to stay warm in his tent through the desert nights (his parents have since sent a box of thermal underwear and warm socks).
The bride's and groom's families scrambled to put together a proper wedding celebration, but Robert insisted on keeping it simple. "We can have the actual wedding when my brother is here next year," he explained.
Robert's bride, Dusty, shrugged her shoulders and smiled. The married couple had only a few days together. During this time, Dusty did all she could to stay upbeat. But shortly before Robert left Idaho, she admitted the impending separation was keeping her awake.
"At night it really bothers me knowing he's laying there next to me, but won't be for much longer," she said.
The Shipp family was also struggling with the departure of another son. During Robert's time home, Leslee and Dennis cooked elaborate meals and were often away from their business. While Leslee was preparing a dessert one afternoon, she admitted to feeling overwhelmed. "I'm not ready for Robert to go," she said. "I'm just getting over Matt. I still see his face and I still cry."
Dennis, meanwhile, was focused on matters more practical, like trying to get Robert to fix the old Jeep that had been in the family's driveway for the past year. The twins began dismantling the Jeep shortly before leaving for boot camp.
"I knew it'd be sitting here when they left," Dennis grumbled, chewing a cigar and gathering tools to help Robert fix the vehicle.
"I'll have it all together next year," Robert promised. He turned away from his dad and shoved a wad of Copenhagen into his lower lip. Dennis grunted from under the Jeep as he struggled with a wrench. Robert grinned. "My dad's yelled at me harder than anyone in the Marine Corps."
■
Although it was nearly midnight, the USS Germantown buzzed with activity. Marines loaded with packs and machine guns stomped up the gangway on the dark November night, stowing gear. The amphibious assault ship was packed with heavily armored vehicles, as well as hundreds of Marines and sailors. The next morning, the ship would sail out of San Diego harbor.
In a dark parking lot next to the ship, a tailgate party of sorts was taking place. Marines clung to wives and girlfriends as they chugged cans of beer during the final minutes of pre-deployment liberty. The smell of grilled burgers wafted over the pavement. Led Zeppelin blasted from the back of a pickup truck. Security guards cruised the lot looking for underage sailors and Marines holding beer. The pale, gray ship towered above the party.
Dennis and Leslee Shipp had flown the entire family to San Diego for Robert's departure – they did the same when Matt left a month earlier. The family stood in the parking lot with Robert. His wife of two weeks never left his side.
Robert was somber, but he also fidgeted with anticipation. His dream was about to sail.
"This is what I've been waiting for, what I've trained for," he said. "I'm ready."
After the long goodbye, the family returned to their hotel, only to wake before dawn to catch a glimpse of the Germantown leaving the harbor. On a promontory overlooking San Diego, the Shipps watched as their son sailed west. Several other military families were also at the lookout, including a woman who spent much of the morning quietly sobbing. She said her husband was an officer on the ship.
Helicopters and gunboats escorted the Germantown out of the harbor. As the ship passed the observation point, Dusty's cell phone rang. It was Robert.
"Where are you?" Dusty asked. Standing on deck, hoisting a green bottle of Sprite, Robert answered.
"Tell him to wave!" Leslee said. "I'm going to run down there, jump off and start swimming toward them!"
The officer's wife handed Dennis Shipp binoculars. Although the Marines on the ship appeared not much larger than ants, Dennis quickly spotted his son. "I see him! I see him!"
Dennis hugged his wife and watched as the Germantown floated out to sea. After a few moments, he blew out a piercing, two-toned whistle.
"That's the way we used to call the boys when we wanted them to come home," Leslee said.
Local journalism is essential.
Give directly to The Spokesman-Review's Northwest Passages community forums series -- which helps to offset the costs of several reporter and editor positions at the newspaper -- by using the easy options below. Gifts processed in this system are not tax deductible, but are predominately used to help meet the local financial requirements needed to receive national matching-grant funds.
Subscribe to the Coronavirus newsletter
Get the day's latest Coronavirus news delivered to your inbox by subscribing to our newsletter.
---