News > Features
Support for the silent
Tue., Jan. 30, 2007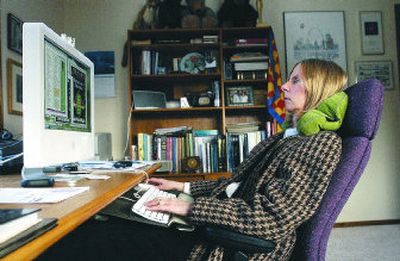 Denise Gibson's voice was always distinctive. When she was younger, even strangers would comment on its lilt and melody. "People would always say, 'Your voice is like a song ,' " the Millwood woman recalls.
These days, however, Gibson's song is strained. Among the first things strangers notice now, in addition to her trembling head, is her constricted voice, her distorted words, and the sheer effort it takes to speak.
It's one of the ironic effects of dystonia, a little-known neuromuscular disorder that has left the 58-year-old graphic designer struggling for the ability to move – and to communicate.
Determined that the disease will neither silence her nor leave her isolated, Gibson has formed a support group for Inland Northwest residents living with the third most common movement disorder after Parkinson's disease and tremor disorders.
In its first year, Gibson's group attracted more than 25 people from Eastern Washington and North Idaho.
"I may not communicate vocally, but I can sure get the word out," says Gibson, who welcomes a visitor into her sun-drenched home office.
She wants to raise awareness of the illness, which afflicts about 30 of every 100,000 people, including many sufferers who may not know it.
"We're going to find it's much bigger than anyone knows," Gibson says.
Dystonia is characterized by involuntary muscle contractions that can affect any part of the body, forcing limbs, trunk, neck or face into abnormal postures. In some cases, it affects the eyes, clamping the eyelids shut without warning, essentially blinding the person. In other cases, like Gibson's, it strikes the vocal cords and throat, impairing speech and sometimes interfering with swallowing.
More than 200 people have been diagnosed with the disorder in the Inland Northwest, but there may well be more, says Dr. Anthony Santiago, a Spokane dystonia specialist who is also a patient. The disease isn't fatal, but it is progressive and debilitating.
"They're either misdiagnosed or they don't get any help," says Santiago, who hopes to establish a new movement disorder clinic through Empire Health Services.
That was the case for Gibson, who now recognizes signs of dystonia that date to childhood, though she was diagnosed only two years ago.
"I've had a tremor for 25 years," explains Gibson, settling into a high-backed chair that will support her head. "It would only show up when I was under stress."
After a bad bicycle accident in Colorado, the tremor appeared more often. One doctor told her she had "essential tremor," a related, but different, disorder with no clear treatment.
"He said, 'If it's only when you're stressed, don't worry about it,' " Gibson recalls. "Just take a stiff drink before you go out socially."
Gibson, who says she's "not much of a drinker," turned to yoga and relaxation techniques instead. But the condition rapidly worsened a few years ago.
"By the time we moved here, the tremor got into my voice. It's not just the voice. It's the tongue. It's the whole mouth," she says. "At that point my head shook so bad, it made it hard to pick up clients."
She connected with Dr. David Greeley, a Spokane neurologist who explained what was wrong with her. Gibson has cervical dystonia, a type that affects the neck, shoulders and throat, an explanation that made all the difference.
"When I was diagnosed, for me, it was like a lightning bolt: I understand!" she says.
Correct diagnosis is vital not just for understanding, but for treatment, said Greeley, one of the first doctors in the region to treat dystonia patients with the botulinum toxin, more commonly known as Botox.
Botox injections have gained fame as cosmetic wrinkle-reducing procedures, and it works on the same principle in dystonia sufferers: The toxin prevents nerves from communicating with muscles, easing muscle contractions. But it takes far more Botox to soothe Gibson's rock-hard shoulder muscles.
"It takes 30 units for cosmetics versus 300 units for a muscle," Greeley said.
The effect, at first, was nearly miraculous, Gibson said.
"The first time, it felt like someone put ball bearings in my neck," she said. "I thought, 'Is this what it is to be normal?' "
Over time, however, the relief has become less pronounced. Gibson still uses Botox, but she's putting her new hopes in plans for a new movement disorder clinic – or, perhaps, the same kind of deep-brain surgery that helps Parkinson's disease patients improve.
That's where Santiago may help. The neurologist, who also suffers from cervical dystonia, says he hopes to create a center that combines cutting-edge medicine and human compassion.
"I tell patients, 'I'm going to give you advice as a clinician scientist,' " he said. "Then I say, 'Let me change hats and let me tell you what it's like as a patient.' "
Santiago is moving his practice from the Rockwood Clinic to Empire Health Services, which operates Deaconess Medical Center, officials at both sites confirmed this week.
Such a shift is delicate, practically and politically, Santiago noted. Washington state Health Department investigators are looking into two complaints filed against Santiago since he closed his Rockwood practice in October.
State officials said they couldn't provide details, but such complaints and investigations are fairly routine. Santiago said he wasn't aware of any problems, and state records showed he holds a valid license free of any disciplinary actions.
Santiago has been well-respected, even beloved, by colleagues and patients at the Rockwood Clinic, said Kevin Sweeny, chief executive officer.
"Unbelievably positive," is how Sweeny characterized Santiago's two-year tenure.
And he's got similar support coming into the new arrangement, said Christine Varela, spokeswoman for Empire Health Services.
Gibson regards Santiago as something of a lifesaver, a man who offers perhaps the best hope for greater awareness and improved treatment of a rare but devastating disorder. In the meantime, sufferers can find information and camaraderie in the group.
"Folks should know that others are out there," Gibson says. "If they're experiencing symptoms, there are answers and there is help."
Local journalism is essential.
Give directly to The Spokesman-Review's Northwest Passages community forums series -- which helps to offset the costs of several reporter and editor positions at the newspaper -- by using the easy options below. Gifts processed in this system are not tax deductible, but are predominately used to help meet the local financial requirements needed to receive national matching-grant funds.
Subscribe to the Coronavirus newsletter
Get the day's latest Coronavirus news delivered to your inbox by subscribing to our newsletter.
---