A&E > Food
A la car
Wed., July 11, 2007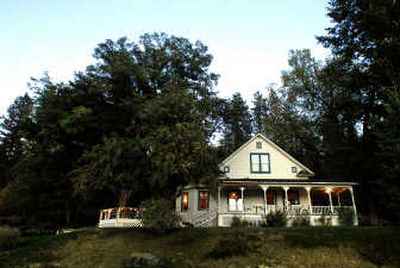 On your next road trip … Do not succumb to one of those dried-out logs of meat spinning 'round and 'round at the gas station.¶ Do not feel as though you have no choice but to shovel a fast-food burger in your sweltering car.¶ Do not make a lunch of Chick-O-Sticks, beef jerky and sunflower seeds (unless you really want to, of course).¶ There's good food in them thar hills. You just have to look for it.¶ And we're here to help. Here's a by-no-means-comprehensive smattering of restaurants, markets and other shops that may be off your beaten path and along your way to someplace else in the Inland Northwest.¶ Some are hidden gems, others are more well-known. But all are worth a stop to fill your stomach before you hit the road again.¶ Or, depending on your taste, they're destinations in and of themselves, and a good excuse to get out and explore the region's small towns.¶ If we forgot any of your favorites, which we undoubtedly did, let us know via the contact information at the end of the story and we'll consider a future article.
Cowgirl Chocolates
It's a shame most of the people who buy Marilyn Lysohir's spicy, inventive Cowgirl Chocolates do so over the Internet. Sure, they'll still get to savor her kicked-up chocolates, caramels, brittles, popcorns and other goodies. But they'll miss out on her artistic little storefront that's brimming with Western style and cowgirl artifacts.
There are paintings and cowboy boots and sculptures done by Lysohir herself. And then there's the candy – which comes in packaging that's as impressive as what's inside. She and her staff bundle the chocolates in small leather boxes, in metal lunch pails, in tiny cowboy boots. They hand wrap them in decorative tins and in hand-painted wooden containers.
It's no wonder Lysohir has an eye toward detail. Long before she began her candy career a decade ago, she was an artist, and she remains one today. She recently had a show of her clay sculptures at Washington State University's Museum of Art and is often asked to teach ceramics workshops at colleges around the country.
Cowgirl Chocolates have been featured on the Food Network and they regularly win awards in fiery foods contests.
If you're brave enough, be sure to try a habanero caramel.
If you go:
Cowgirl Chocolates
428 W. Third St., Moscow, Idaho
(208) 882-4098 or www.cowgirlchocolates.com
Open from 10:30-5 p.m. Monday-Friday and by appointment on the weekends.
– Heather Lalley
Green Frog Cafe
The Green Frog Cafe in Palouse is owned by locals Tiana Gregg and Paula Echanove, creative but no-nonsense women who don't dally in their mission to serve customers delicious, honest food and drinks.
The Green Frog is currently at the town's main intersection of Main and Bridge streets, in what was originally a car garage. But the cafe, whose motto is "It's all good," is set to move across the street later this month.
The cafe features homemade soup, grilled or ungrilled sandwiches, salads, wraps, and pitas, along with more elaborate lunch and dinner specials, and a tempting array of cookies, shortbreads, cinnamon rolls, and desserts, all baked from scratch by Gregg.
Their menu is mostly, but not only, vegetarian.
"Everyone thinks we're vegetarian, but we're not," says Gregg. "Still, a meal without meat once in a while won't kill anybody."
Besides the usual coffee shop drink offerings, they also offer a selection of wines and beers, including local wines such as Camas Winery's yummy "Wild Plum."
Just across the street from the Green Frog in the old bank building is the Bank Left Gallery, which features world-class artworks by regional artists, with opening receptions the first Saturday of each month.
If you go:
Green Frog Cafe
Corner of Bridge and Main streets, Palouse, Wash.
(509) 878-1490
Open from 7 a.m.-3 p.m. Tuesday-Thursday; 8 a.m.-8 p.m. Friday and Saturday. Closed Sunday and Monday.
– Carol Price Spurling
Hope Market Cafe
Foodies know that finding good eats in rural areas can be hit and miss. But just around the bend from Sandpoint, on the north side of Lake Pend Oreille, there's hope.
Literally. The tiny burg of Hope, Idaho – population 86, give or take a few – now sports two culinary oases.
The Old Ice House Pizzeria and Bakery, 140 W. Main St., has been serving up New York-style pizza and other goodies for a few years now. Joining the Ice House on the scene just up the road is the Hope Market Cafe.
The Hope Market Cafe is part store, part restaurant and part performance space. The deck out front makes a great place to enjoy the view of Lake Pend Oreille – if a train isn't parked on the tracks across the road, that is.
Once the eyes are satisfied with the view, it's time to work on the stomach. That's easy at this market. It sports a small but impressive cheese counter. Ask for a tasting plate; chances are good you'll dive into some delicious imported Gouda, a fine brie, or something tasty from California's Cowgirl Creamery.
There are also two shelves of specialty foods, ranging from gourmet chocolate to chutneys, pastas to crackers, and a wine section with something for everyone. The cafe also carries Tupelo honey products from the Savannah Bee Co.
Oh yeah, the place is a full-service cafe, too, serving breakfast, lunch and dinner.
The eclectic menu ranges from the simple – toast and jam – to exotic sandwiches such as the Spice Market, which combines curried chicken, chutney, romaine and tomatoes. Be sure to check out the big chalkboard for the daily specials.
Stick around for pizza and calzones, salads with homemade dressings, beer on tap, wine by the glass and live music on the cafe's small stage.
If you go:
Hope Market Cafe
620 Wellington Place, Hope, Idaho
(208) 264-0506
Open 10 a.m.-8:30 p.m. Wednesday-Friday, 9 a.m.-9 p.m. Saturday and 9 a.m.-5 p.m. Sunday.
– Carolyn Lamberson
Lovitt Restaurant
Maybe you haven't yet read the raves about Lovitt Restaurant, on the south end of Colville, right on Highway 395.
The restaurant, housed in a 1908 farmhouse, sits atop a rocky bluff and hosts a commanding view of the Colville Valley. While the view at sunset might be enough to take your breath away, wait until you try the food.
Chef Norman Six and his wife, Kristin, strive to use local ingredients when available to create their contemporary regional cuisine. That means you're apt to enjoy your Washington steak served with shavings of Cougar Gold Cheese, vegetables from a nearby farm and a glass of Pend d'Oreille Winery's Bistro Rouge.
Everything from the sauces to the ice cream is made on site, and the care put into the food is obvious. They have started growing their own greens and herbs, bringing the idea of "local" really close to home.
The dining room seats 28, so reservations aren't a bad idea. Oh, and be sure to save room for dessert. Especially the chocolate bon bons. They're nearly worth the drive themselves.
If you go:
Lovitt Restaurant
149 Highway 395 S., Colville
(509) 684-5444, on the Web at www.lovittrestaurant.com
Open 4:30-9 p.m. Wednesday-Saturday, and Sunday from 11:30 a.m.-6 p.m.
– C.L.
Meyers Falls Market
In an old apple warehouse in the heart of Kettle Falls, just off Highway 395, is something you don't see every day in small-town America: a really good organic market.
Meyers Falls Market stocks a variety of organic canned goods, locally produced dairy products, regional beers and organic produce and wine. There's also a full-service deli, a bakery and a stage for musical performances.
All in Kettle Falls, where the town's greeting sign welcomes one to the home of "1,500 friendly people and one grouch."
Market owner Joe Petrucelli said he often hears from customers who are amazed to find this "oasis in the middle of nowhere." He opened the store in 2002 because, he said, "I felt like it would be a really nice thing to have in the community."
In addition to the organic groceries and a large bulk foods section, the market sports a lively menu of deli items. The meat is local, coming from just north of Chewelah. The eggs, too. On tap is beer from Lost Falls Brewery in Colville. The two soups on the menu are made from scratch, and Petrucelli is proud to note that the market's Cabin Chili won the local chili cookoff last fall.
The breads and pastries are made on site. So is the ice cream, which features milk from the Faith Dairy, based in Tacoma.
The ice cream in particular is a treat. But be warned, it's not the overly sweet confection you may be used to. Try the huckleberry and you'll taste the honey used in lieu of granulated sugar, allowing the cream to really stand out. That is, after all, why it's called "ice cream."
If you go:
Meyers Falls Market
160 E. Third, Kettle Falls, Wash.
(509) 738-2727; on the Web at www.meyersfallsmarket.com
Open 8 a.m.-7 p.m. Monday-Saturday, 10 a.m.-6 p.m. Sunday
C.L.
Moscow Food Co-op
Moscow residents are lucky to have this spacious organic market and deli right in their backyards.
There's a beautiful array of fresh produce, rows and rows of bulk items, breads, pastries, frozen foods.
And there's a deli counter stocked with salads, sandwiches and other goodies perfect for a lunch stop on the road.
Co-op members pay $10 a year and get discounts on a variety of products. But you don't have to be a member to shop there.
The co-op is more than a grocery store; it's really more of a community center. It hosts a growers' market every Tuesday night. There's live music and classes, too.
If you go:
Moscow Food Co-op
121 E. Fifth St., Moscow
(208) 882-8537
Open from 7:30 a.m.-9 p.m. daily.
– H.L.
Mountain Tapas Cafe
Even if you're not a skier, it's worth a trip to the base of Silver Mountain to check out Mountain Tapas Cafe.
The family-friendly spot (there's a toy box and teddy bear-shaped sandwiches for the kiddos) features plenty of sharable small plates as well as espresso and a nice wine and beer selection. And there's outdoor seating, too.
Owners Matt Lazarus and his wife, Rebecca, also host regular five-course wine dinners and other special events.
Be sure to ask for the pastry-wrapped brie, though you may have trouble sharing that one.
If you go:
Mountain Tapas Cafe
604 Bunker Ave., Suite 2, Kellogg
(208) 783-0562 or www.mountaintapas.com
Open 8 a.m.-3 p.m. Tuesday-Thursday and Saturday, 8 a.m.-8 p.m. Friday. Closed Sunday and Monday.
– H.L.
Sage Baking Co.
Weekend visitors to Uniontown can drink lattes, read the newspaper, and eat lunch with the locals at the Sage Baking Co., located on the town's main drag in the historic Jacobs building, formerly a brewery.
Sage owner Bud Tomlinson, who gave up his forest service career to go to baking school in Portland, crafts artisan breads from scratch, along with a soup of the day and a variety of breakfast and dessert pastries. (Try the fruit galettes, a chocolate petit four, or a dish of blackberry cobbler.)
Diners can order a whole or half sandwich to their liking from the cafe's selection of breads, deli meats, cheeses, veggies and condiments; accompaniments include several varieties of salad and soup, made fresh daily. The sandwiches are quite a step up from the average deli sandwich, thanks to Sage's fresh, toothsome bread.
"People who really like bread know the difference between good bread and bad bread," Tomlinson says.
If you go:
Sage Baking Company
111 S. Montgomery St., Uniontown, Wash.
(509) 229-3716
Open 7 a.m.-3 p.m. Fridays and Saturdays.
– C.P.S.
West of Paris
A French restaurant in Moscow? Hard to believe, but it's true. And this one's the real deal.
Chef and owner Francis Foucachon comes to Moscow via Lyon, where he was trained in classical cooking. Meat-based sauces are his specialty.
The menu in the intimate, white-tablecloth dining room features filet of roast duck, quail, wild salmon and lobster bisque, and many other French specialties. There's an extensive menu of imported cheeses and wines as well.
Foucachon regularly sees diners make the trek all the way from Spokane just for dinner.
If you go:
West of Paris
403 W. Main St., Moscow
(208) 596-8189 or www.westofparis.com
Open 5 p.m.-closing Wednesday-Saturday.
– H.L.
Local journalism is essential.
Give directly to The Spokesman-Review's Northwest Passages community forums series -- which helps to offset the costs of several reporter and editor positions at the newspaper -- by using the easy options below. Gifts processed in this system are not tax deductible, but are predominately used to help meet the local financial requirements needed to receive national matching-grant funds.
Subscribe to the Spokane7 email newsletter
Get the day's top entertainment headlines delivered to your inbox every morning.
---