Sports
Indy loses F1 race for 2008 season
Fri., July 13, 2007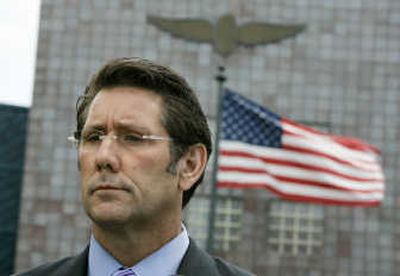 INDIANAPOLIS – Formula One's U.S. Grand Prix won't return to the Indianapolis Motor Speedway next year after officials failed to reach a new deal.
Speedway CEO Tony George said Thursday he and F1 boss Bernie Ecclestone agreed not to schedule the event for 2008. The only American-based race on the F1 schedule had been held at Indy the past eight years, drawing some of the biggest crowds on the circuit.
"After several discussions, Bernie Ecclestone and I were unable to agree how to keep Formula One in Indianapolis for the near term," George said in a statement. "However, we have agreed to leave the door open for a potential future date."
George, who scheduled a news conference later in the day, had set Thursday as the deadline for reaching an agreement to extend the contract with F1.
George met with Ecclestone last month during U.S. Grand Prix weekend in Indianapolis, and said he was confident a new deal would be reached.
But Ecclestone repeatedly said F1 did not need to race in the United States. He mentioned the possibility of moving the U.S. Grand Prix to New York or Las Vegas.
The 2.6-mile, 13-turn road course was built inside the speedway's famous oval to attract the F1 race.
Attendance figures are not released at Indianapolis, but estimates have been around 125,000 each of the past six years. The inaugural race in 2000 drew more than 200,000.
The event was marred in 2005 when 14 of the 20 drivers pulled off the track just before the start over concerns about the safety of the Michelin tires used by seven teams. Afterward, George refused to wave the checkered flag or join Michael Schumacher in the winner's circle.
Last year's negotiations to extend the deal dragged into August before the two sides agreed to a one-year deal. Speedway officials had said they wanted a more permanent solution this time.
Despite F1's absence, the speedway could still be the site of three races next year as track officials expect to announce with MotoGP, the international motorcycle racing series, next week.
Besides the Indianapolis 500, the speedway also is the site of NASCAR's Allstate 400 at the Brickyard on July 29.
Local journalism is essential.
Give directly to The Spokesman-Review's Northwest Passages community forums series -- which helps to offset the costs of several reporter and editor positions at the newspaper -- by using the easy options below. Gifts processed in this system are not tax deductible, but are predominately used to help meet the local financial requirements needed to receive national matching-grant funds.
Subscribe to the sports newsletter
Get the day's top sports headlines and breaking news delivered to your inbox by subscribing here.
---