News > Idaho
Readers offer tips for beating the heat
Fri., July 13, 2007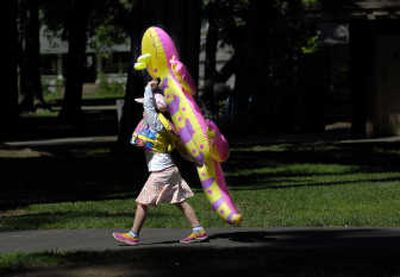 Oh sure, you say just crank up the AC, or go jump in the lake, or spend some quality time in your friendly neighborhood meat locker. That's how to beat the heat on days like this, when the temperature climbs several rungs above sizzling.
But what else can one do to avoid roasting in that big oven out there? Readers of our Huckleberries Online blog offered these inspired schemes to beat the heat, and they're just too cool not to share:
"Vacation in Canada (I leave on Sunday)." – Posted by nic
"Harry Potter in theaters now!" – Thom George
"We decided to go to Dworshak (today) and with luck camp out (tonight) and do a bit of fishing and swimming and puttering about where hubby has never been." – JeanC
"The Lake isn't 102 degrees." – Northerner
"A chilled glass of strawberry wine and a prawn baguette while sitting in the shade with me feet dangling in the River Meon next to the Roebuck Inn pub = heaven…" – marmitetoasty
"A cooled-off below-ground basement, closed blinds, cooler of iced drinks, kids watching a movie, wife nursing the baby, me reading a book – Heat-Busters! Or, in case that doesn't work, a corner seat at Capone's and something 16 oz. draft." – MikeK
"Empty your pockets, climb in the shower with your clothes on, and then go take a walk – you'll cool as you dry. Water the lawn and then open the window nearest where you just watered. Keep the blinds, curtain and windows shut during the day and then open them up at night. Put a cold rag around your neck. Think cool thoughts. Go get an ice cream cone at Rogers…." – Idawa
Local journalism is essential.
Give directly to The Spokesman-Review's Northwest Passages community forums series -- which helps to offset the costs of several reporter and editor positions at the newspaper -- by using the easy options below. Gifts processed in this system are not tax deductible, but are predominately used to help meet the local financial requirements needed to receive national matching-grant funds.
Subscribe now to get breaking news alerts in your email inbox
Get breaking news delivered to your inbox as it happens.
---