Sports
British course no cinch
Wed., July 18, 2007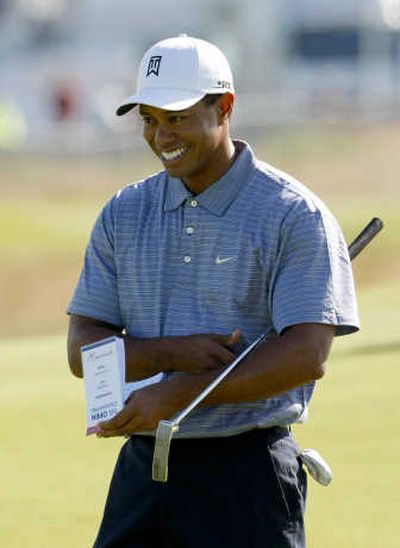 CARNOUSTIE, Scotland – The 18th hole at Carnoustie stretches 499 yards, a straight shot that must clear the Barry Burn off the tee and on the approach to the green. On some days at the British Open, it can be reached with a big drive and a short iron.
Not this day. That's why Tiger Woods was aiming sideways.
Fearing he might not clear the burn into the 30 mph gusts, Woods hit a 2-iron about waist-high toward the opposite fairway and found short grass. Then came another 2-iron whistling under the wind, back toward the 18th fairway. That left him one more 2-iron to the green, but this one drifted just enough to the right to catch a bunker.
It was only a practice round, but it was an example of how players must use their imagination to figure out how to get to the green, no matter how unconventional it might be.
And it explains why Woods considers the British Open his favorite major championship.
"I love playing over here, because it allows you to be creative," Woods said.
The ground was his best friend a year ago at Royal Liverpool.
After a few rounds on the dry fairways, Woods realized he was better off leaving his driver in the bag. He hit it only once over four rounds, opting for irons short of the bunkers and long to mid-irons into the greens. The strategy worked to perfection, and Woods captured the claret jug for the second straight year.
He arrived at Carnoustie with a chance to win three in a row, a feat accomplished by only four other players at a championship that dates to 1860.
The last was Peter Thomson in 1954-56.
Thomson, a savvy Australian, is now a member of the Royal & Ancient and expects to see Woods posing with the claret jug Sunday.
"He has a chance to win eight in a row," said Thomson, who won five times and was runner-up three other times. "If I could do it, surely he could."
Woods seemingly has owned other tournaments since turning pro. He won at Bay Hill four straight years, and he has won five times at Firestone and Torrey Pines. He won three straight years at Muirfield Village, and those four green jackets came from Augusta National.
Those courses were predominantly about power.
The links courses used at the British Open require brains, even at a 7,421-yard course like Carnoustie.
This is where Woods first experienced links golf, as a 19-year-old amateur at the Scottish Open. He opened with a 69 in the first round, and it was all uphill from there. Woods finished at 9-over 293 and tied for 48th.
He has won twice at St. Andrews, where he could power his tee shots beyond the bunkers, and once at Royal Liverpool, where the strategy was to keep it short of the bunkers.
Carnoustie offers a mixture of those choices, its fairways littered with so many bunkers that keeping short of the sand often means bringing another hazard into play.
This is what Woods and the rest of the field will have to sort out when the British Open starts Thursday.
Local journalism is essential.
Give directly to The Spokesman-Review's Northwest Passages community forums series -- which helps to offset the costs of several reporter and editor positions at the newspaper -- by using the easy options below. Gifts processed in this system are not tax deductible, but are predominately used to help meet the local financial requirements needed to receive national matching-grant funds.
Subscribe to the sports newsletter
Get the day's top sports headlines and breaking news delivered to your inbox by subscribing here.
---