News > Spokane
Dozens more fear evictions
Wed., July 18, 2007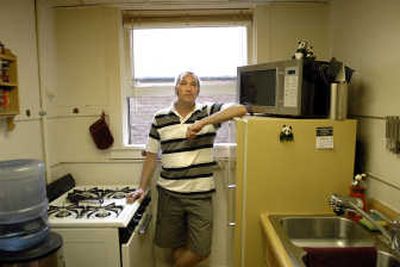 Westminster Square will remain an urban renewal dream after Spokane Housing Ventures couldn't raise the $25 million to $30 million it would take to turn four crumbling low-income apartment buildings into an energy-efficient, mixed-income complex.
Instead, the nonprofit organization has put the property up for sale, threatening to displace more than 50 low-income residents.
Those people, many with mental disabilities, may soon vie for housing in a desperately thin affordable-housing market.
After two years of preparation, Spokane Housing Ventures cannot afford its vision of combining the aging apartments into a community-oriented structure with "green" technology, tenants of various incomes, a play court for children and a neighborhood church down the street. Instead, the low-income housing agency has put the stretch along Washington and Bernard streets between Fourth and Fifth avenues up for sale for $2.5 million.
The area on the cusp of the lower South Hill includes four low-income housing complexes, one vacant apartment building, a former school and a parking lot. The Westminster Congressional United Church of Christ, which anchors the street, is the only building not run by the housing agency.
"It was the most difficult decision we have had to make," said Spokane Housing Ventures Executive Director Jayne Auld. The agency was still several million dollars short of the funds needed for the project.
"We scoured everything, but the likelihood of coming up with $2 million to $3 million in public funds is tough, and Spokane doesn't have any local resources," she said.
As concerns about the availability of low-income housing escalate with the impending eviction of more than 100 residents from the Otis Hotel in downtown Spokane, as well as the previous eviction of another 100 tenants from the New Madison Apartments and the Commercial Building, Auld said the organization will make a concerted effort to find alternative housing for tenants of the property that's for sale. She said they will receive a relocation package that includes financial assistance.
"This is what we are in business to do. Part of our mission is to replace any housing that we take, and we are in the midst of doing that," she said.
But Dennis Dobson, who has been the site manager for the past 17 years, is not so sure. "I'm starting to get a little worried," he said. "With the recent news of the Otis and the other downtown buildings, I keep going, 'Oh, brother, where are these people going to go?' "
That's the same question raised by Andy CastroLang, the pastor at Westminster Church located at the end of the street. CastroLang just hired additional staff with the resurging neighborhood idea in mind and said a 15-year relationship exists between the church and Spokane Housing Ventures, which recently bought the last of the block's dwellings from the church.
"It's so disheartening," she said, pointing out the decrepit facades next door, the grassless stretches of cement. "Here was Spokane Housing Ventures building this dream and not just warehousing poor residents, but building up a whole neighborhood. They needed some money, but it certainly was not beyond the realm of deep-pocket developers."
Low-income housing organizations might start looking in the city's pockets, although several months too late for the Westminster Square project. The U.S. Department of Housing and Urban Development gives the city about $772,000 in HOME funds annually for low-income housing. The money, about $237,000 of which is set aside for nonprofit housing developers, targets rental housing for people at or below 50 percent of Spokane's median family income. It also comes with a series of requirements and is never enough money for the $1 million to $2 million worth of requests annually, said Paul Trautman, the city's housing program administrator for community development.
The city is taking funding applications until Aug. 7 and will announce the awards in September, by which time the favorably located Westminster development might be sold. Spokane Housing Ventures is applying for this funding for some of its other 450 units.
In the meantime, 39-year-old tenant Darrell Dixon's lament becomes a refrain in a town with a new housing task force commissioned to find what it lacks most, a place for poor people to live.
"I am kind of up in arms about where I am going to find a place downtown here since I don't have transportation," said Dixon, who was homeless before he moved into Spokane Housing Ventures' Connell Building next to the church about a year ago.
He said residents were told they will have 90 days after the sale to leave. Yet Dixon worries that more than 50 residents are going to overpower the market. Spokane Housing Ventures' list of available housing is already sparse, he said.
"I finally got settled and into a place," Dixon said. "I'm tired of moving. I really want a place that I can stay, and now that has changed."
Local journalism is essential.
Give directly to The Spokesman-Review's Northwest Passages community forums series -- which helps to offset the costs of several reporter and editor positions at the newspaper -- by using the easy options below. Gifts processed in this system are not tax deductible, but are predominately used to help meet the local financial requirements needed to receive national matching-grant funds.
Subscribe now to get breaking news alerts in your email inbox
Get breaking news delivered to your inbox as it happens.
---