News > Idaho
Program digs deeper to combat poverty
Wed., July 18, 2007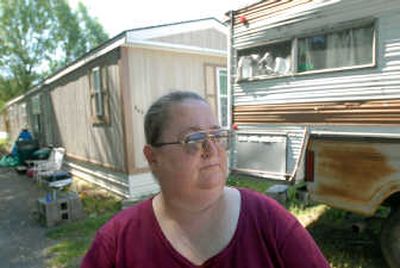 Health problems have left Amy Horton unable to work, and that's meant she has had to rely on the food bank at Community Action Partnership in Coeur d'Alene for more than a decade.
Things started to get particularly bad a few years ago.
Both Horton, 48, and her husband, Mark, 56, suffered heart attacks in the past two years. The couple couldn't afford medical insurance to cover them both.
"It was either pay the insurance or pay the rent," Amy Horton said of the $200 monthly fee for her coverage.
With $7,000 in medical bills, the Hortons found themselves until recently sharing a 14-foot trailer with their 29-year-old daughter and two dogs.
But Amy Horton still had hope. And thanks to a new community-based anti-poverty program in Coeur d'Alene, she has had help in her mission to improve her family's quality of life the past few months.
"I'm trying to get out of poverty," she said.
Since February, Horton has been a pioneering member of the Circles initiative, which pairs low-income individuals, called "circle leaders," with three volunteer middle-class "allies." The idea is that social networks that cross class boundaries give impoverished people access to social resources and psychological support that will help them move out of poverty.
Horton is one of the first leaders in Circles, which Community Action Partnership began organizing last year. The group hopes to create 15 "circles" – groups of leaders and allies – with the goal of "graduating" leaders in about 18 months.
"What attracted me was the fact that they said they could work with people to help them reach their potential," said Horton, who heard about the program on a food bank visit. "They don't just give you $50; they give you ideas for how to get yourself out of poverty."
Circles proponents say the initiative helps leaders create skills that will keep them out of poverty permanently, unlike government social service programs that attempt to treat symptoms like hunger and homelessness. Circles emphasizes cross-class friendships, job skills, educational opportunities and financial decision-making, supporters say.
At the same time, they say, the program increases community awareness of poverty – and ways out of it – as both leaders and allies tell people they know about the program and its effects.
"It's like a web. It moves out," said George Mark, an ally and a member of the Circles advisory group known as the guiding coalition.
Local Circles members attend weekly community meetings that offer free dinners, held at Community United Methodist Church on Monday evenings. At least once per month, individual circle leaders meet with their allies to strategize and get support.
So far, the group has two complete circles and four that are getting started, according the Marc Haberman, the partnership's community outreach program manager. Haberman has been instrumental in bringing Circles to Coeur d'Alene, and he hopes to recruit more allies.
The non-faith-based initiative is part of a national campaign developed by Move the Mountain, a poverty-focused leadership training center in Ames, Iowa.
Since Circles began in 1996, 49 communities in 13 states have adopted the trademarked program, according to the center's Web site.
Staff at Community Action Partnership became interested in bringing Circles to Coeur d'Alene when they began to feel their work was not adequately addressing the root causes of poverty.
"We discovered we were working on managing state and federal contracts," Haberman said. "We wanted to move to higher-impact work."
According to 2005 data from the U.S. Census Bureau, more than 10 percent of Kootenai County families live below the federal poverty line – a yearly income of $20,650 for a family of four.
Individuals who earn up to 200 percent of the federal poverty guidelines are eligible for Circles, Haberman said.
Right now, the program is subsisting on a "few hundred bucks" in cash donations, the work of volunteers and the pre-existing resources of Community Action Partnership, Haberman said.
Once the number of circles grows, fundraising efforts will increase, he said.
The biggest difference between traditional social service programs and Circles is that the latter is community-based, according to those familiar with assistance programs.
"It's driven by the participants," said Kathy Reed, social services manager for St. Vincent DePaul.
"Any time someone has control over the outcome, it's more successful than someone telling them, 'This is what you need.' "
Reed, who is not involved in Circles, said St. Vincent's may begin recommending the program to its transitional housing graduates.
Meanwhile, Horton has begun to dream big.
She's talking about starting a program to help other low-income people become able to purchase their homes by working toward ownership while renting.
But that's not all.
"One day I hope to become an ally," she said.
Local journalism is essential.
Give directly to The Spokesman-Review's Northwest Passages community forums series -- which helps to offset the costs of several reporter and editor positions at the newspaper -- by using the easy options below. Gifts processed in this system are not tax deductible, but are predominately used to help meet the local financial requirements needed to receive national matching-grant funds.
Subscribe now to get breaking news alerts in your email inbox
Get breaking news delivered to your inbox as it happens.
---