News > Business
Providence chief to get new role
Wed., July 18, 2007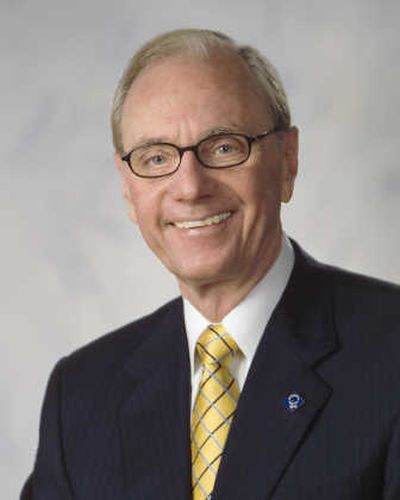 Ryland "Skip" Davis will leave his post as the top executive of Providence Health Care, the regional organization made up of Sacred Heart Medical Center, Holy Family Hospital and other area Providence operations, to lead a new division created by the system's parent company.
A national search has begun to find Davis' successor to lead Eastern Washington's largest hospital and the biggest private employer in Spokane at a time when its rival, Empire Health Services, has signed a letter of intent to sell to the nation's largest for-profit hospital chain.
Davis, who has led Sacred Heart since 1998, will remain in Spokane to become chief executive of what is being called Providence Strategic Ventures, a new enterprise launched by parent company, Seattle-based Providence Health and Services.
He will be asked to expand Providence's affiliations and joint ventures and to find new business alliances and moneymaking opportunities for the hospital system.
The new division, Davis said, will be located off the Sacred Heart campus, possibly in the Wells Fargo tower in downtown Spokane.
Among Providence's successful affiliates are: PAML, the large clinical laboratory in Spokane employing about 1,300 people, Inland Imaging, Signature Genomics and The Madison Inn, a hotel adjacent to Sacred Heart.
Davis said the goal is to build new profitable business lines based in part on the PAML experience that hospitals can rely upon to help alleviate the financial ups and downs of hospitals.
"I'll be taking the learnings and models we've developed here at Sacred Heart and replicating them for other systems within Providence," Davis said.
He said building new business models in Spokane, and developing similar affiliates across Providence's five-state system will create new jobs.
"This is very much about Spokane, too," Davis said, "not just Providence."
The move, Davis said, is not related to the possible sale of Empire's Deaconess Medical Center and Valley Hospital and Medical Center to Tennessee-based Community Health Systems.
Davis said Providence is the regional market leader with long-range plans in place to maintain its status. He will step down from his hospital management role at the end of the year.
Providence restructured in 2006, merging its not-for-profit health care businesses across five states. It now employs 45,000 people at 26 hospitals, 35 non-acute facilities, physician clinics, a health plan, a liberal arts college in Great Falls, Mont., a high school, and other health, housing and educational enterprises.
It is run by the Seattle-based Sisters of Providence.
Local journalism is essential.
Give directly to The Spokesman-Review's Northwest Passages community forums series -- which helps to offset the costs of several reporter and editor positions at the newspaper -- by using the easy options below. Gifts processed in this system are not tax deductible, but are predominately used to help meet the local financial requirements needed to receive national matching-grant funds.
Subscribe now to get breaking news alerts in your email inbox
Get breaking news delivered to your inbox as it happens.
---