Sports
New coaches prepare for camp
Mon., July 23, 2007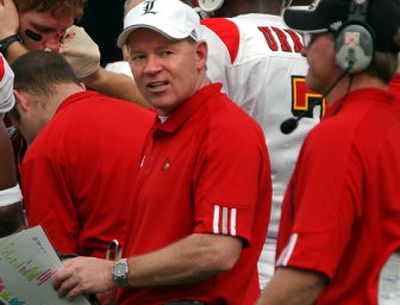 When Terrell Owens was asked this spring about the Dallas Cowboys' coaching change – Bill Parcells out, Wade Phillips in – he was his usual outspoken self.
"I don't think you have to be a disciplinarian to get your point across," Owens said in a pointed dig at his old coach. "I think having a new head coach is good for everybody."
Yes, T.O. is ingratiating himself with the new guy. So are the rest of the Cowboys and almost 500 players on the rosters of six other teams that open camp in the next 10 days with new head coaches. The only difference is, at some point, there will be a brouhaha involving Owens and a coach, either the laid-back Phillips or one of his assistants.
Every season, new coaches mean changes for every player on the teams they take over. There are seven this year, three of whom take over contenders: Phillips, Mike Tomlin for the retired Bill Cowher in Pittsburgh, and Norv Turner in San Diego. The other four are more problematical, with Ken Whisenhunt in Arizona, Lane Kiffin in Oakland, Bobby Petrino in Atlanta and Cam Cameron in Miami.
Turner will be taking over a team that has basically the same offense he used in 2001, when he was offensive coordinator in San Diego. Petrino, known as a passing guru, has a bigger task – he's spent the offseason adjusting his offense to Michael Vick's running ability, but may have to readjust if Vick's indictment for sponsoring a dogfighting operation leads to a suspension.
But in any case, all have to make adjustments, on and off the field.
"New coaches always make dramatic changes, even if it's just in routine, workout regimen and other day-to-day things," says Indianapolis president Bill Polian. "There's always a feeling-out process with both the coach and his staff. It doesn't mean they can't win. It just means a lot of things change."
As camps open, Polian's Colts and New England, who played a memorable AFC title game last January, are considered the league's best teams, along with San Diego in a conference that is clearly superior to the NFC.
But the coaching change could drastically affect the Chargers, whose 14-2 record was the best regular-season mark in the league last season.
Marty Schottenheimer was let go after a playoff loss to the Patriots because he and general manager A.J. Smith were always at odds. And while Schottenheimer traditionally has had problems in the postseason, Turner has had trouble getting there. He is just 58-82-1 in stints as head coach of the Redskins and Raiders, although he really had no chance in Oakland, where he coached in 2004-05.
Turner isn't likely to tinker with San Diego's offense, which he basically installed in LaDainian Tomlinson's rookie season. But other things will change, because both of last year's coordinators are among the new head coaches: Phillips in Dallas and Cameron in Miami, replacing Nick Saban, who departed for the University of Alabama.
Phillips and the Cowboys might have a shot at a title in the NFC, which has no dominant team.
Chicago, which dominated the conference last season before losing to the Colts 29-17 in the Super Bowl, remains a lukewarm favorite. But there are plenty of questions with the Bears, starting with quarterback Rex Grossman, who was able to survive an inconsistent regular season, but demonstrated against Indy that he's not a Super Bowl-caliber quarterback yet.
Can the Cowboys contend? They will have to battle in the NFC East with Philadelphia and maybe the Giants, although New York seems headed for a season-in-waiting – waiting for coach Tom Coughlin to be fired.
Hiring a retread – Turner was the front-runner at one point – seems to signal that owner/general manager Jerry Jones will have more say in the team's daily operation.
Jones says no, although he told The Associated Press in a recent interview, "I'm always going to have a say in how my team is run." One anomaly is that tough guy Parcells didn't run nearly as many offseason workouts as the more laid-back Phillips, whose 3-4 defense tends to be more aggressive than the same system run by Parcells.
The new coaches also include the two youngest in the league, the 32-year-old Kiffin and Tomlin, 35.
Local journalism is essential.
Give directly to The Spokesman-Review's Northwest Passages community forums series -- which helps to offset the costs of several reporter and editor positions at the newspaper -- by using the easy options below. Gifts processed in this system are not tax deductible, but are predominately used to help meet the local financial requirements needed to receive national matching-grant funds.
Subscribe to the sports newsletter
Get the day's top sports headlines and breaking news delivered to your inbox by subscribing here.
---