Sports
They are wonders on wheels
Fri., July 27, 2007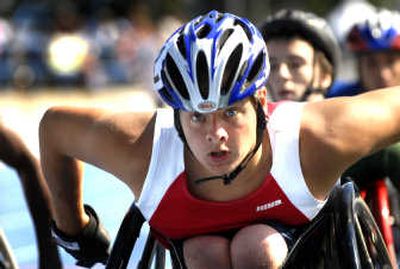 Tatyana McFadden's powerful muscles rippled beneath tanned arms as the 18-year-old worked her way across the finish line in Heat 10 of the women's 1,500-meter race Thursday morning on Day 5 of the National Junior Disability Championships.
The finals of the 1,500 will take place Saturday, but McFadden is already off to a good start. Her first-place time of 3 minutes, 43.92 seconds is more than a half-minute faster than second-place finisher Melanie Hawtin's 4:30.62.
And it should be, because McFadden is used to competing at much higher levels.
At the 2004 Athens Paralympics, McFadden raced her way to a silver medal in the 100 meters and a bronze in the 200. And she's hoping to improve on that performance at the Beijing Paralympics next year.
"It was an okay time, it was not my best," McFadden said of her performance in the 1,500 heat. "I think my best is about 3:15."
Born in Russia and adopted by American parents when she was 6 years old, the Baltimore resident suffers from spina bifida and is paralyzed from the waist down. But her muscular upper body more than makes up for the absence of lower body mobility. McFadden is an all-around athlete who swims and plays basketball, hockey and table tennis.
Unlike most of the wheelchair athletes, McFadden races with homemade gloves that look more like paddles than the harness gloves that most competitors use. The harness gloves resemble boxing gloves, and by encasing the fingers in a single large pocket, they minimize friction and help to prevent fingers from getting caught in the chair's wheels.
McFadden's 'gloves' are plastic paddles with a rubber contact surface and attached handles that have been molded to fit her grip exactly. She thinks they give her better control than the harness gloves.
Control is important since she can hit speeds of up to 18 mph in her race chair.
Zachary Abbott, on the other hand, has no problem using the harness gloves.
Earlier Thursday morning in Heat 6 of the 1,500, the 16-year-old Portland native gamely kept up with eventual winner Brian Siemann all the way through to the last 200 when Siemann finally pulled away and Abbott had to fend off a late challenge from Arturo Torres to finish in second place.
"We were drafting, and I was boxed in and couldn't make a move to get out," said Abbott, who finished in 4:06.12.
To the casual observer, wheelchair racing resembles cycling and can involve a lot of basic cycling strategies such as drafting. As with the expensive road bikes used by professional cyclists, the race chairs used in wheelchair racing also do not come cheap.
McFadden said each of her wheels cost about $2,000. Her chair is sponsored by the manufacturer, Quickie Sports, and is also worth about $2,000.
Many racers benefit from donations and sponsorships by community organizations. Some wheelchair sports teams, such as Team O, the team for which Zachary Abbott races, also have communal chairs that beginners who don't have their own race chairs can borrow.
Most teams also race in a team uniform.
Team O – one of 27 teams from around the country that is in Spokane for nationals this week – competes wearing the Oregon Ducks' green and gold although the team doesn't have any direct affiliation to the university.
"The kids just thought it'd be kind of a fun thing," said Abbott's father, Bill, who doubles as Zachary's coach and also coaches other Team O members.
Spokane-based wheelchair sports group Team St. Luke's races in purple jerseys because purple was one of the original colors in their sponsor organization's emblem.
"We've thought about getting a mascot, too, but haven't quite gotten around to that yet," said Teresa Skinner, the founder of Team St. Luke's who also coaches the track team.
Skinner's athletes have done her proud.
In five days of competition, Team St. Luke's kids have picked up 37 gold, 13 silver and 10 bronze medals, and have also broken five national records.
The championships continue through Saturday evening, and will conclude with an awards banquet at The DoubleTree Hotel.
Local journalism is essential.
Give directly to The Spokesman-Review's Northwest Passages community forums series -- which helps to offset the costs of several reporter and editor positions at the newspaper -- by using the easy options below. Gifts processed in this system are not tax deductible, but are predominately used to help meet the local financial requirements needed to receive national matching-grant funds.
Subscribe to the sports newsletter
Get the day's top sports headlines and breaking news delivered to your inbox by subscribing here.
---