Sports
Johnson's season ends
Sat., July 28, 2007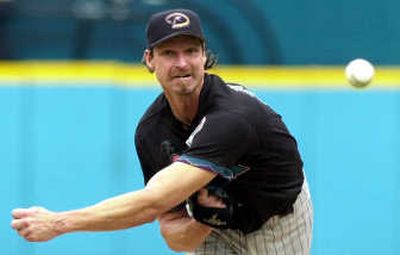 Randy Johnson will have season-ending back surgery and intends to be back for the Arizona Diamondbacks at spring training next year.
"I have no intention at this time of retiring," he said at a news conference Friday. "I'll cross the bridge of surgery and be willing to go through the process of rehabilitation again because I know I can still pitch. And I love pitching. It's what I've been doing since I was 7 years old."
It marks the second year in a row that Johnson will have an operation on his troublesome back.
It will be the third back operation of his career.
Lofton rejoins Indians
Kenny Lofton returned for his third stint with Cleveland – and another playoff run – as the Texas Rangers traded the 40-year-old outfielder to the Indians for minor league catcher Max Ramirez.
The Indians, who entered the weekend 1 1/2 games behind first-place Detroit in the American League Central Division and leading the wild-card race, had been in the market for a left-handed hitter with speed for the past few weeks as the annual non-waiver deadline neared (Tuesday).
Brown shoots reporter
Royals outfielder Emil Brown hit a KMBC sports reporter Karen Kornacki near the eye with a pellet from a small plastic gun in the Kansas City clubhouse.
"It was certainly an accident," Royals spokesman David Holtzman said. "He wasn't shooting at anybody."
Names remain masked
A federal magistrate judge rejected a request by the Associated Press to reveal the names of players allegedly implicated in drug use by former major league pitcher Jason Grimsley.
"Disclosure at this time may compromise the ongoing investigation in several ways," U.S. Magistrate Edward C. Voss wrote in a seven-page order.
Clearing the bases
Philadelphia's Chase Utley had a pin inserted into his hand to stabilize a broken right ring finger during surgery and was placed on the 15-day disabled list. … Former San Francisco Giants pitching prospect Thomas King was suspended for 50 games after testing positive for a drug of abuse under baseball's minor league drug program. … The Detroit City Council voted 5-4 to approve a plan to demolish Tiger Stadium.
Local journalism is essential.
Give directly to The Spokesman-Review's Northwest Passages community forums series -- which helps to offset the costs of several reporter and editor positions at the newspaper -- by using the easy options below. Gifts processed in this system are not tax deductible, but are predominately used to help meet the local financial requirements needed to receive national matching-grant funds.
Subscribe to the sports newsletter
Get the day's top sports headlines and breaking news delivered to your inbox by subscribing here.
---