Sports
Road trip excites WSU duo
Fri., June 1, 2007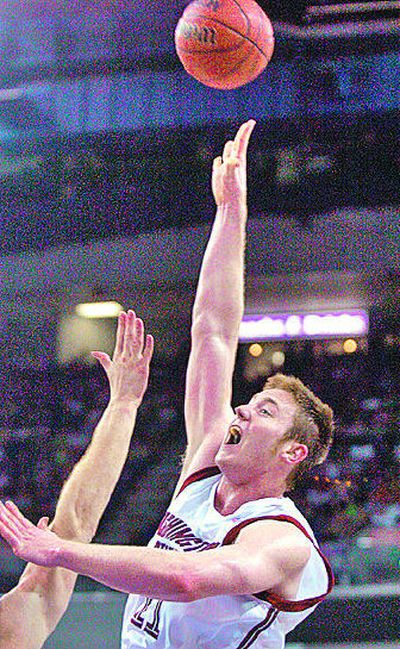 PULLMAN – Somewhere in between playing tour guide and trying out for their national teams, Aron Baynes and Thomas Abercrombie are likely to register some telling minutes for the Cougars in the coming weeks.
Washington State's basketball team is off on its two-week summer tour of New Zealand and Australia on Saturday, a road trip for all but those two, who will be playing on their home turf.
The Cougars will first play a game in Auckland, New Zealand, Abercrombie's hometown, then move on to Australia, where they'll eventually play in Cairns, Baynes' home.
"It'll be the first time my family and friends have gotten to see me play in the crimson and gray," Baynes said. "So, hopefully, I can go home, win a few games. I've got to be able to talk trash to a few of my friends after these games."
But this trip probably means much more than a trip home for both players, and not just in the short term.
Baynes and Abercrombie may have as much to prove to the WSU coaching staff as anyone on the roster this summer. Baynes will be expected to step into a central role at his center position going into his junior season, and it's not known if he'll become a viable third option when guards Derrick Low and Kyle Weaver are being harassed on the perimeter. Abercrombie, who redshirted last season, has yet to play in anything but practice with WSU, and he'll look to prove that he deserves a place in the 2007-08 rotation.
"I'm excited," Abercrombie said. "I've watched these guys play for a year and I think I can fit in and contribute to the team. I'm just keen to see what happens."
That's not all. Baynes and Abercrombie will look to impress professional and national coaches on the trip, perhaps helping themselves down the road when their college careers are through. Baynes, in particular, has much to gain – the center was born in New Zealand so he still can choose to play for either national team.
"A lot of people will be looking at those guys," Cougars head coach Tony Bennett said. "It's a little early to say they're trying out for those teams, but it's a good opportunity."
Both have played well at times in the team's practices leading up to the trip.
Baynes, who weighed as much as 285 pounds last season, is down to about 265 and is clearly moving much better than he did earlier this year when coming off of ankle and foot injuries. Abercrombie, who has about as much athletic ability as anyone on the roster, has matched up well at times with Weaver, an All-Pac-10 guard last season.
"He's done a nice job and shown flashes," Bennett said of Abercrombie. "I think the redshirt year has been very valuable. What he'll be as a fifth-year senior compared to what he would have been last year – no comparison.
"If he improves his ball-handling and passing, just gets a little more comfortable with the ball, he's going to have a real good career here."
If nothing else, the trip gives both players a chance to show their teammates a little home cooking – not to mention a little time on the beach.
"It's a neat experience," Abercrombie said. "I never thought I'd get to go home and play with the Cougars, so it's going to be cool."
Local journalism is essential.
Give directly to The Spokesman-Review's Northwest Passages community forums series -- which helps to offset the costs of several reporter and editor positions at the newspaper -- by using the easy options below. Gifts processed in this system are not tax deductible, but are predominately used to help meet the local financial requirements needed to receive national matching-grant funds.
Subscribe to the sports newsletter
Get the day's top sports headlines and breaking news delivered to your inbox by subscribing here.
---