Sports
Fighting back
Wed., March 28, 2007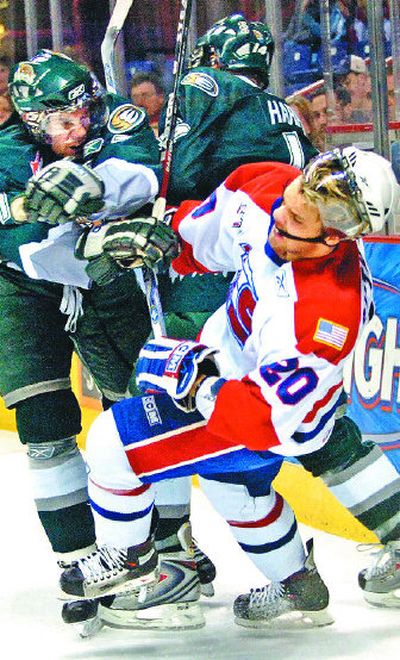 A magical first period was enough – just barely in the end – for the Spokane Chiefs to get their first playoff win against the Everett Silvertips in seven games.
It only took three years.
The Chiefs scored three first-period goals and defeated the Everett Silvertips 3-2 in the third game of their Western Hockey League opening-round playoff series Tuesday night at the Arena in front of 3,838.
Everett leads the best-of-7 series 2-1. The fourth game is tonight at the Arena. The fifth game is Friday at Everett.
"It feels great to get that win, but we've got to come back out (tonight) and do the same thing and keep in mind that if we win that game it's a best-of-3 after that," said 20-year-old Derek Ryan, who was a rookie in Everett's 2004 sweep of Spokane.
Ryan and Ondrej Roman each had a goal and an assist as Spokane led 3-0 after one period, scoring on three of its first five shots against Leland Irving. Captain Adam Hobson had the Chiefs' other goal, his team-leading third of the series.
"We had a really good game, a really good start, and played disciplined throughout the entire game," said Hobson, who was also a role player in that 2004 series. "We've got some momentum going into the fourth game now."
Spokane picked up right where it left off from the last game-plus in Everett.
Ryan got Spokane on the board first, on the power play, when he put in a rebound of a Roman shot from the point at the 5:09 mark.
Roman's goal came on a wrister from the right circle that whizzed past Irving high to the glove side, at the 13:48 mark.
Hobson got the third goal, speeding up ice, splitting the defenders and burying a back-handed shot from between the circles at the 13:48 mark.
Irving was pulled after Hobson's goal. It was his shortest start since he was pulled on Jan. 21, 2005, also in a loss at Spokane, after three goals in 14:11.
Rookie Dustin Tokarski earned the win in net for Spokane, stopping 22 shots before holding off a late Silvertips rally that fizzled out.
"That's playoff hockey, I guess," said Tokarski. "We knew they were a good team and we couldn't let down, up 3-0 there. When they were up 4-0 (in the first game), we almost made a comeback, so we had that in the back of our heads. Well, we just beared down and got it done."
The Silvertips got two third-period goals from Dan Gendur, the first at 1:04 and the second at 17:39 with Reekie pulled.
Everett kept pressing, but its hopes went away when Jason Fransoo was called for a penalty with 7.1 seconds left after the Chiefs missed a couple of opportunities at the open net.
The first period was enough, although Everett tried furiously to get on the board before the end of the period.
They kept the puck in Spokane's end for the final minute and hacked away at a puck that got stuck in the netting.
Brendan Sonne thought he scored as time expired, but – after a long consultation with the goal judge and his fellow referee and linemen – Derek Herman ruled the goal came after the final buzzer.
The teams played a scoreless second period.
Chiefs 3, Silvertips 2
First Period—1, Spo, Ryan 1 (Roman, Bowman) 5:09 (pp); 2, Spo, Roman 1 (Ryan, Bowman) 13:48; 3, Spo, Hobson 3 (Grabner) 16:05. Second Period—None. Third Period—4, Evt, Gendur 1 (Potuer, Crowley) 1:04; 5, Evt, Gendur 2 (Mueller, Gutierrez) 18:39.
Power-play Opp.—Everett 0 of 3; Spokane 1 of 6. Saves—Everett, Irving (L, 2-1) 2; Reekie 13. Spokane, Tokarski (W, 1-2) 22. A—3,838.
Local journalism is essential.
Give directly to The Spokesman-Review's Northwest Passages community forums series -- which helps to offset the costs of several reporter and editor positions at the newspaper -- by using the easy options below. Gifts processed in this system are not tax deductible, but are predominately used to help meet the local financial requirements needed to receive national matching-grant funds.
Subscribe to the sports newsletter
Get the day's top sports headlines and breaking news delivered to your inbox by subscribing here.
---