Sports
Whole new series!
Thu., March 29, 2007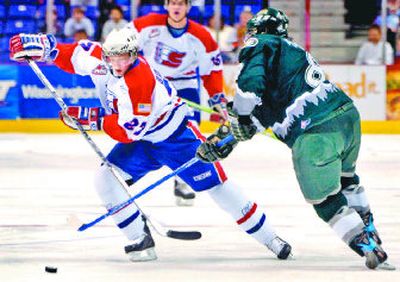 As the clock ran out on Wednesday night at the Spokane Arena, the Everett Silvertips looked around in a collective stupor, as if to say, "What just happened?"
Everett is the top-ranked major junior team in both the Western Hockey League and all of Canada and a prohibitive favorite for a spot in the Memorial Cup. The Silvertips now have their hands full with the Spokane Chiefs in an opening-round playoff series.
Spokane scored three third-period goals to hand Everett a 3-1 defeat in Game 4 of the best-of-7 series. The teams are tied at 2 games apiece, with Game 5 Friday night in Everett.
Spokane was dominated for 40 minutes by Everett and was trailing 1-0 after being outshot 21-8 entering the final period. The only goal of the game to that point came from Everett star Peter Mueller, on his third attempt, at the 3:31 mark of the second period.
Everett had not lost a game all season while leading after two periods and Spokane hadn't shown much of anything to give the crowd of 4,408 hope it would change.
Then, just like that, it did.
After killing off the remainder of a penalty to start the third period, Spokane found a sense of urgency that had been lacking to score two goals to take the lead and add an empty-netter for insurance.
"We felt lucky, just being down 1-0," said Spokane assistant captain Chris Bruton. "Then we just kept pushing and pushing and we started bringing our speed more in the third, we got a great goal … then we were able to seal it with the empty-netter."
Bruton set up the game-tying goal when he came hard into the net and was checked into Everett goalie Leland Irving by Silvertips defenseman Jonathan Harty, knocking Irving out of the net for just a moment.
In the ensuing scramble for the puck, Spokane's David Rutherford shot into the half-empty net to tie the game just 3:35 into the third.
Then Spokane's Derek Ryan scored the game-winner, with exactly 9 minutes left. He buried a back pass into the slot from Ondrej Roman – who was behind the net.
"It feels great, not on a personal level, but just team-wise getting that huge goal," said Ryan. "After that, we just tightened up … a great team effort by us in the third period."
Then came the capper with just 2:52 remaining and Irving pulled. Bruton put in an empty-netter that brought the crowd to its feet.
Spokane rookie goalie Dustin Tokarski was the reason Spokane was in the game entering the third. He made 20 saves – some from close range and in spectacular fashion – to hold Everett to a goal. He finished with 29 saves.
"It's awesome," said Tokarski. "We've got a lot of confidence and Everett's gotta be on its heels. Now we've just got to go in there and take one in their barn."
Spokane Coach Bill Peters was correct in his comment after Tuesday night's game that play would tighten up, noting that it's tough for teams to continually increase intensity over seven games over 10 days or so.
Yet when asked what he told the team between the second and third periods, a drained Peters said, "I don't remember that; it was a long time ago.
"I think our guys knew we had to be better," he said. "I didn't think, up front, we were as involved as we needed to be or as competitive as we needed to be in order to be successful. The guys found a way to be more involved and made it happen."
The Silvertips also had a would-be goal waved off at the 8:27 mark of the second – due to a high stick on the shot – that would have made it 2-0.
Chiefs 3, Silvertips 1
First Period—None. Second Period—1, Evt, Mueller 1 (Gutierrez, Mistelbacher) 3:31. Third Period—2, Spo, Rutherford 2 (Bruton) 3:35; 3. Spokane, D. Ryan (2) (O. Roman) 11:00; 4, Spo, Bruton 1 (Bowman) 17:08 (en). Power-play Opp.—Everett 0 of 4; Spokane 0 of 6. Saves—Everett, Irving (L, 2-2) 3-5-7—15. Spokane, Tokarski (W, 2-1-1) 10-10-9—29. A—4,408.
Local journalism is essential.
Give directly to The Spokesman-Review's Northwest Passages community forums series -- which helps to offset the costs of several reporter and editor positions at the newspaper -- by using the easy options below. Gifts processed in this system are not tax deductible, but are predominately used to help meet the local financial requirements needed to receive national matching-grant funds.
Subscribe to the sports newsletter
Get the day's top sports headlines and breaking news delivered to your inbox by subscribing here.
---