News > Idaho
Dylan's father, relatives testify
Second phase closing arguments today
Wed., Aug. 27, 2008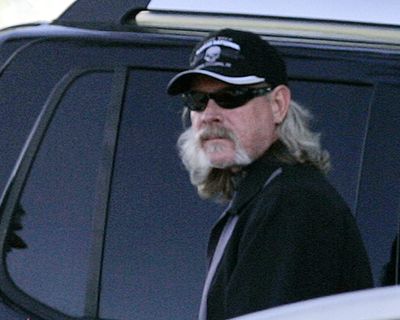 BOISE – With heartfelt testimony from the father of murdered Dylan Groene, prosecutors wrapped up their case Tuesday in the federal death penalty sentencing trial for admitted killer Joseph Duncan.
U.S. District Judge Edward Lodge set closing arguments for 9 a.m. today, Boise time, after which the case will go to the jury to decide whether Duncan should die for his crimes against the 9-year-old Coeur d'Alene boy and his sister, Shasta. Asked what he learned from his youngest son, Steve Groene said it was a lesson he unfortunately didn't learn until after Dylan died: "Every minute with your children – you can't take any of that time for granted, because you can wake up the next day, they may not be there."
Groene described Dylan as a "very soft-hearted, kind kid," who "stood up for his sister," for whom he was "kind of like her guardian angel."
Duncan pleaded guilty to all charges in a 10-count federal indictment for kidnapping and molesting Dylan and Shasta, then 8, in 2005, and murdering Dylan. He earlier pleaded guilty in state court to murdering three members of their family in order to kidnap the two youngest children.
A nine-man, three-woman federal jury already has unanimously found Duncan eligible for the death penalty, agreeing with federal prosecutors last week on every aggravating factor they alleged. On Monday and Tuesday, jurors heard evidence of two more factors – victim impact and Duncan's "future dangerousness."
The victim impact testimony included Dylan's aunt, Brandy Hoagland, who told the court in a breaking voice, "He was really affectionate, he was just a little teddy bear. … It's been pretty traumatic. It's just a huge hole in our heart and an emptiness in our life."
Dylan's maternal grandmother, Darlene Torres, said Dylan and Shasta were inseparable playmates. "They played together a lot, I mean, whenever you seen one, you usually seen the other," she said, clutching a tissue.
Jurors also heard from Dylan's third-grade teacher at Fernan Elementary School, Tim Marks, and watched a video of a class musical in which Dylan and other children sang and performed, closing with a big grin from Dylan.
Dylan loved to play with Matchbox cars, kept a big blue bottle of cheap cologne in his desk that he occasionally put on, and was "having a good year" when he disappeared, Marks told the court. "His best subjects were math and P.E. – he loved P.E.," the teacher said. "Reading was a more difficult subject for him … but he was progressing with his reading, he was improving."
The teacher recalled how Dylan kept his toy cars on his desk and "every once in a while they became mine for a day," prompting several jurors to smile and nod.
Duncan rested his chin on his pale, clasped hands, sometimes closing his eyes.
Testimony about future dangerousness focused on three child murders that Duncan told FBI agents he committed, when they interviewed him after his arrest in the Groene case. Jurors heard extensive evidence Tuesday morning about the deaths of 9-year-old Carmen Cubias and 11-year-old Sammiejo White, of Seattle, who disappeared in 1996. A day earlier, they heard about the killing of 10-year-old Anthony Martinez, of Riverside County, Calif., who was abducted in 1997. No one has been tried for any of these crimes.
Authorities detailed how the two girls' scattered skeletal remains were recovered a year and a half after they disappeared, and how the killings baffled investigators.
When Duncan, who is representing himself, cross-examined former Bothell, Wash., police detective Dennis Nizzi, he asked him, "Was Joseph Edward Duncan ever a suspect … prior to July of 2005?"
Nizzi responded, "I've learned that the name Joseph Edward Duncan was on the bottom of a list of sex offenders that we obtained … but we didn't get that far down the list." Nizzi said Duncan never was the target of any investigation while he was on the force; he retired in 1999.
Then witnesses who knew Duncan in Seattle at the time of the murders were called to testify. They included his former girlfriend, Sadequa "Dee" Ellis, who testified that she met Duncan at work. Asked the nature of her relationship with him, she said simply, "girlfriend."
Duncan took her white 1987 Chrysler New Yorker and drove it out of state, she told the court; it's the car he allegedly used to kidnap Martinez.
Former roommate Joseph Ruan and friend Cindy Snyder testified that Duncan made disparaging comments about the two missing girls, theorizing they were off with some guy. Duncan, on cross-examination, suggested he didn't know who Snyder was, though she reminded him, "I'm the one that drove a big yellow tow truck, kinda hard to miss." Snyder said she visited Ruan dozens of times while Duncan was there. Duncan said, "So if I didn't live there those things couldn't have happened." To that, Snyder responded, "But you did live there and it did happen."
Ruan testified that on April 1, 1997, he received a call from Ellis. "She told me that her car was gone and Jet had taken off, and I said, 'Is this some kind of April Fools' joke?' " he recounted. A visit to Duncan's room showed he had taken clothing, but left his computer and "knickknacks," Ruan said.
Then, he said, Duncan called him April 6, two days after Martinez's abduction and murder in Southern California. "He asked me why Dee wasn't answering the phone," Ruan said. "I said, 'Well, you took off with her car, she's mad at you.' " Ruan said he asked Duncan where he was, and Duncan responded, "I'm in L.A. … I'm going to Disneyland."
Duncan appeared glad to see Ruan and Ellis, gazing at Ellis over clasped hands while she testified, and greeting Ruan with, "How ya doin', Joe?" as he began cross-examining him. Ellis didn't appear to look at him.
The prosecution rested its case at 3:10 p.m., just after Groene finished his testimony about Dylan with a long pause, followed by, "I miss him a lot."
Duncan called no witnesses and presented no mitigating factors for jurors to weigh against the heinousness of his crimes.
So far, the sentencing trial has moved more quickly than anticipated, in part because Duncan has called no witnesses and raised few disputes over the government's evidence. Prosecutors called 61 witnesses, some of them several times, over the course of two weeks and presented hundreds of pieces of evidence, from photographs and videos to the murder weapon, a stolen sawed-off shotgun.
Local journalism is essential.
Give directly to The Spokesman-Review's Northwest Passages community forums series -- which helps to offset the costs of several reporter and editor positions at the newspaper -- by using the easy options below. Gifts processed in this system are not tax deductible, but are predominately used to help meet the local financial requirements needed to receive national matching-grant funds.
Subscribe to the Coronavirus newsletter
Get the day's latest Coronavirus news delivered to your inbox by subscribing to our newsletter.
---