Sports
Malarchuk can relate to Zednik's injury
Wed., Feb. 13, 2008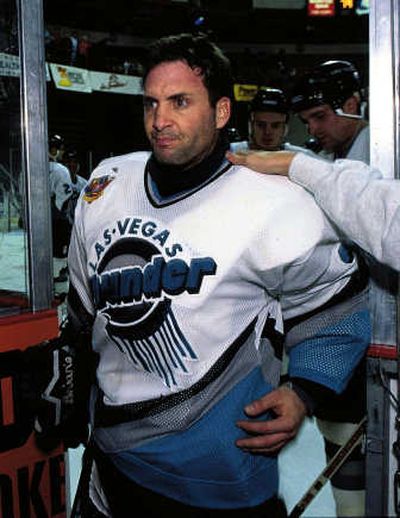 COLUMBUS, Ohio – Clint Malarchuk watches tape of Richard Zednik's throat slash and is thrown back almost two decades. That's when he had his own gruesome moment on the ice.
Malarchuk, the goaltending coach for the Columbus Blue Jackets, was in goal for the Buffalo Sabres on March 22, 1989. St. Louis Blues forward Steve Tuttle was flipped upside down in the crease, his skate flying up and slicing Malarchuk's jugular vein.
"It's been a pretty emotional couple of days for me," Malarchuk said Tuesday, two days after Zednik's carotid artery was nearly severed by Florida Panthers teammate Olli Jokinen's skate in a game against the Sabres in Buffalo. "It's been almost 19 years. I wouldn't think that kind of a memory would flood back for me like it did."
At the time, there were reports that 11 fans fainted and two more had heart attacks when Malarchuk's macabre accident took place. Three players vomited on the ice.
Zednik's injury wasn't nearly so bloody, although it silenced a large crowd and stunned both benches. He remains in a Buffalo hospital, where his condition was upgraded to good.
Malarchuk said his initial thoughts were with Zednik's family.
"I know my family was pretty shaken up when it happened to me," he said. "It's tough."
Malarchuk has tried to get a message to Zednik through the Panthers' front office. He would like to speak with Zednik when the time is right.
"If I talk to him, I'll tell him time heals," said Malarchuk, who played 11 seasons with the Quebec Nordiques, Washington Capitals and the Sabres from 1981-92. "If he asked me if he should take his time getting back, I would probably say I didn't. It's better if you get back in there because you're going to be hounded by people with questions until you do."
His psyche was damaged for years.
"I had wicked nightmares where I'd sit up straight in bed like in the movies, sweating," Malarchuk said. "It was just a flashback. I'd see the skate coming up. That didn't go away right away."
Malarchuk needed 300 stitches, yet spent only one night in the hospital. He returned to practice four days later.
"I grew up around rodeo," he said. "You got bucked off the horse, the sooner you got back on the better you were going to be."
Malarchuk returned to play in the Sabres' 1989 season finale, working the final five minutes – less than two weeks after his injury.
Local journalism is essential.
Give directly to The Spokesman-Review's Northwest Passages community forums series -- which helps to offset the costs of several reporter and editor positions at the newspaper -- by using the easy options below. Gifts processed in this system are not tax deductible, but are predominately used to help meet the local financial requirements needed to receive national matching-grant funds.
Subscribe to the sports newsletter
Get the day's top sports headlines and breaking news delivered to your inbox by subscribing here.
---